Floodwater recedes in the north
Lowlands still inundated; Jamuna water level increases in Sirajganj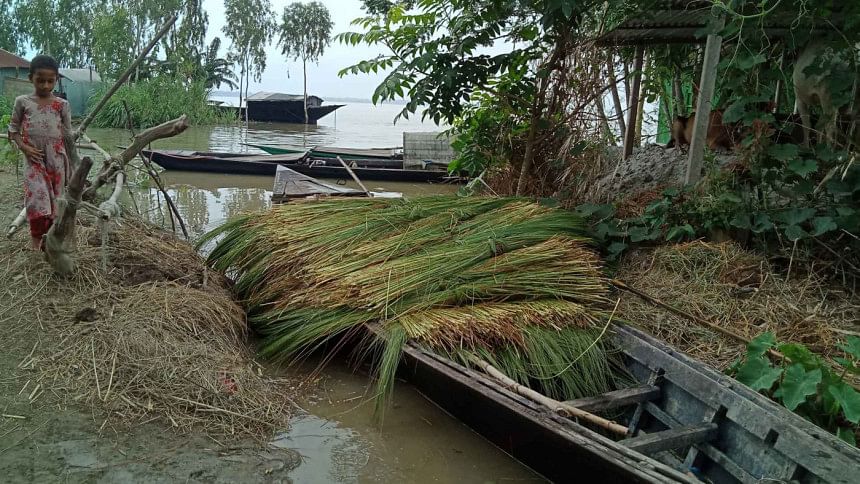 The flood situation in the country's northern region has been improving since the onrush of upstream water started to recede on Tuesday night.
Only low-lying areas in the northern region are still inundated in Lalmonirhat, Kurigram, Rangpur and Nilphamari.
"According to the numerical weather forecast of meteorological agencies, heavy rainfall in the north-eastern region and adjoining upstream regions of India [Assam (Barak basin), Meghalaya &Tripura] is unlikely in next 48 hours," said a Flood Forecasting and Warning Centre (FFWC)  bulletin, released at 9:00am yesterday.
Teesta's water in Lalmonirhat has been flowing 10cm below the danger level at Teesta Barrage point in Lalmonirhat's Doani area, recorded around 6:00am yesterday.
Executive Engineer of WDB Lalmonirhat Mizanur Rahman confirmed that the water level may lower further.
"Teesta lost much of its navigability due to sediment accumulation for a long time. If the water level rises slightly in the Teesta, the water overflows and inundates the surrounding areas," he said.
Lalmonirhat Sadar UP Chairman Kamruzzaman Sujan said the water has receded from most of the flood-affected areas. However, some areas are still inundated.
Nur Jamal (50), a farmer in the upazila's Sheikhpara village, told The Daily Star that the water has receded from his house.
"However, the roads are still under water, so it is difficult for us to move. If the water level rises again, we will suffer even more," he said.
Farmer Seher Ali (63) of Kurigram's Ghatiashyam area said a sudden rise in Teesta's water level compelled them to leave the house on Tuesday morning, but they came home yesterday after the water receded.
"Around 2,500 families of different villages falling under the Teesta basin were affected in the flash flood and remained marooned," said Rangpur's Laxmitari union's Chairman Abdullah Al Hadi.
Besides, the cropland on the char and low-lying areas also went underwater, he said.
Md Nasir Miah of Sirajganj's Beramari village, said, "Flood water has damaged my amon harvest on four-bigha land in June. I was looking forward to harvesting jute but the flash flood damaged the jute field as well."
Moynul Hossain, chairman of Tepa Kharibari union in Nilphamari, said, "Around 1,700 families in my area have been affected by the flash flood. They managed to take shelter but did not get any assistance from any government or non-government organisations."
Meanwhile, the receding water from the upstream rivers has caused inundation in Sirajganj's char areas, with the water level increasing in Jamuna river.
However, WDB officials said there is no immediate threat of the water crossing the danger level at this moment.
Water level has increased 35cm at Kazipur point and 31cm at Sirajganj point in last 24 hours. However, they are still below the danger level, said Md Nasir Uddin, sub-divisional engineer of WDB Sirajganj.