Flooded homes, wretched lives
Shyampur residents' year under knee-deep wastewater
Taslima Begum has been wading through knee-deep wastewater to get home for the last nine months. The wastewater comes from nearby factories at Shyampur, which clog the streets with no way to pass through drains. As a result, the area has remained submerged for so long.
Every day, Taslima and her family try their best to get the water out of their home. They sweep, use buckets, but the floor still remains knee-deep under water.
"Every household work we do, like cooking, we have to do it standing in the dirty water that flows in from the buildings in Dhaka Match Factory area," Taslima said.
Like Taslima, residents of the new colony at Shyampur's Dhaka Match Factory area have been living just like this for an entire year.
But it's not just limited to the colony. As the main road from Match Factory area to Railway Bazar, stretching for around half a kilometre, is also under two-feet-deep dirty water.
"The area was in good condition even two years back, but after works for a rail-line extension project started, the wastewater can't pass at all," said Abul Hasnat, a shopkeeper from the area.
Contacted, Md Abu Naser, spokesperson of DSCC, said the problem started after a drain and another outlet to pass the water got blocked due to the railway line extension project.
DSCC Mayor Sheikh Fazle Noor Taposh and Railways Minister Nurul Islam Sujan visited the spot on October 20 last year.
The ministry and DSCC held a meeting where some decisions regarding the issue were taken, including construction of a culvert to transport the wastewater to Buriganga by a storm-water drain, Naser said. The railways ministry will construct the culvert at Shyampur, he added.
However, if factory owners from the match factory area do not treat their wastewater, DSCC will not allow them to use the storm-water drain, he warned.
Ministries of industry and commerce will take an initiative to coordinate with the factory owners, Naser said.
DSCC will re-excavate Shyampur canal to bring back its water-flow, while water will be transported to Buriganga through three outlets. "We will start our work in the next two months," he said.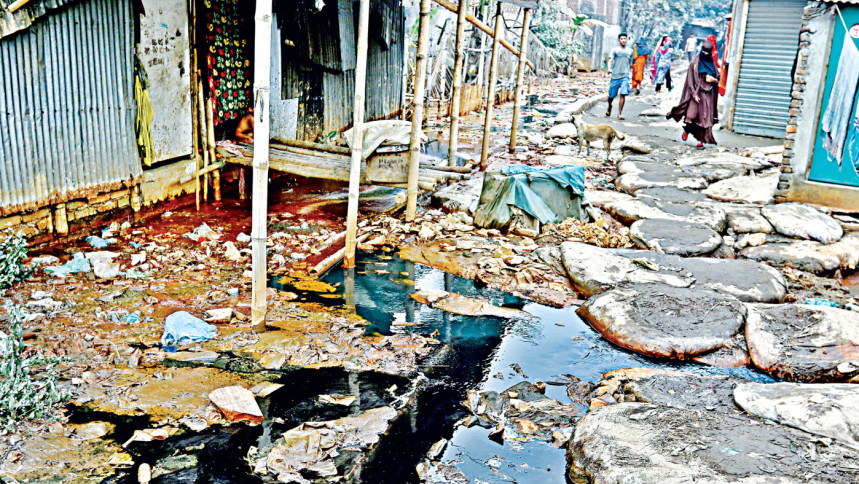 During the visit, Mayor Taposh had said since the very beginning, they have been telling government agencies to coordinate with DSCC while taking up new projects. But DSCC has observed that rather than doing that, the agencies point the finger at the city corporation at the last stage of the projects' implementation..
Taposh said normal water-receding processes are being hampered due to the works of the rail-network project of Padma Bridge.
A railway official said to resolve the problem, they will set up culverts using their project funds at places earmarked by DSCC.