Flood in north: Aman farmers fear heavy losses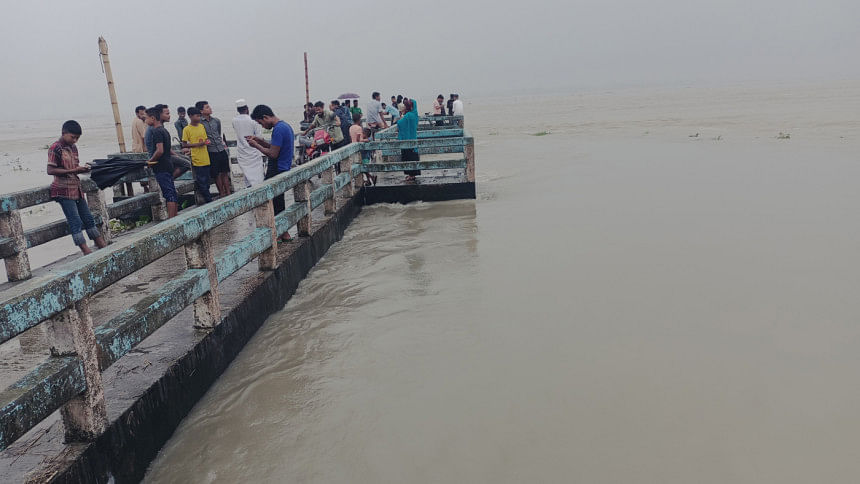 Aman farmers are apprehending a huge loss this season if the flood situation does not improve in Lalmonirhat and Kurigram within days.
The flood situation in the char areas of Teesta river remains unchanged as of this morning.
Officials of Water Development Board (WDB) said the Teesta was flowing above the danger level at Kaunia in Rangpur since 9:00am today.
However, the water was flowing below the danger level at Dalia of Teesta Barrage, the officials said.
Abdullah Al Mamun, executive engineer of Kurigram WDB, told The Daily Star that the water level of the Teesta at Kaunia is 30cm above the danger level. Char areas in Rajarhat, Ulipur and Chilmari upazilas of Kurigram have gone under water.
The water level of other rivers, including the Brahmaputra, is rising but it is still below the danger level, he said.
If there is no heavy rain and flow of onrush hilly water from India, the level of the Teesta water will drop, he said.
Executive Engineer of Lalmonirhat WDB Shunil Kumar said even though the water level of the Teesta was flowing below the danger level at Dalia, it was above the danger level downstream of the barrage.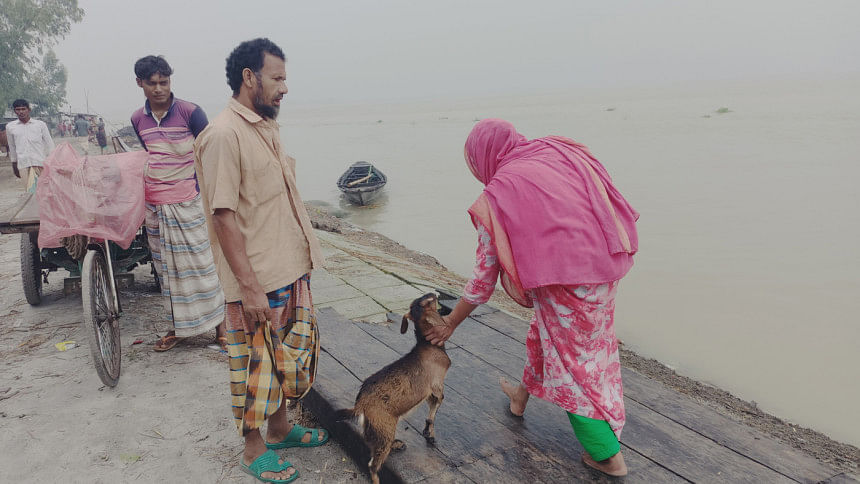 Teesta's water went beyond the danger level for the third time this season, leaving around one lakh people stranded in Rangpur, Nilphamari, and Lalmonirhat.
Around 50,000 people are stranded in 100 chars and riverside villages in 22 unions of eight upazilas in Lalmonirhat and Kurigram, WDB sources said.
Many flood-affected people along with their livestock and essentials have taken shelter on roads and dykes.
They built shacks there and are surviving on dry food. They are short on drinking water, reports our Lalmonirhat correspondent.
A large amount of Aman paddy fields has been submerged in Teesta char areas. This time, the flood-hit farmers and Department of Agriculture Extension (DAE) are fearing a huge loss.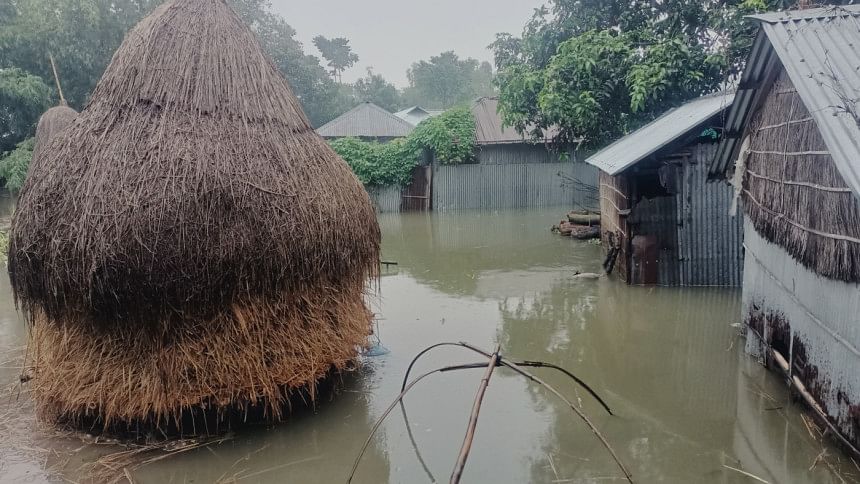 Farmer Rahmat Ullah, 70, of Gobordhan area of Aditmari upazila in Lalmonirhat said they have been living in seriously poor conditions since Friday night. They only have flattened and puffed rice, molasses and bread to eat.
Another flood-affected farmer Nabir Hossain, 65, of Gatiashyam village of Rajahar upazila in Kurigram said he had to leave his home yesterday morning and take shelter on a dyke. They are living with the cattle in a polythene-wrapped hut. Aman paddy on his 10 bigha of land is now under water, he said.
Biplab Kumar Mohanta, deputy director of the DAE in Kurigram, said it is yet to be ascertained how much of Aman paddy went under water.
He said if the paddy field remained under floodwater for another two to three days, there is a risk of serious damage.
Deputy Commissioner of Kurigram Mohammad Saidul Arif told journalists that dry food and drinking water are being distributed among the flood-hit people on the chars of the Teesta.