Fining journos: 'No record of press council members disapproving it'
Says its chairman in an interview with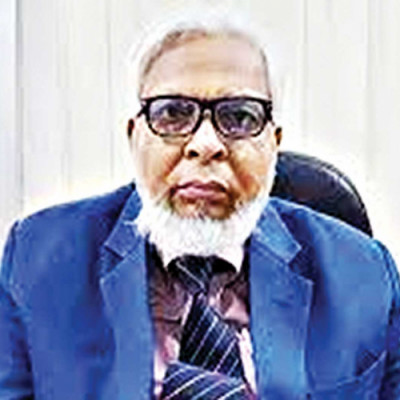 The Press Council Act-1974 was being amended with a provision to fine a journalist up to Tk 10 lakh for offences under the law. Bangladesh Press Council Chairman Justice Nizamul Huq Nasim said the council's senior journalist-representatives had been consulted with, and they gave their blessings. 
However, five journalist members of the current press council committee told this newspaper that they were not consulted and this initiative was not discussed with the committee.
The Daily Star discussed the issue with Justice Nizamul Haque Nasim before the cabinet yesterday crossed out the fine amount mentioned in the draft amendment and left it at the press council's discretion.
The Daily Star (DS): You said press council's journalist-representatives agreed with the amendment and also demanded it, but a number of them said they did not even know about it. Can you explain this?
Nasim: When we discuss something in the press council, we invite all bodies and they join us accordingly. As an example, when we were planning to make a digital list of journalists, we also invited all related organisations. We took approval from them and proceeded accordingly.
This process (the provision to fine journos up to Tk 10 lakh) started from 2016. I only came to this position in October, 2021. Our records state that whenever we progressed in this area, each and every member of the press council has approved it.
DS: Was there a discussion with editors and journalists who are part of the current committee?
Nasim: Yes. In our committee, regular discussions happen.
DS: Did everyone agree to it?
Nasim: Yes. I'd say the Bangladesh Press Council has agreed. There is no record of any member not giving their approval.
DS: Then why are representative-journalists claiming they don't know about the issue?
Nasim: I cannot comment on that. Only they can clarify this.
DS: Then there's a confusion regarding this issue.
Nasim: There is no confusion at our end.
DS: If this law amendment is approved, would the journalists not be exposed to higher levels of trouble and inconvenience?
Nasim: Definitely not. I can vouch for it. For the instances where the journalists are tried only under the press council law, and no other law, for those, we are simply trying to enhance the power (of the press council to take action against journalists).
DS: What would happen if this law is misused, like the Digital Security Act (DSA)?
Nasim: The other two members of the tribunal with me are both journalist-representatives. A general citizen can be the claimant, and a journalist or an organisation can become the defendant. There is no scope for misuse here, as there are no outside forces at work.
DS: Will the press council only provide training and take judicial action against journalists? Why doesn't the press council do anything about freedom of expression?
Nasim: The press council supports freedom to express. Slowly, the council's activities will also increase.
DS: Why doesn't the press council say anything when journalists get arrested, jailed and tortured?
Nasim: Maybe the press council thinks that these are not our matter. Maybe is a matter for the court (dealing with the issue), and will be sorted out in the court. I don't want it to become like that (torture). But saying is one thing. We have to consider whether we have the authority or not, or whether the law gives us that kind of authority or not. We have to consider these.
DS: Does the press council have that kind of authority? Suppose a journalist is apprehended and tortured. Or he gets arrested through the DSA and is tortured. In such cases, does the press council possess the capability to comment or take legal action?
Nasim: When such incidents occur in certain areas, we send letters requesting to put a stop to these. We also conducted a couple of investigations. It's not that we haven't done anything. But we cannot get involved with each and every incident.
DS: Do you have the legal authority or not?
Nasim: We, the press council, will mostly work to improve the quality of journalism. Legally, I am allowed to give a statement. But will that help? I think it will go in vain. Instead, if they are allowed to get some legal aid, we can arrange that.
Most importantly, we do not wish to get involved with matters of other courts. We will work with the ones that comes to us, and will keep on working in this manner.
DS: If a journalist is tortured, you will not get involved?
Nasim: We don't have any authority in this regard.