Feminist icon Kamla Bhasin passes away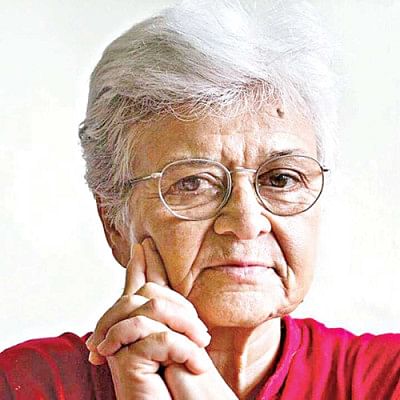 Feminist icon, activist, development worker, educator, writer, poet, advocate for peace and mentor to multiple generations of women's rights activists in the subcontinent and beyond, Kamla Bhasin passed away at the age of 75.
She was considered one of the best gender trainers in the region and a tireless advocate of women's rights.
She was diagnosed with late-stage cancer earlier this year and breathed her last at 2:45am Saturday, confirmed Khushi Kabir, women's rights activist and long-term comrade of Kamla.
Kamla Bhasin was the founder and advisor of Sangat, a South Asian Feminist Network, co-chair of the worldwide network, Peace Women Across the Globe and South Asia Coordinator of One Billion Rising.
Though she was Indian by citizenship, Kamla identified herself as a "South Asian" who transcended jingoistic national boundaries and believed that the power of love and camaraderie could bridge the economic, political and religious divides in the subcontinent.
She began promoting peace and understanding between the countries and their people in 1975.
"One of my slogans is 'I am not a wall that divides, I am a crack in that wall. So, all these walls of nationalities – Bangladeshi, Pakistani, Indian, we become cracks in these walls and we go across borders and make friends. Pakistani women were the first to apologise for the genocide here [Bangladesh] – Pakistani feminists," Kamla said in an interview with The Daily Star in 2016.
She had a special relationship with Bangladesh -- for over four decades, she worked closely with women's rights activists and NGOs in Bangladesh, conducting participatory, experiential, capacity-building workshops for women and men, focused on gender, feminism, sustainable development and human rights.
Her death was mourned by generations of activists in the country yesterday.
Born on April 24, 1946, in the district of Mandi Bahauddin, which is now in Pakistan, her family shifted to Rajasthan in India after partition. She earned her MA from Rajasthan University and then went on to study Sociology of Development at University of Münster in West Germany.
She began her career working for the empowerment of the rural and urban poor in 1972, with a voluntary organisation in Rajasthan, India. From 1976 to 2001, she worked with the Food and Agriculture Organization of the UN, supporting innovative NGO initiatives for the development and empowerment of marginalised people, especially women, in South East Asia and South Asia.
In 2002, she left her job at the UN to dedicate her time to Sangat, a network that has brought together thousands of women across the region in a common understanding on gender, poverty and social justice.
Kamla believed and taught that the struggle for gender equality was not a fight between men and women.
"It is a fight between two ideologies -- two ways of thinking -- one is that patriarchy is better, men are superior. The other says no, equality is better, men and women are different and equal and equality is good for all. And that men must realise that unless women are free men cannot be free," she would say.
She wrote extensively on gender, women's empowerment, participatory and sustainable development, participatory training, media and communication. Her books have been translated in over 30 languages. She prided herself on writing books in accessible language for activists and development workers. She also wrote numerous children's books on the themes of freedom and equality.
She penned songs, poems and slogans advocating peace and feminism.
Kamla loved to joke, sing and dance and her laughter, like her love, was infectious, remembered by her friends and comrades, as condolences poured in from across the globe yesterday.
She believed South Asia needed a "cultural revolution to change our language and traditions such as those that prevent women from participating in the last rites".
"Schools, madrasas and media have to start this cultural revolution. Media is responsible for spreading patriarchy. There may be one good article in favour of gender equality but then most of the advertisements continue to be patriarchal. So, I think we need a cultural revolution, a new Muktir Andolon," she said.