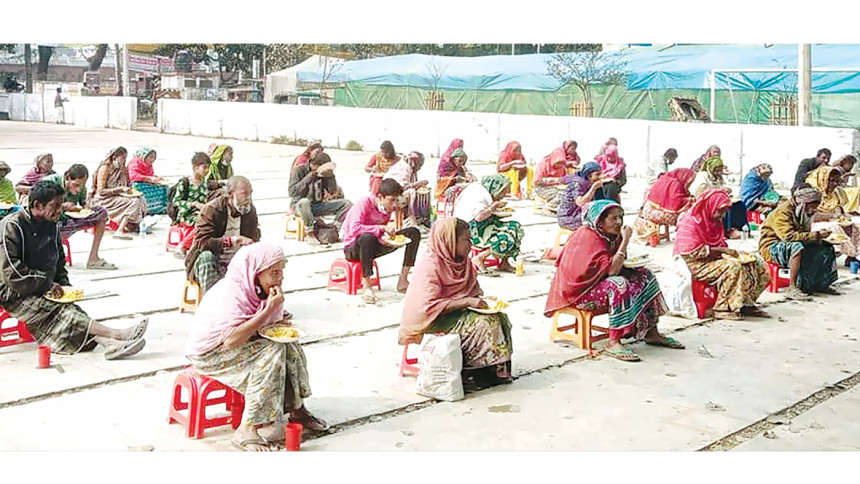 Nree Foundation, a voluntary organisation based in Sherpur, has been serving daily lunch to the unfed people since August last year to alleviate the impact of coronavirus pandemic. The programme titled "Food for the Hungry" has come as a respite for the destitute.
The organisation caters to around 70 people, mainly homeless and needy who congregate at the district town's eidgah ground at the lunch time.
"The time when many people lost their jobs due to the pandemic situation and fell in food crisis, we some friends belonging to the SSC-2002 batch started the programme to provide balanced diet among the hungry people. Every day we serve rice, eggs, pulses and vegetables at noon," said Razib Ahmed, secretary of 21-member committee running the foundation.
After taking the initiative, some 60 volunteers have joined this programme, Razib, a high school teacher.
Now many generous people have been contributing to run the programme, he added.
Marking different social programmes like wedding anniversary, birthday and death anniversary, many people belonging to rich families contribute to this programme and special meal is arranged for at least 10 to 12 days in a month, said a volunteer, Aurangazeb Akanda, also an assistant professor at Maulana Bhasani University of Science and Technology in Tangail.
"The foundation has been continuing this programme since August 15 last year without any break. When we are busy with ourselves to lead a better life ignoring the social crisis a group of people have been working for the distressed," said Jahidul Khan Saurov, a local journalist.
The regular meal needs Tk 2000 while a special meal needs Tk 5000 to Tk 10000, said the volunteers.
A 75-year-old widow Jamila Begum of Kusumhati area in Sherpur Sadar, said her only daughter lives with her husband in Narayanganj. She is suffering from arthritis and experiences swollen eyes.
A feeble Jamila also said that she cannot work to manage every day's food and she comes here every day to have meal.
Visually impaired Rahela who takes her regular food from Nree Foundation said the food served by the organisation is the only source of her food.
Meanwhile, Sherpur deputy commissioner (DC) has sanctioned four tonnes of rice while Sherpur municipality Mayor Golam Mohammad Kibria Liton has supported the programme extending a financial support of Tk 40,000, sources said.
DC Md Mominur Rashid said every day helpless and needy people come to the venue for having free food.
"We have so far arranged four tonnes of rice for the programme and will provide necessary rice as per the requirement for feeding the starving people," he added.
The DC also said that if the affluent corners of the society stand by the helpless people in this way, the misery of many people living in the society would be lessened one day.