Farmers forced to sell paddy at low price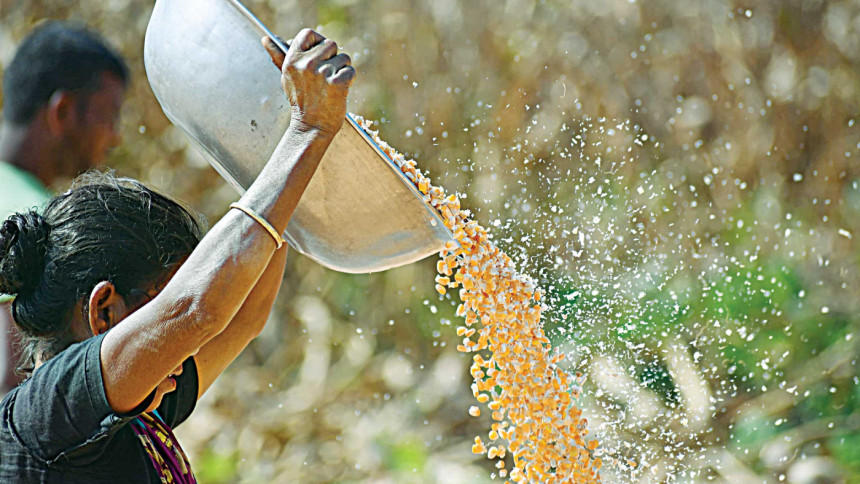 Bikas Mandol of Sikdermollic village in Pirojpur Sadar upazila cultivated Boro paddy on his one bigha land spending over Tk 20,000, which he took on credit from different people and NGOs.
Those who cultivate paddy on other people's land have to spend Tk 8,000 more. This year the production cost also shoot up due to soaring prices of fuel and labour, said farmers.
Bikas could harvest 32 maunds of paddy this year which he sold at Tk 700 per maund. Although it is being sold at Tk 900 now, he has no paddy left for sale.
Usually farmers get over 40 maunds of paddy from one bigha land but this year the production has fallen due to pest attacks. On the other hand sharecroppers have to spend their produce with land owners.
"As I was under pressure to repay my debts, I sold my paddy right from the field," Bikas said adding that this is the common scenario for other farmers as well.
"Most of the farmers have to take loans to cultivate Boro paddy as they have no capital to invest," said Sukumar Roy, another farmer of the village, adding that farmers cannot wait for better prices due to the pressures to repay their debts.
Although the government is procuring paddy directly from the farmers at Tk 1,080 each maund, most of the farmers cannot sell it to the government because of the hyperactivity of middlemen, he said.
"We have to face a great deal of difficulties to sell paddy to the government," said farmer Jalal.
Government paddy collectors are prone to cite many faults with their paddy like high moisture content and other, he added.
"Finding no other alternative, we have to bribe the brokers to get our paddy selected by the government collectors," he further said.
Md Nazrul Islam, food inspector of Pirojpur Sadar upazila's food controller's office, said they procure paddy through lottery system and there is no scope for irregularities.
Sheikh Moshiar Rahman, district controller of food, said farmers cannot supply the type of paddy they demand.
"So, we can never fulfill our procurement target," he also said.
As farmers do not have adequate open space to dry up the paddy, they sell it to wholesalers immediately after harvesting it, he added.  According to the Department of Agricultural Extension in Pirojpur, this year Boro paddy was cultivated on 26,070 hectares of land.