Farmer's dream shattered as WDB official uproots 10k watermelon plants in Patuakhali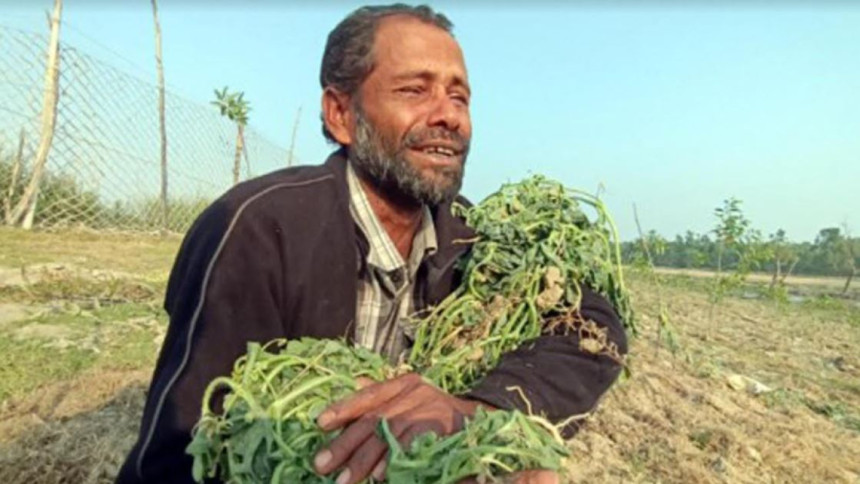 An official of the Water Development Board (WDB) in Patuakhali allegedly uprooted around 10,000 watermelon plants cultivated by a farmer from Kalapara upazila of the district.
The incident took place along the beribadh slope in Pashchim Chapli village under the upazila yesterday noon where Delwar Khalifa, a marginal farmer from the village, cultivated around 15,000 watermelon saplings which would have been ready to harvest in around a month with a good yield, reports our local correspondent.
However, Khalifa's dreams have been shattered.
"I cultivated 15,000 watermelon saplings on the beribadh slope like I have been doing for last few years with the verbal consent of Mosharraf Hossain, local official of the Forest Division, after paying him Tk 10,000 to this end," Khalifa told The Daily Star.
"The yield would have been good and ready to harvest in a month or so," he said.
Monirul Islam, an engineer at WDB's coastal dam development project, and Mosharraf Hossain mercilessly uprooted around 10,000 of the plants, he alleged.
"I fell to their feet and begged them for one month time so that I could harvest the fruits, but they paid no heed and instead threatened to sue me. Now I don't know how I will pay back the Tk 2.5 lakh that I had loaned from relatives and NGO for the cultivation," the farmer said.
Khalifa and his family are completely devastated and at a loss since the tragedy struck them like a bolt from the blue.
Talking to The Daily Star, Monirul Islam admitted to having uprooted the watermelon saplings but alleged that the farmer had damaged the grass and fig trees on the beribadh slope planted to protect the embankment from erosion.
Mosharraf Hossain also confirmed the incident but denied giving any permission to Khalifa for the cultivation or taking any money from him in this connection.