Exports off to a flying start in new fiscal
July's earnings up 15.26pc to $4.59b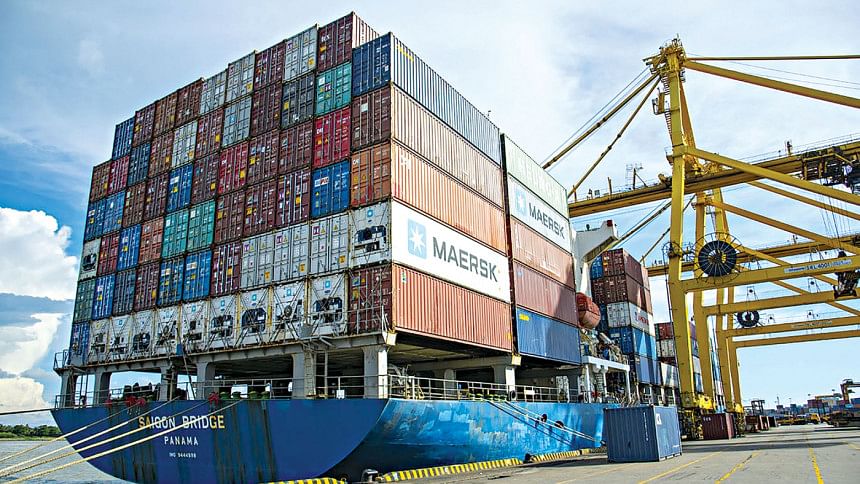 Exports continued their spirited showing into the new fiscal year, bringing home $4.59 billion in July, in what can be viewed as a lone bright spark in the economy that has been dogged by fast depleting reserves, narrow fiscal space and slowing industrial activities.
Last month's receipts -- which were up 15.26 percent from a year earlier and $111.92 million higher than the target -- would somewhat ease the pressure on the dollar stockpile, which stood at $23.3 billion on July 26.
Remittance, the other main source of dollars for Bangladesh, was down 5.86 percent to $1.97 billion last month, according to data from the Bangladesh Bank.
Of July's export receipts, garment, the main export earner, accounted for $3.95 billion, up 17.4 percent from a year earlier and $174.8 million more than the target.
"This is encouraging," said MA Razzaque, research director of the Policy Research Institute.
However, there are some internal and external challenges, he said.
The energy crisis at home is one of the challenges, according to Abdullah Al Mahmud Mahin, chairman and managing director of Mahin Group, a major garment exporter.
"Domestically, if the political turmoil cannot be managed well, exports may be affected," Razzaque said.
Centring on the 12th general election due to be held at the end of this year or in the first week of next year, the political scene is heating up after a lull of about four years.
"Past experience suggests both the export and macroeconomy were managed well during the political crises. As a result, export activities remained unaffected," Razzaque said.
This time too, if the macroeconomy can be managed well, exports will continue to grow as the major economies are recovering from a blip in economic activities, he added.
"Bangladesh is very strong in mass production of garments and the other countries are lagging in this aspect. This is how the local exporters are still competitive even in the time of a global slowdown," Mahin said.
Faruque Hassan, president of the Bangladesh Garment Manufacturers and Exporters Association, echoed the same.
Another reason for the higher export earnings is that the international retailers and brands have increased the prices per unit of garment items by 10 to 30 percent over the last two years, he said.
The export earnings would have been much higher had the non-garment sectors performed better, said Mustafizur Rahman, a distinguished fellow of the Centre for Policy Dialogue.
For instance, leather and leather goods, an emerging heavyweight sector, saw its receipts decline 0.67 percent to $98.74 million last month.
Home textile, another promising sector, saw its earnings slump by 40.77 percent to $56.83 million.
Jute and jute goods, a traditional export earner, saw its receipts tick up only 2.75 percent to $65.67 million.
Agricultural exports grew 14.53 percent to $72.58 million in July.
"Even after a 25 percent depreciation of taka, the non-garment sectors remained poor performers," Rahman said.
Both product and market diversification have become imperative now given the upcoming graduation from the least-developed country bracket, which would see Bangladesh lose the duty privileges that have made it the second largest garment exporter in the world, he said.