An example of religious harmony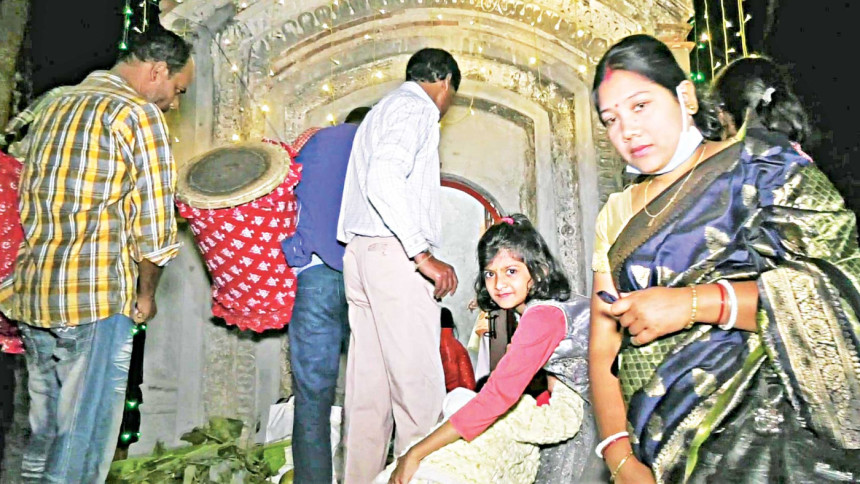 For the first time in 47 years, a British-era temple has been reopened for prayers in Rajshahi city's Khojapur area on Tuesday night.
The first few days after its opening has been marked by the gathering of large groups of devotees, who on Tuesday night observed the Hindu religious festival of Maha Shivratri at the temple.
The temple, called Khojapur Sarbojanin Shib and Kali Matar Mondir, had been shutdown over land issues, said Monoranjan Sarker, convener of the temple's governing body. "No religious festival was held at the temple since 1975, when the temple's land was sold to a Muslim man named Korban Ali," he said.
Syamol Kumar Ghose, a local Hindu leader, said the temple remained unused for all these years due to lack of Hindu devotees in the area.
"Recently, when some local devotees inquired about the temple, they found that the Muslim owner has no issues with its use," he said.
Owner Korban Ali, an entrepreneur, said, "The temple was set up during the British rule by Zamindar Hare Krishna Roy. Roy built the temple beside his own house." In the 70s, Korban Ali bought a piece of land from Roy's grandson Sudhir Roy. The land included the temple as well.
"At the time, Sudhir requested me not to demolish the temple and allow people to come for prayers. The temple remained unused as none came to observe a festival," Korban said.
Finally, when some devotees contacted him ahead of Maha Shivratri, he opened his door for the Hindus. He also felled two large mango trees from the temple premises for convenience of those who would attend the festival.