Ensure enabling environment for girls
Speakers tell roundtable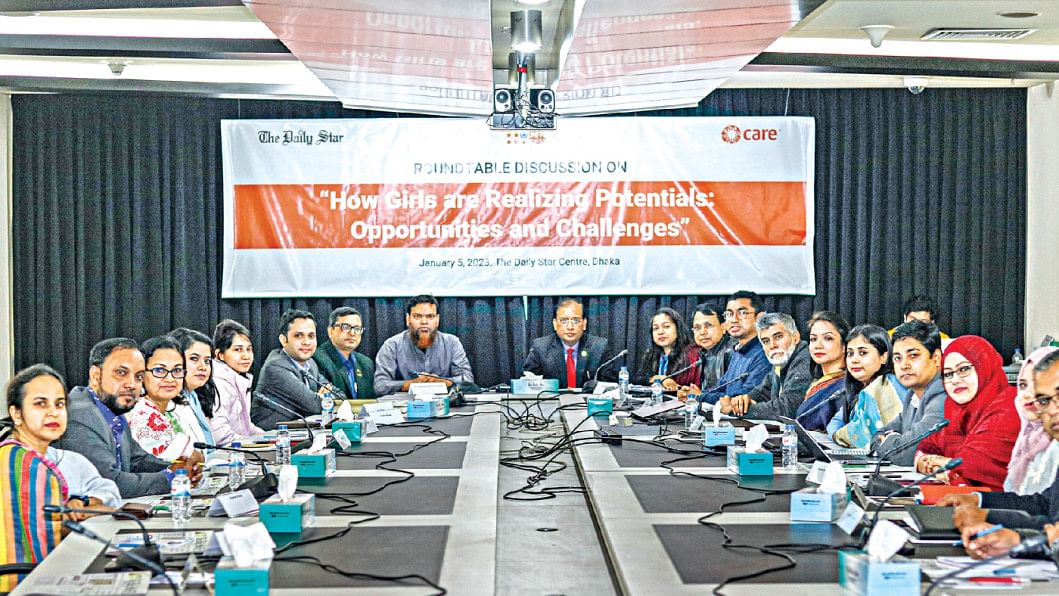 There must be an enabling environment for girls so that they can dream big and reach their full potential, and to ensure that, child marriage, early childbearing, and dropping out need to be addressed, said speakers at a roundtable yesterday.
In addition, parents must know about their daughters' potential, otherwise, the parents themselves may turn out to be a major obstacle for the children, they said.
Besides, girls must have digital and financial literacy, leadership and social skills, and knowledge in science and technology to ensure that they can fulfil their dreams.
They made the remarks at the event, titled "How Girls are Realising Potentials: Opportunities and Challenges", jointly organised by Care Bangladesh and UNFPA, in association with The Daily Star, at The Daily Star Centre in the capital.
Sigma Ainul, senior programme manager of Population Council, said society has been rapidly progressing in terms of technology, but girls are lagging behind when compared with boys, which became more evident during the pandemic.
"There had been a huge digital gender divide, which obstructed girls taking part in online classes," she said.
"Besides, girls must have financial literacy, such as the skills of savings, how to open a bank account, or withdraw cash from banks and ATMs," she said.
Mahmudur Rahman Khan, technical coordinator of research at Care Bangladesh, in his keynote highlighted that in 2000, the net enrolment in primary education increased to 98 percent, but even in 2017, only 31 percent girls enrolled in tertiary education.
And the consequence of dropping out is low labour-force participation, as female youth comprise only 26 percent of the labour force, while it's 54.5 percent for the male youth. This divide can determine wages and freedom in choosing careers, he said.
To achieve their potential, girls need the space to meaningfully participate in dialogues, and prejudices against them need to go away, he mentioned.
At the same time, the perception of "marriage can solve all problems" needs to be eliminated, and the control over sexuality should be addressed, he added.
Reefat Sattar, director of programme development and quality at Save The Children Bangladesh, emphasised on ensuring political and social empowerment of girls.
He urged the government to establish a dedicated department for the children, so that their issues can be addressed properly.
Kamrun Nahar, assistant director of Directorate of Secondary and Higher Education, also joined the event and focused on mitigating the challenges that girls of remote areas -- especially those from char, haor and coastal areas -- frequently face.
Nadeea Khandaker, focal person, media and communication and sustainability at Robi Axiata, emphasised on how to encourage girls to dream big, especially when they are in secondary school.
She suggested including inspirational aspects in the curriculum to motivate them.
Md Shawkat Hossain, member secretary of NEARS and consultant of Marie Stopes Bangladesh, said consent should be a must during marriage. This can decrease the amount of child marriages, which rose during the pandemic.
At the same time, he said service providers at government healthcare facilities should not ask about marital status. If this is done, adolescent girls will be able to conveniently avail reproductive healthcare and avoid any stigma.
Shawkat mentioned that men should be more involved in taking family-planning methods.
"To help girls realise their potential, it is crucial to build self-confidence among them. And for this, there must be a dedicated period for playing, along with playgrounds," said Fatema Begum, senior advocate at Mahila Parishad.
She urged district-level committees to be proactive in stopping child marriages.
Sakina Sultana, team leader at Care Bangladesh; Ram Chandra Das, former director general of Department of Women Affairs; Dr Muhammad Munir Hussain, programme analyst of UNFPA Bangladesh; Natasha Kader, acting head of women banking, Eastern Bank Ltd; Shafiqur Rahman, project manager, VSO Bangladesh; Tunazzina Hoque, national coordinator, World Vision Bangladesh; Sadia Karim, adolescents-youth and gender specialist at Educo ONG; and MA Akher, director of Department of Youth Development, spoke among others.