Of empty wallets and cracked eggs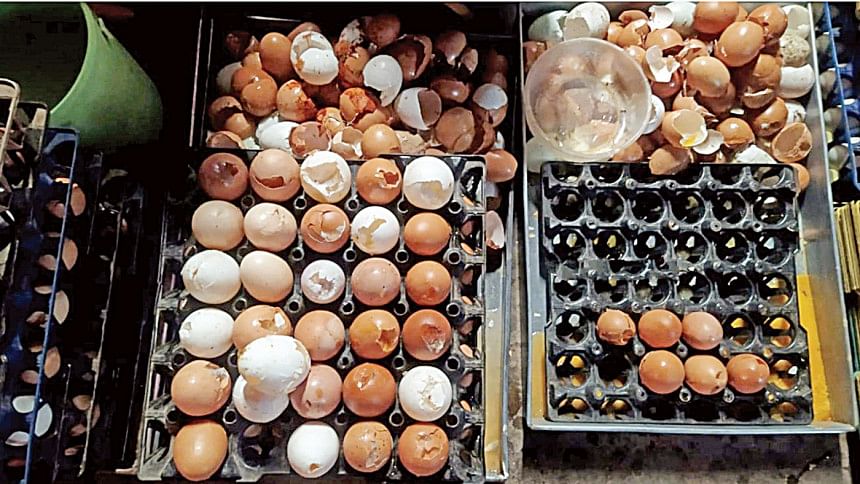 A mother of three, Nasima Begum (30) is a regular customer of "Fakinni Bazar", under Bijoy Sarani-Tejgaon Flyover, along the rail tracks.
This market is a go-to place for lower-income people.
"My husband is a rickshaw puller. Fish and meat were always beyond our purchasing capability, so eggs were our last resort to get nutritious food. But after the price hike of eggs, we were unable to purchase it," she told this correspondent.
Left with no other choice, she has resorted to eating cracked eggs.
"I often feel eggshells in my mouth while eating. But we are not in a position to buy an egg for over Tk 10," said Nasima.
The bazaar is set up on both sides of the rail tracks, where people living in shanties nearby sell daily goods. The sold product is not particularly in good condition, as most are on the verge of rotting. But for people like Nasima, this market is the only option they have.
Rozina Begum (34) echoed the same. She said despite the recent decrease in the price of eggs, they have to buy cracked eggs as the costs of other daily commodities are still off the roof. "I have four children. Earlier my husband used to earn Tk 800-900 per day through his tailoring job. Now his income has dropped to Tk 200-300 a day."
"I am not in a position to spend more than Tk 100 for food. So we have to settle with cracked eggs," said Rozina. The rising prices of eggs last month threatened lower-income people's protein intake.
Despite a recent drop in egg prices, these families are still depending on broken eggs for protein as the price of other daily commodities has taken a significant leap following the record hike in fuel prices.
Around 70,000 eggs come daily to the largest egg depot in Bangladesh on Tejgaon Railway Station Road. On average, 300-400 eggs crack during transportation.
Wholesalers tie these eggs with tape and sell them in the open market. Only a few low-income people and small bakeries used to buy these eggs.
However, since the price of eggs increased in the second week of August, the demand for cracked eggs has increased, traders said.
Dayal Mia has been selling eggs in the Fakinni Bazar area for 30 years.
He explained that there are three types of cracked eggs. Some have no leaks. They are taped and sold at Tk 5 per piece.
In some, the egg white leaks, but the yolk remains. They are sold for Tk 4 per piece.
Those with more leaks are sold for Tk 2 per day, said Dayal.
"When the price of eggs went up to Tk 55, no cracked egg was sold below Tk 5. I sold cracked eggs without leaks for Tk 7," he said.
Shah Alam, another egg seller at the market, said he sells 300-500 eggs a day.
"Most of the customers started asking for cracked eggs after the price of eggs increased last month," he said.