Empty promises, demolished heritage
Part of Boro Katra almost torn down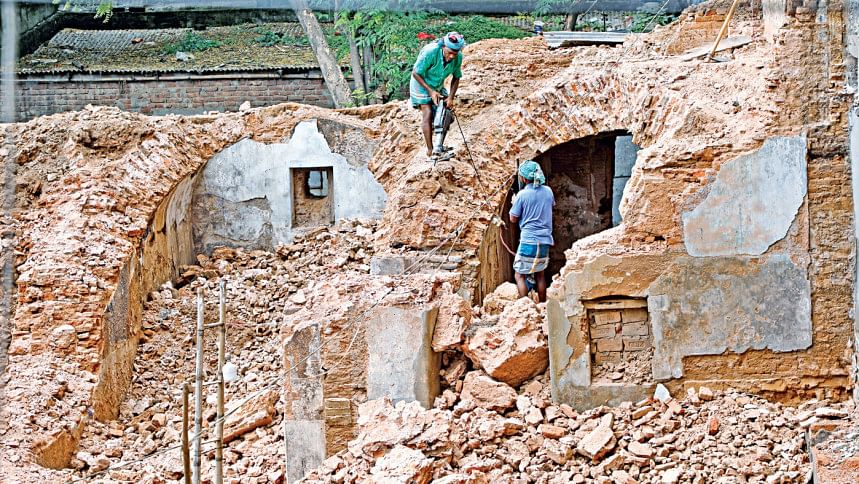 Earlier this year, this newspaper ran a report on how Dhaka city's two ancient structures -- Boro Katra and Chhoto Katra -- were at the verge of extinction due to rampant encroachment in absence of government measures to preserve them.
When The Daily Star contacted relevant authorities, they pledged to take necessary action, committed to acquire land to protect the establishments.
Fast forward  five months, it seemed as if the promises were given in bad faith, as a section of Boro Katra, comprising three chambers of the historic structure, has been almost torn down.
This comes after the demolition of Neelam Ghar and another heritage structure in Old Dhaka in the last few months.
"This part of the 400-year-old monument is presently under the possession of the owner of Holding-15, Bara Katra Lane," said Taimur Islam, chief executive of conservation organisation Urban Study Group (USG).
Standing over the rubble on the demolition site,  Taimur said a two-storey building used to  be there. That building itself was a hundred years old.
At the rear end of the property stood a single-storey structure with  three chambers, which are part of Boro Katra.
The demolition of these structures started in mid July. By the time USG found out, it was almost too late, claimed Taimur.
"USG volunteers found out about the demolition during a routine visit. When we contacted police, they assured us to take immediate steps," he said.
But nothing happened ever since, and the mentioned structures are on the verge of disappearing into oblivion, he lamented.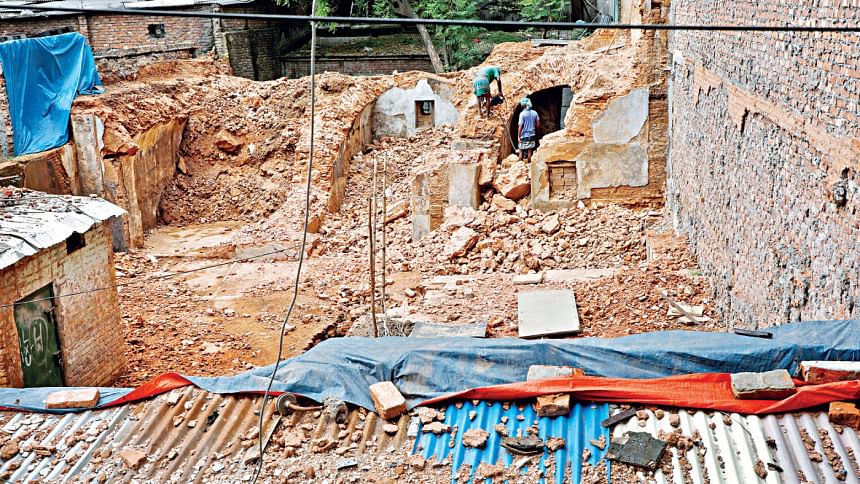 The almost demolished establishment, like the rest of Boro Katra, was covered by a set of four-point vaults, constructed with Mughal-era bricks locally known as Jafri bricks.
"The demolition is a violation of a 2018 High Court directive that ordered authorities to stop changing, modifying and demolishing 2,200 British-era buildings named in USG's list of heritage sites in Old Dhaka," Taimur said.
Abdul Qayyum, officer-in-charge of Chawkbazar police station, said  Department of Archaeology inspected the site  recently and stopped construction  work.
Rakhi Roy, regional director of Department of Archaeology,  said they heard about the issue a while ago and immediately visited the  site. The owner of Holding-15 has pledged to not demolish the structure  further.
The department officials will inspect the relevant papers, Rakhi said.
Earlier, owner Ali Hossain said they were demolishing the structure as the city corporation identified it as a risky, and they obtained permission to construct a multi-storey building on the site from Rajuk.
He had also claimed that this was not part of Boro Katra and they purchased it in 1978.
Contacted, Shah Alam Chowdhury, director of Rajuk's zone-5, denied giving such a permission. ABOUT BORO KATRA
"Katra" is a Persian word that means caravanserai or roadside inn. Multiple katra were constructed during Mughal and Nawabi era in Dhaka. Of them, Boro Katra and Chhoto Katra are mentionable, according to historians.
Boro Katra is located at a point in between Buriganga river and Chawkbazar. Mughal prince Shah Shuja constructed it for his official residence. After construction, the prince did not want to use it as a residence, which is why the palace had turned into an inn.
The Department of Archaeology on December 21, 1989, announced the structures as "Protected Archaeological Site".
In 2020, Rajuk declared the two structures as "Traditional Special Establishments".
The existing rules prohibit any kind of expansion, exclusion and change of such archaeological sites. Even, no permanent establishment can be constructed on their premises or adjacent areas.
However, defying the rules, occupiers have constructed many structures inside the premises of the two establishments and its adjacent lands.
And now, a section of it became the recent victim of so-called development.