Emission from coal-fired plants: Govt set bar too low
Says study by Stamford University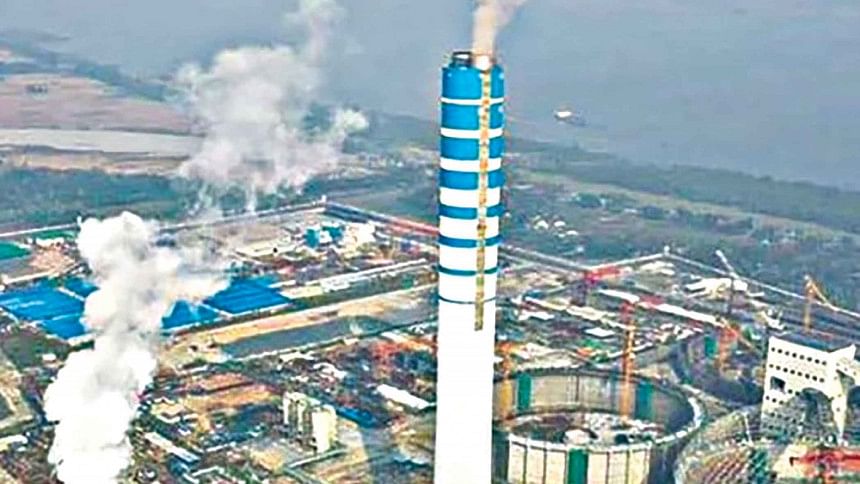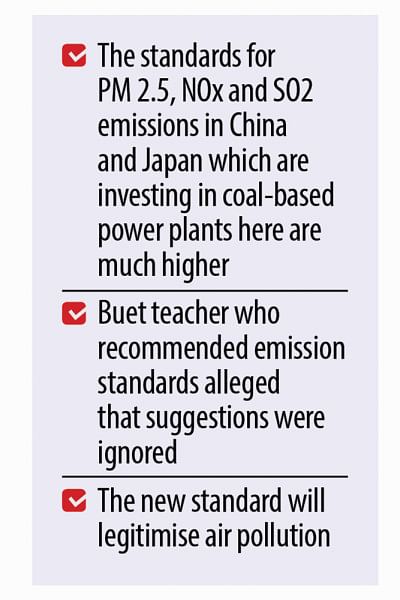 The government's emission standards for coal-fired power plants are far lower than those of the countries investing in such plants in Bangladesh.
The Department of Environment (DoE) in a gazette issued in July last year said the presence of 100 milligram of particulate matter per cubic metre at the power plant chimneys was acceptable for coal-fired plants that began operation before 2020. The limit for plants that began operation after 2020 is 50mg.
Japan and China have invested in coal-fired plants in Cox's Bazar and Chattogram. Those countries recognise two types of fine particulate matter [PM] as PM 2.5 and PM 10.
The DoE gazette, however, makes no mention of the two types when it comes to coal-fired power plants.
Japan's standard for PM 2.5 per cubic metre is just 5mg while in China it is 10mg.
This analysis was presented in a study conducted by the Centre for Atmospheric Pollution Studies (CAPS) at Stamford University. It was revealed at a seminar at the university yesterday.
The DoE also allows 400mg of sulphur dioxide [SO2] for plants launched before 2020 and 200mg for those launched later. The numbers are the same for nitrogen oxides [NOx].
In China, the SO2 limit is 35mg and NOx is 50mg and in Japan, the limits are 28mg and 40mg respectively.
But the World Health Organization's limit for PM 2.5 is only 5 microgram per cubic metre, SO2 is 40 microgram and NOx is 20 microgram.
Romen Raihan, associate professor of public health and informatics at Bangabandhu Sheikh Mujib Medical University, told The Daily Star that inhalation of PM 2.5 beyond limit can cause infections in the upper and lower respiratory tracts that can lead to pneumonia and aggravate asthma symptoms.
The excessive PM 2.5 in lungs reduces the oxygen level in blood and can result in low birth weight of neonates.
Oxygen deficiency in blood puts stress on the heart which ultimately causes heart diseases, he said.
Ahmad Kamruzzaman Majumder, chairman of Department of Environmental Science at Stamford University, told The Daily Star that the new rules set a standard that would deteriorate air quality. "Our air is already toxic and has hit global headlines for being among the worst in the world."
Easir Arafat Khan, associate professor of Chemical Engineering at Buet, said he and several others made recommendations before the rules were formulated. But some of the recommendations were not reflected in the rules.
PM10 are inhalable particles, with diameters that are generally 10 micrometres and smaller; and PM2.5 are fine inhalable particles, with diameters that are generally 2.5 micrometres and smaller. For context, the average human hair is about 70 micrometres in diameter.