NID for students: EC to get info from educational institutions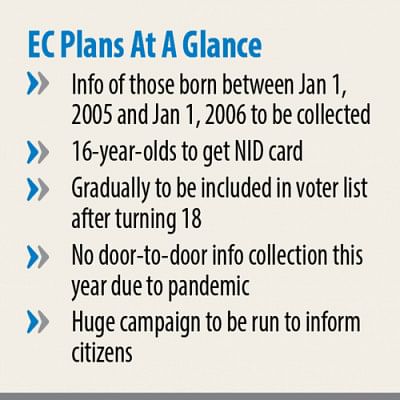 Election Commission (EC) is planning on collecting information of students from their educational institutes to provide them with National Identity (NID) cards.
The commission officials will acquire details of out-of-school children from union offices, top EC officials said.
This year, information of citizens who were born between January 1, 2005 and January 1, 2006 will be collected from schools, madrasas, other educational institutions and union offices.
They will get NID cards at the age of 16, after completing the biometric process, and will gradually be included in the voter list after reaching 18, the officials said.
"We are planning to collect data of citizens from educational institutions, which have students' data," Election Commissioner Brigadier General (retd) Shahadat Hossain Chowdhury told The Daily Star.
NID cards are issued to every Bangladeshi citizen upon turning 18 years old. NID is required for multiple essential public services, such as obtaining utility connections, getting mobile SIM cards and passports, and opening bank accounts.
Usually EC gets information of eligible voters by going door-to-door. In 2019, officials received data of people born between January 1, 2001, and January 1, 2004.
Shahadat said they are not planning to go door-to-door this year due to the coronavirus.
On August 23, NID-wing officials at a commission meeting had proposed getting details of people born on or before January 1, 2006, online and through upazila election offices.
It was decided that a committee under Shahadat, which usually observes NID activities, will review the proposal and send their recommendation to the commission.
Shahadat said they will soon have discussions with relevant ministries and authorities regarding the issues. "We will place the proposals before a commission meeting soon," he said.
EC officials said they are not going for online registration, as not all citizens would be able to avail the service. As all schools keep student records, it would be efficient to collect information from the establishments.
Asked about a potential online process, Shahadat said: "We will go for only one process, but our committee is still looking into the matter."
Asked about how data would be collected as educational institutes remain closed since March 17 last year, Shahadat said they would be able to do so, as administrative offices of the institutes are open.
He said EC will run a huge campaign in this regard through religious establishments, and print and electronic media.
Asked about whether EC would continue collecting information for NID in the future, Shahadat said he is not in a position to answer the question. "Our tenure will end in February, so it will depend on the next election commission."
The current EC, led by Chief Election Commissioner KM Nurul Huda, started its tenure on February 15, 2017.
EC started giving out NID cards in 2008, using data received during voter registration. There are 11.17 crore voters in Bangladesh now.
According to EC, 19,18,056 new voters -- 11,25,755 male and 7,92,220 female -- were enlisted in the country's voter list in 2020.