E-gates from June 7: No more lengthy immigration process
27 are ready at HSIA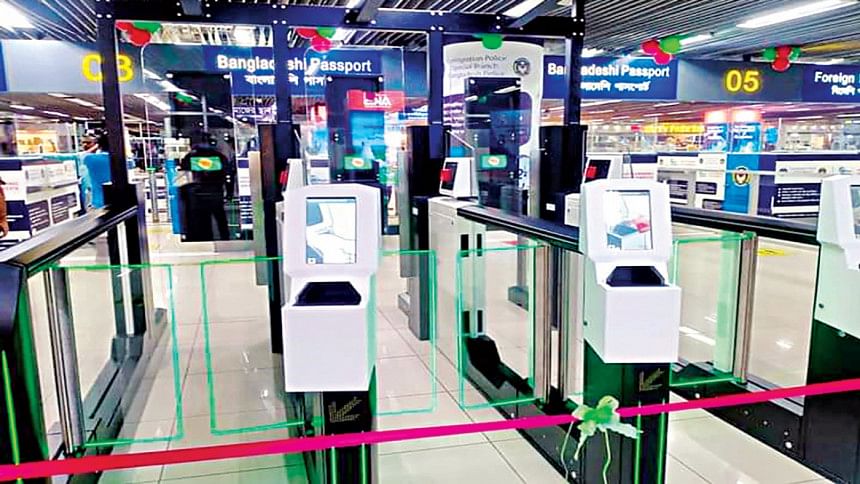 The days of lengthy immigration formalities at Dhaka airport will soon be over as 27 electronic gates are set to become operational from June 7.
The immigration formalities will take very little time for the arriving and departing travellers, thanks to the automated border control system, said Mokabbir Hossain, secretary at the security services division of the home ministry.
"The passengers will not need to wait in queues, as the e-gates will open automatically for those with an e-passport," he added.
Col Md Khalid Saifullah, additional director of the e-passport project, yesterday told The Daily Star that the government had plans to set up a total of 50 electronic gates at other airports and land ports under the "E-Passport and Automated Border Control Management Project".
Officials at the HSIA said the e-gates would automatically complete the immigration formalities, minimising human interactions.
Even though the e-gates were inaugurated by Home Minister Asaduzzaman Khan Kamal in June last year, the Department of Immigration and Passports (DIP) has not been able to use them. As a result, immigration of e-passport holders is now being done manually.
Bangladesh is the first country in South Asia to launch e-gates for e-passports.
The Special Branch of police, which is in charge of immigration, said as there was no link between the e-passport server and the e-gates, the immigration police were carrying out the formalities manually.
When the e-gates become operational, the camera attached to the gate will identify the passenger automatically after analysing information from the e-passport chip.
The e-gates will identify air passengers after scanning the e-passports. The process ensures high security during the verification of travel documents. Global travellers will have a hassle-free experience at the airport.
The government launched the e-passport programme and automated border control (ABC) management in January 2020, aiming to modernise the immigration process and to enhance the acceptability of the Bangladesh passport.
The e-passports add a layer of security to traditional passports by embedding an electronic chip that stores the biographical information visible on page 2 of the passport and a digital security feature. The chip also contains the photo, fingerprint and iris data of the passport holder, according to DIP.
After the e-gates were set up in 2019, officials received training on operating them.
The e-gates were installed at the airport by Veridos GmbH, a German company, which got the contract for the ABC project in July 2018.