Durga Puja begins today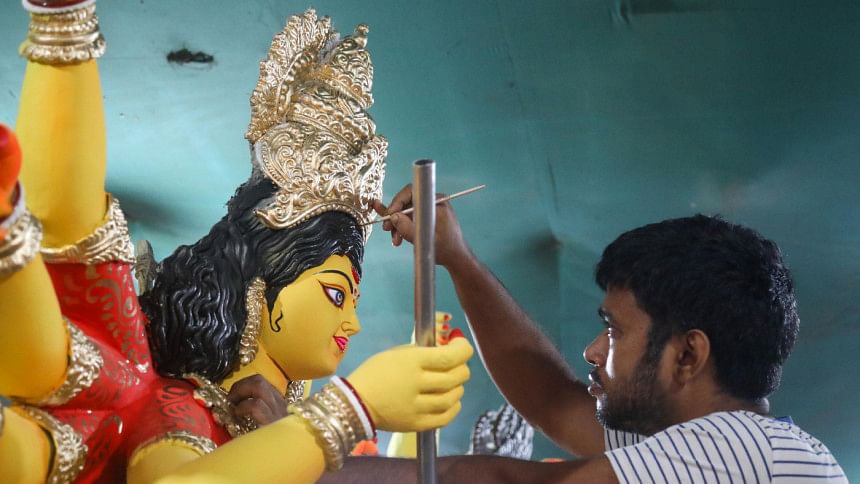 Durga Puja, the biggest religious festival of the Bangalee Hindu community, will begin today with the incarnation of Goddess Durga on the day of Maha Shasthi at temples and mandaps across the country.
The annual five-day Sharadiyo Durgotsab will commence with Kalparambho in the morning which will be followed by Adhibash, Amantran (invitation), and Bodhon (incarnation) in the late afternoon as Maha Shasthi Tithi starts at 12:31am on Friday.
The celebrations also include offering puja to other major deities of Hinduism such as Goddess Lakshmi (goddess of wealth, prosperity), Goddess Saraswati (goddess of knowledge and music), Lord Ganesha (god of good beginnings) and Kartikeya (god of war).
On October 21, on the second day of the celebration, Maha Saptami puja will be held in the morning.
On the third day of Maha Ashtami on October 22, different rituals including the offering of Anjali and Kumari Puja will be held in the morning and Sandhi Puja in the late afternoon or in the evening.
Maha Nabami Puja will be held on October 23.
On the final day of Bijaya Dashami, puja will be offered in the morning and Darpan Bisharjan will also be held. On Dashami, Ma Durga is given a grand farewell before she is immersed in the river. The five-day festival will come to an end with the immersion of idols of goddess Durga and her offspring -- Ganesha, Kartikeya, Lakshmi, and Saraswati.
In the capital Dhaka, the main puja mandaps are at Dhakeshwari National Temple, Ramkrishna Mission and Math, Kalabagan, Banani, Shakhari Bazar, and Ramna Kali Mandir.
Major cities, including port city Chattogram, Rajshahi, Khulna, and Sylhet and district towns including Faridpur, Dinajpur, Jashore, Kushtia, Satkhira, are expected to witness massive celebrations.
Durga Puja will be celebrated at 32,408 mandaps across the country this year including 245 in the capital, according to Bangladesh Puja Udjapan Parishad (BPUP).
Puja shopping is still going on as major markets and malls are packed with customers.
Stringent security measures will be taken across the country during the celebration to avert any untoward situation.