DSCC gyms not fit for use
Lack of trainers, old and rusty equipment make the facilities a hard choice for working out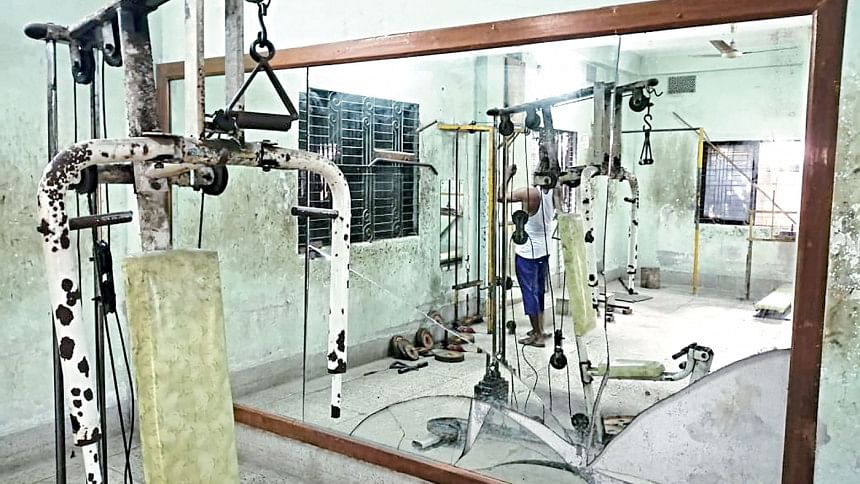 Although Sutrapur Modern Gymnasium, located near the capital's Katherpool intersection, has the word "modern" in its name, visitors will have a hard time finding anything modern about it.
Regulars of the gym have been working out with the same rusty old equipment for years; literally most of the tools have rust on them. At the same time, the plaster on the walls is also falling off.
Ravi Chandra Dey has been working out at the gym for the last 10 years.
"I haven't seen any new equipment in these 10 years," he told The Daily Star. "There is no trainer here; the environment is not good as well.''
Azad Noor Shanto, another regular, said, "I used to work out at a private gym and recently started coming here. The situation here is abysmal. All the equipment is old.''
The situation is similar in all gyms run by Dhaka South City Corporation (DSCC).
There are no trainers for the gyms and no suitable environment for exercising. The situation -- the peeling plaster, the rust -- is such a big issue that some gyms have even closed down.
"Sher-e-Bangla Men's and Women's Physical Training Center" at Mohammad Sayeed Khokon Community Center in Gandaria is on DSCC's list of gyms. But in reality, its existence couldn't be found.
Monir Hossain Chowdhury, in charge of security at the community centre, said no gym equipment has arrived there yet.
The only gym for women -- Haji Fazlur Rahman Women's Physical Training Center -- is on the third floor of Fakir Chan Community Center in Narinda.
Lubna Chowdhury, a regular there, said the centre's equipment is not up to par.
"I've been going to this gym for about five years," she said. "The facilities here are good, but it would have been better if the equipment was more modern.''
Rahima Khatun, who is in charge there, said to improve the gym's facilities, they need new equipment.
Habib Ullah Sardar Men's Physical Training Center is located on the fifth and sixth floors of Fakir Chan Community Center. Although it has two floors, the gym's condition is extremely poor.
Siraj, who works out there, said the environment is quite dirty. Covers of the equipment remain torn. Many of the tools are broken. "We are potentially harming ourselves by using the equipment. There is no cleaner here as well."
Rahmat Ullah alias Lucky Ustad, who acts as the gym's trainer, said more equipment is needed to improve facilities.
Although Lucky trains others there, one Nurul Islam Khan is on DSCC's trainer list. However, Shihab Hossain said even though he has trained there for three years, he has never seen Nurul.
Talking to The Daily Star, DSCC Social Welfare and Slum Development Officer Akand Mohammad Faisal Uddin said, "We have some plans to develop the gyms."