Dredging of 7 Canals: BCC, WDB at loggerheads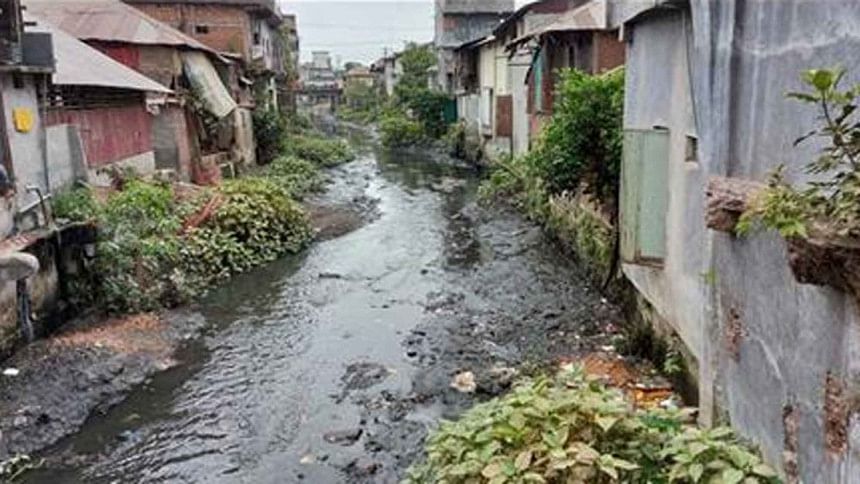 A conflict has arisen between two government agencies over re-excavation of seven important canals flowing through Barishal city, postponing the work.
Barishal City Corporation (BCC) undertook a major project worth Tk 2,600 crore in 2019 to re-excavate and beautify 46 canals, and build walkways on their banks.
BCC sources said the project is still awaiting approval from the Planning Commission.
Meantime, Water Development Board, on April 12, invited tender for re-excavation of seven canals worth around Tk 7 crore. The tender process has recently been completed.
WDB Executive Engineer in Barishal Dipak Ranjan Das said they took the project considering people's suffering.
In the middle of it, BCC sent a letter to the LGRD ministry objecting to WDB's move, said the official. Thus, the process for re-excavating the seven canals has been halted, he added.
The seven canals -- Sagardi, Chandmari, Bhatar, Jail, Amanatganj, Palashpur and Rupatali -- are dying due to lack of proper maintenance for the last few years.
Once goods were transported through these canals. Now these have become too narrow to use, said Haran, a trader in Chawk Bazar area.
Shekhar Das from the city's Jail canal area echoed him.
Rafiqul Alam, divisional coordinator of Bangladesh Poribesh Andolon (Bapa), said, "We think this problem will be resolved if BCC and WDB join hands and work together."
Echoing him, Shah Sajeda, convener of Sachetan Nagorik Committee, said it is unfortunate that conflict between the two organisations has held the re-excavation work.
Syed Farooq Ahmed, chief executive officer of BCC, said WDB should have talked to them before taking such projects in the BCC area.
In this regard, WDB executive engineer said they took the project as part of a mega project WDB is implementing countrywide to re-excavate canals. The Tk 7 crore project is a very small part of the BCC's overall project, he said. "It can be coordinated, hopefully we would be able to start the project soon," he added.