Don't increase tax burden on ordinary people
PM tells finance minister, NBR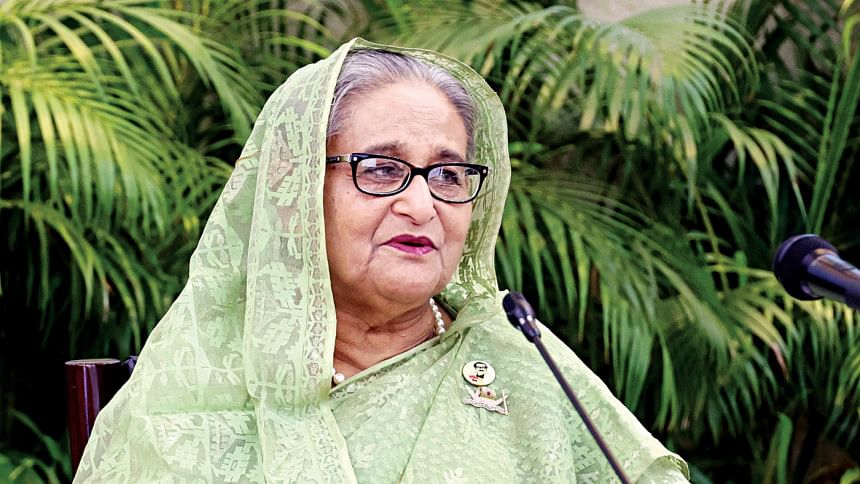 Prime Minister Sheikh Hasina has directed the National Board of Revenue not to increase the ordinary people's tax burden as it looks to improve its revenue collection by 16 percent in the upcoming fiscal year.
She gave the instruction at a meeting with Finance Minister AHM Mustafa Kamal and senior NBR officials at the Gono Bhaban yesterday.
The tax-free income ceiling may be raised to Tk 320,000-350,000 in the next fiscal year, up from the current ceiling of Tk 300,000, to ease the suffering of the low and middle-income people who are struggling to cope with the soaring prices of essentials, said finance ministry officials.
She also suggested continuing tax exemption on commodities and levying more taxes on products that are harmful to public health.
Hasina's directives come as the finance ministry sits to draft the budget for fiscal 2023-24 with the conditions of the International Monetary Fund hanging over its head.
As per the IMF's conditions for the $4.7 billion loan programme, the government will have to increase revenue collection and take various reform measures.
The National Board of Revenue shared its plan with Hasina for revenue collection for the next fiscal year in light of the IMF's conditions and upcoming national polls.
The revenue collection target may be set at Tk 430,000 crore, up by 16.2 percent from this fiscal year's target.
In the last five years, the NBR's average collection growth has been 12.12 percent.
NBR officials said they will be able to achieve the target since various reform measures, including installation of electronic fiscal devices (EFDs), have been taken.
Over the next three years, three lakh EFDs will be set up. At present, 9,000 EFDs are operational.
The officials also highlighted the plan to automate tax collection by 2025.
The IMF recommended reducing tax exemptions, which the NBR agreed to do gradually.
However, the NBR does not have any plan to reduce corporate tax. It plans to increase the price slab and tax on tobacco products.
The government is considering lifting the tax amnesty for undeclared income stashed abroad. That provision, brought in last year, has brought no result.