DNCC to build eco-park at Kalyanpur
Project to free canals; set up recreation spot like Hatirjheel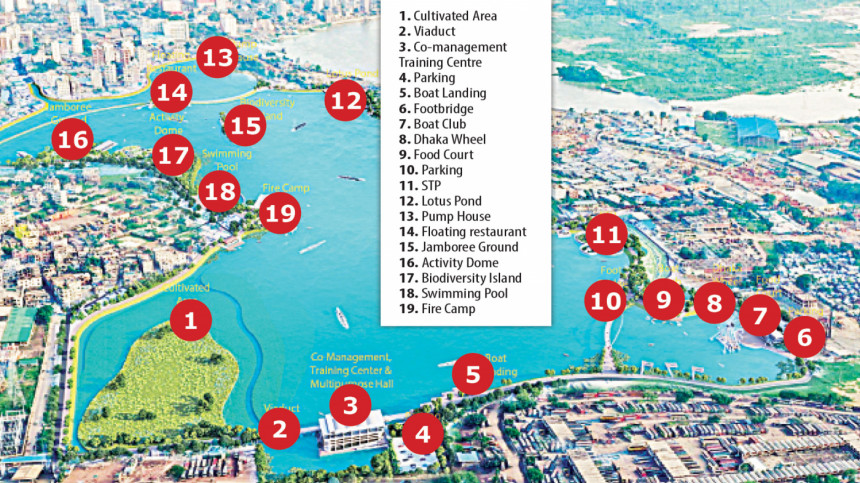 Dhaka North City Corporation (DNCC) has taken up an elaborate plan to construct an eco-park using the retention areas at the capital's Kalyanpur, a large part of which are currently encroached.
The project will not only protect the retention areas but also turn the whole place into a recreational spot like Hatirjheel, city corporation officials and experts say.
According to DNCC statistics, the total area of the retention space is 178.82 acres.
Of the total, 98.35 acres belong to Bangladesh Agricultural Development Corporation (BADC), while Bangladesh Water Development Board (WDB) possesses 6.36 acres, and 11.40 acres are government khash land. Dhaka Wasa's own land, 9.71 acres, and acquired land, 53.004 acres, is now under DNCC.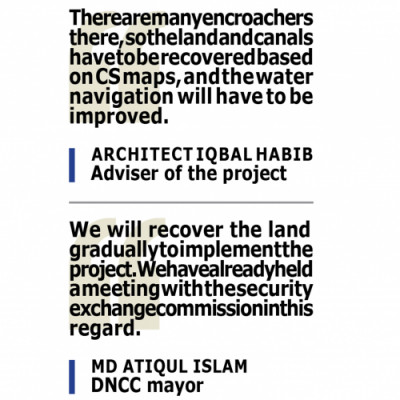 But DNCC currently possesses only three acres out of what it is supposed to have -- 74.114 acres -- as much of the land is now occupied by encroachers, said Shawkat Mahmud, superintendent engineer of DNCC drainage system.
Some parts of the land belonging to BADC and WDB are also occupied, he added.
Five Kalyanpur canals connected to this retention pond drain water into it. But, in the last two decades, private establishments and residences have choked the pond and canals.
Against this backdrop, DNCC took up the project, with a budget of around Tk 2,000 crore.
THE PROJECT
Of the project's 10 zones, five have been reserved for nature-based establishments, such as a base camp for youths; a biodiversity island with bee colonies, a butterfly garden and bird aviary; and an aquatic park.
All the zones are connected by waterways, and visitors will be able to enjoy the experience on boats.
There will be over 50 types of facilities in the zones, including walkways, bicycle lanes, children's playground, waste disposal and management system, and
rehabilitation facility (housing area) for those evicted from the area. The housing area will have 900 sq ft flats for 200 families in Zone 7.
The project will be shown to Prime Minister Sheikh Hasina on November 4 for approval.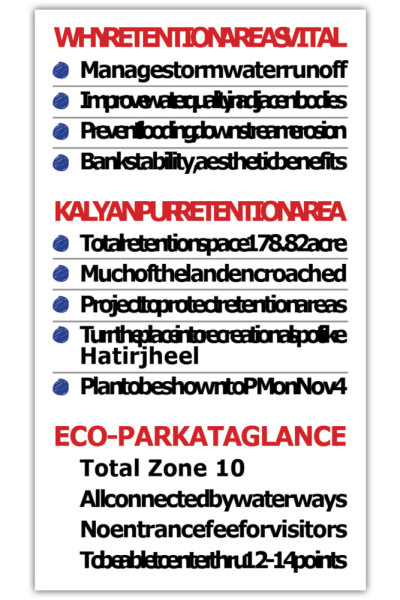 The youth camp will be in zone-1. A food court, boat club, parking, deck, angling space and Ferris wheel will be constructed in zone-2. The biodiversity island will be in zone-4. A floating restaurant and food hut will be built in zone-5; and a lotus pond, footbridge and sitting area in zone-6.
In addition, there will be farmland, and BADC's cold storage and seed warehouse in zone-8. Zone-9 will contain a training centre, multipurpose hall, and exhibition space; and a solar-aquatic treatment plant and park will be built in zone-10.
At the learning centre, youths will be trained on different environmental aspects, and they will receive first-hand experience of working with nature.
Iqbal Habib, adviser of the project, said the government had acquired 173 acres of land earlier, but now, most of it is occupied by land grabbers.
In the dry season, the canals retain water from the pond, and during monsoon, they bring water into it, he said.
There are many encroachers there, so the land and canals have to be recovered based on CS maps, and water navigation will have to improve, he added.
With the DNCC mayor's vision, authorities are planning to properly develop the retention area, so people can see it as a recreational spot. The project is being designed to not just be sustainable financially but in terms of maintenance as well.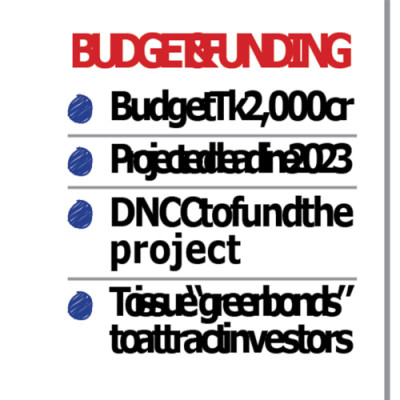 Habib said "Solar Aquatic Technology" will be used to treat lake water and make it drinkable, and the entire park will run using electricity generated from solar power.
A Ferris wheel, called "Dhaka Eye", would be installed at the entrance point, he added.
No entrance fee will be taken from visitors, but they will be required to pay fares for availing the facilities, Habib said.
People will be able to enter the area through 12 to 14 points, he said.
The project will not be funded by the government but rather by DNCC, which is expected to issue municipal bonds or "green bonds" in a bid to attract investments for the projects.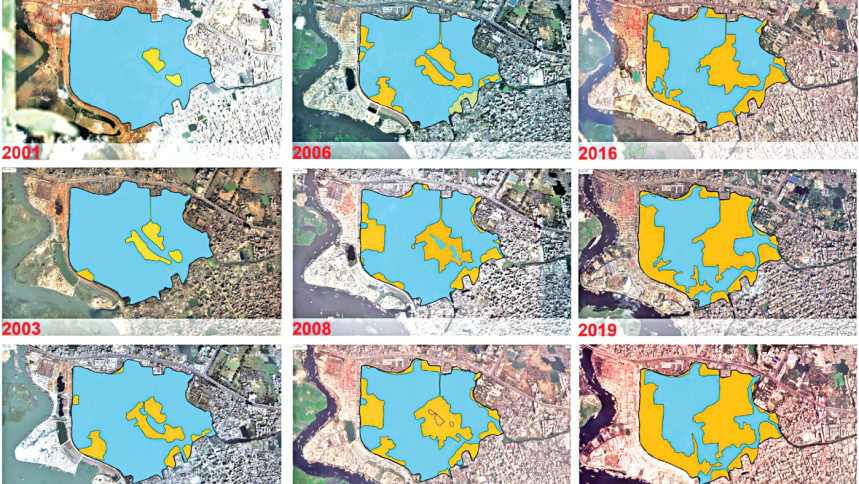 Contacted, DNCC mayor Md Atiqul Islam said they will recover the land gradually to implement the project, as it will not possible to recover the whole area at once.
"We have already held a meeting with the security exchange commission to implement the project with green bonds and will not take any money from the government," he said.
They want to complete the project by the next two years, he added.