DMP to bring capital under CCTV coverage
Plans to add 50,000 private CCTVs to its central system to tackle rising crimes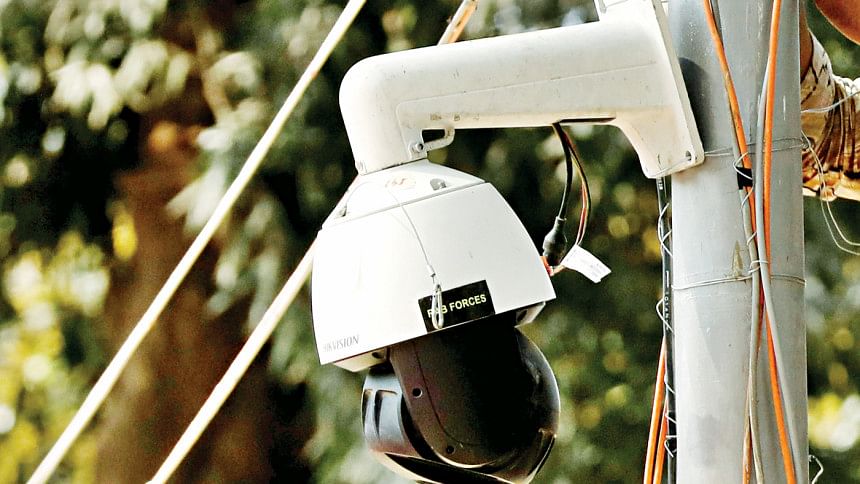 Dhaka Metropolitan Police is working to bring the whole capital under the surveillance of Close Circuit Television (CCTV) cameras to tackle rising crimes like murders, burglary, theft, and robberies.
For that, the DMP is counting heavily on voluntary public support.
Initially, it aims to incorporate around 50,000 private CCTV cameras into its surveillance apparatus. It has already started requesting area-based housing societies, apartment cooperatives, individual households and businesses to upgrade their existing CCTV cameras.
The DMP wants people to upgrade their existing CCTVs so that the devices can supply live feed and have 11 types of specialised features like face detection, automated alarm system, and vehicle number plate tracing.
"The upgrade of these private CCTVs is not being carried out under any government project. We are doing it solely with public support," AKM Hafiz Akhter, additional commissioner (admin) of DMP, told The Daily Star.
"We, through police stations, are reaching out to the CCTV owners and requesting them to improve their camera quality. If they agree, these cameras will be brought under a central networking system so that we can get support from it," explained the official.
Requesting anonymity, a DMP official said they are expecting a good response from the societies, households, and business owners as the upgrade and incorporation of their CCTV cameras into the central system will also help secure their premises.
With voluntary public support, according to DMP officials, around 1,500 CCTVs have been upgraded so far in Banani, Niketon, Gulshan, and Baridhara areas.
Police have already begunmonitoring live feed from these CCTVs, the DMP officials said.
Hafiz Akhter said DMP is planning to tag this technology with the national emergency number 999 to provide prompt service.
The officials said there is no specific time frame as it is a voluntary public-supported project.
Barrister Sarwat Siraj, secretary general of Gulshan Society, told The Daily Star that the number of petty crimes like mugging in the Gulshan area has come down dramatically after the police-led CCTV initiative.
The cameras also help a lot in solving crimes, she claimed.
"If anyone reports or seeks our assistance after any criminal incidents, now we can locate the place of occurrence, mark the spot by the CCTV footage, and inform police about it. And we have instances of solving crimes through the process," she added.
Asked, the DMP officials claimed there are no legal issues regarding privacy as these CCTVs are installed only in the public areas.
Barrister Sarwat agreed and said they are getting requests from the community to install more CCTVs to secure the whole society.
DMP officials say the initiative has been inspired by successful experiments abroad like that In the United Kingdom.
In India, installation of CCTV cameras across the city has helped Delhi police to solve more criminal cases, they said, citing Indian media reports.
The initiative comes as crimes in Dhaka city are on the rise.
The database of the DMP headquarters shows mugging cases almost doubled in the last two years. Around 165 mugging cases were filed in 2022 compared to only 88 cases in 2021.
Besides mugging, a total of 173 murder cases, 27 dacoity cases, 713 burglary cases, and 172 pornography cases were filed in 2022, while the figures were 166, 23, 643, and 117 respectively in 2021, the DMP HQ database shows.
A huge number of narcotics cases were also filed. The figure was 16,035 in 2022 while it was 16,213 in 2021.
Acknowledging the data, Hafiz Akhter said new technologies and approaches are needed to tackle the changing crime patterns.
He said the CCTV network will also help to identify the criminals who flee the capital after committing a crime.
The DMP has already installed CCTVs at all 14 entry and exit points of Dhaka city, according to officials of the DMP HQ.
According to DMP Headquarters sources, the central monitoring system of DMP now has around 680 CCTVs at 221 points in Dhaka city. There are also 625 CCTVs in Dhaka South City Corporation areas at 199 locations, they added.
Dr Tawohidul Haque, assistant proffesor of the Institute of Social Welfare and Research of Dhaka University, told The Daily Star that the cameras would help the law enforcers.
"But we have to remember that professional criminals also know how to commit crimes by dodging surveillance," he said.
Along with increasing digital surveillance, police need to perform their duty with integrity and professionalism to improve the situation, he added.
Dr Tawohidul also emphasised on the need for creating awareness among the city dwellers.