Dinajpur farmers worry over urea-fertiliser price hike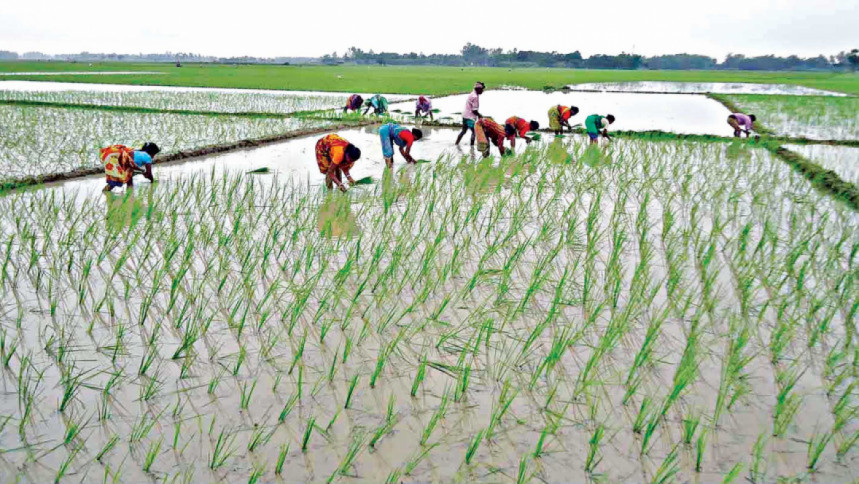 After the price of urea fertiliser was increased by Tk 6 per kg in this picked season of Ropa Aman, farmers of Dinajpur have now become more worried about the production cost as the government last night hiked fuel prices, including diesel, by up to 51.7 percent.
Farmers said it will increase their production and transportation costs.
While talking to The Daily Star, some farmers in Nawabganj upazila of Dinajpur said that the cost of urea will increase by Tk 550 per bigha as the price of the fertiliser has increased by Tk 6 per kg recently. On the other hand, due to the increase in fuel prices, the irrigation cost will increase by around Tk 300 to Tk 400 per bigha. 
Dulal Chandra Mahanta, a farmer from Nawabganj, has cultivated aman on one acre of land this season. Earlier, the cost of per acre cultivation and irrigation was around Tk 4,500. With the fuel price increase, its cost will increase by Tk 2,500.
His cropland will need two more cultivation also, Dulal said.
Meanwhile, due to unseasonal rains, the farmer is facing problems in cultivating paddy this year. In this situation, they are worried about the cost of rice production.
Sohrab Ali, a farmer in Dinajpur's Birolpur upazila, said that people are now leaving cultivation due to the price hike in diesel and fertiliser.
The production cost is increasing. On the other hand, the farmer is not getting a fair price for his crop, he said adding that if the farmer does not cultivate paddy, then the condition of the country will become worst. "It is not possible to run the country by importing rice from outside," he added.