Dignitaries stroll through DU's 'Walking Museum'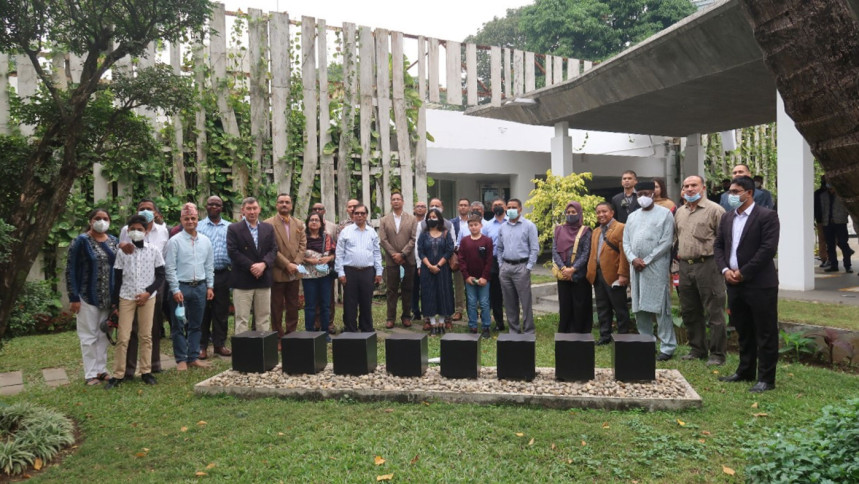 A group of international dignitaries, including diplomats and military officials, have visited the Dhaka University "Walking Museum", which consists of historical installations and memorials of the 1971 genocide.
Guided by Rear Admiral Mohammad Moyeenul Haque, senior directing staff of Bangladesh Navy, the dignitaries visited the site on foot yesterday.
The Center for Genocide Studies (CGS) of DU established the museum in 2016.
CGS sources said they began the initiative with the aim to introduce the university's historical sites to the new generation.
Among others, British High Commissioner Robert Chatterton Dickson, US Ambassador Earl R Miller, UN Resident Coordinator Mia Seppo, Turkish Ambassador Mustafa Osman Turan and Resident Representative (Asia and Pacific Department) of International Monetary Fund (IMF) Jayendu De visited the museum.
Talking to The Daily Star, GM Arifuzzaman, a research associate at CGS, said the centre is working to raise awareness over the extent of the atrocities committed by  Pakistani aggressors during the Liberation War through the walking tour.
Freedom fighter and Ekushey Medal winning journalist Ajay Dasgupta also briefed the foreign officials about the various events and places of historical significance of DU, which are associated with the memory of the war.
The tour consisted of stops at Shikha Chirantan, British Council, Salimullah Muslim Hall, Central Shaheed Minar, Jagannath Hall, Suhrawardy Udyan, Ducsu Museum and more.