Dhaka-Washington ties: Bangladesh seeks thaw
Relations to reach new heights, says Miller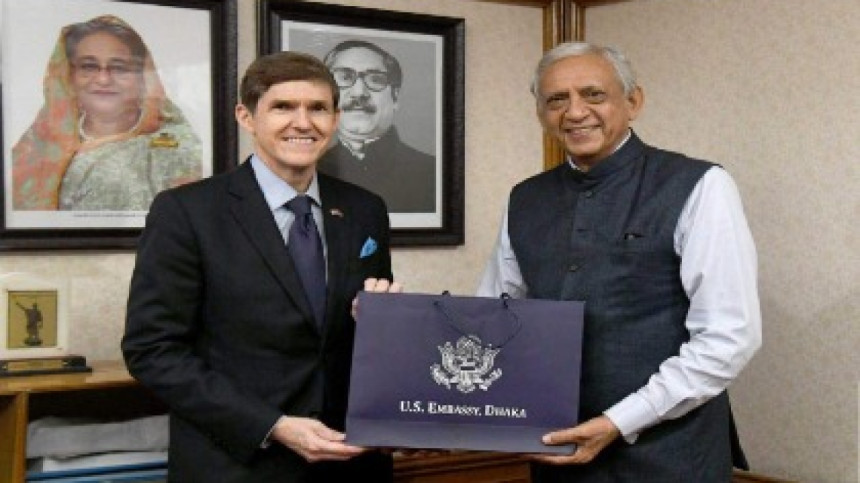 Dhaka plans to strengthen its engagement with Washington to smoothen the strained relationship following the US measures taken to keep Bangladesh under scrutiny as far as democracy and human rights are concerned.
The Biden administration slapped sanctions on Rab and seven of its current and former officials on human rights violations on December 10. It also did not invite Bangladesh to the Democracy Summit on December 9-10.
The recent amendment to the US Leahy Law makes it mandatory for Bangladesh, like other countries getting funding from the US on security issues, to inform how and where the fund is being used.
Dhaka is discussing the law before sending the written consent in response to a letter from Washington on December 1.
According to international relations experts, the Biden administration's focus is on democracy and human rights globally, and its recent actions indicate that it wants Bangladesh to do more to improve democratic values and human rights.
Though initially Dhaka protested the sanctions, Foreign Minister AK Abdul Momen late December wrote to US Secretary of State Antony Blinken, requesting him to reconsider the sanctions.
On January 3, he told reporters that some countries are dissatisfied with Bangladesh and that the government will try to find out the reasons and address those, and improve democratic practices.
"If there are any mistakes, the government will rectify those," Momen said.
"We have a number of channels for engagement with the US. We could not hold the dialogues due to the Covid-19 pandemic. As it goes away, we will be increasing our engagement. We believe we can remove the gaps and weaknesses we have," said Momen.
In February, two dialogues – Security Dialogue in Washington and Investment Dialogue -- are likely in Dhaka. Generally, director general of the America wing leads security dialogue, but this time Foreign Secretary Masud Bin Momen may lead it, given the sensitivity of the issue this year, a foreign ministry official said.
Meanwhile, USAID Administrator Samantha Power is also likely to visit Dhaka soon, while Foreign Minister Momen is likely to visit Washington in February to join a discussion on climate change at the invitation of John Kerry, Biden's Special Envoy for Climate.
"We want visits like these for more engagement with them," Momen said recently.
Bangladesh Enterprise Institute President and former ambassador M Humayun Kabir said the foreign minister's remarks that if there are mistakes, those will be rectified are in the right direction.
"The US is a very important country for us. It is so far the highest donor in the Rohingya crisis and an important factor to create pressure on Myanmar. We need to maintain a good relationship with it," he said.
Bangladesh exports around $6 billion worth of products, mostly RMG ones, to the US annually. The US provided over $6 billion development assistance through USAID since 1972, making it one of the most principal development partners.
According to the US Embassy in Dhaka, the US is also the largest donor of Covid-19 vaccines, more than 17 million so far, to Bangladesh. US companies are the largest foreign investors in Bangladesh, with $3.4 billion in investments as of 2018. Chevron is the single largest foreign investor, producing some 55 percent of Bangladesh's domestic natural gas.
A foreign ministry official said there is a large Bangladeshi diaspora, about 800,000, in the US. Also, in 2020-21, at least 8,598 Bangladeshi students were enrolled in different US universities.
"We have a multi-faceted relationship with the US. So, we need to keep it strong," a foreign ministry official told this correspondent.
Rab said it wanted a solution to the problem with the US by establishing a cordial relationship. The force has been receiving important training from the US since 2011. For now, Rab can avail of no US assistance or training because of the sanction.
Dhaka has not clarified if it is taking any actions against those sanctioned by the US.
According to the Global Magnitsky Accountability Act, for sanctions to be lifted, the individual facing the sanction has to be prosecuted appropriately.
"Or, the person has to credibly demonstrate a significant change in behaviour, pay an appropriate consequence for the activities, and credibly commit to not engage in the types of activities," it says.
M Humayun Kabir said there is no alternative for Dhaka to improve democratic values and rights situation for a strong relationship with Washington.
DHAKA-WASHINGTON TIES TO REACH NEW HEIGHTS: MILLER
Outgoing US Ambassador to Bangladesh Earl R Miller expressed hope that the "excellent relations" between the two countries would reach "new heights" in the future, noting that a high-level delegation from Washington would visit Dhaka within the next few months.
He said the delegation has started preparations to discuss various issues of mutual interest with a view to taking the relations between the two countries to a higher level, reported UNB.
Ambassador Miller made the remarks during his farewell meeting with Prime Minister's International Affairs Adviser Dr Gowher Rizvi at the Prime Minister's Office.
The meeting between them lasted for an hour from 4:30pm to 5:30pm, according to the Prime Minister's Office.
Ambassador Miller was accompanied by Deputy Chief of Mission at the US Embassy in Dhaka Helen LaFave and Political Section Chief Arturo Hines.
During the meeting, the outgoing US Ambassador discussed various issues related to strengthening the relations between the two countries during his tenure in Bangladesh for about 3 years and 2 months.
Gowher Rizvi noted that the two countries have excellent relations in the areas of trade, investment, education, culture, defence and disaster management.