Dhaka residents starting Ramadan with unbearable traffic, gas shortage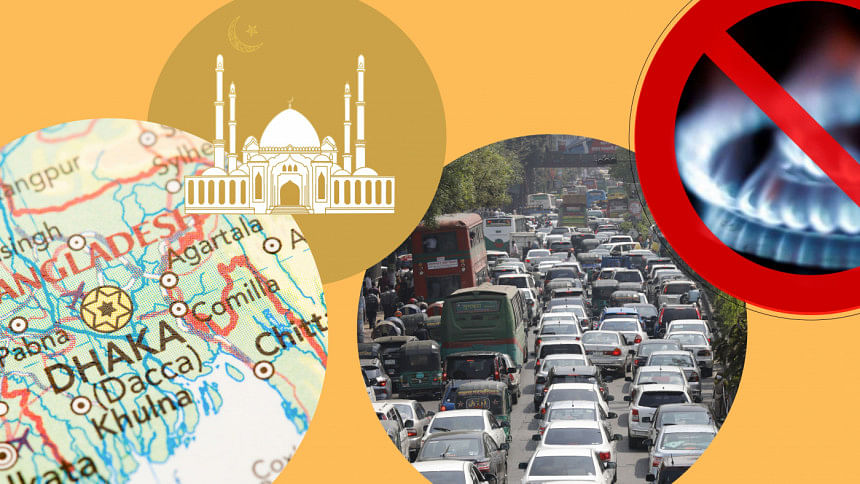 As the holy month of Ramadan begins, there's no respite in sight for people of Dhaka who had been dealt a bad hand to begin with. On the road, traffic somehow doubled, as anticipated, and at home, Dhaka residents had to endure shortage in gas supply.
People – already dealing with hiked prices of daily essentials and long queues for TCB trucks – were forced to buy food from restaurants and many had to break their fast on the road.
Relevant authorities seem clueless as to how to deal with this situation. Traffic police can be seen on the roads, but they are seemingly helpless. On the other hand, some wells not functioning at Bibiyana gas field created acute gas shortage in neighbourhoods across Dhaka. The timing of these almost seem inauspicious.
Ideal or not, the fact remains that Dhaka is the economic epicentre of Bangladesh. Population-wise Dhaka is the 4th largest, and it has the highest population density among cities around the world. This is the result of inconsiderate centralisation – everything based in and around Dhaka. Near-sighted policies and inadequate city planning for decades are at the root of this unmanageable hot mess. Do we need better roads in Dhaka or is it really a matter of decentralisation? The answer may be more complicated than what meets the eye.
It seems like we are always trying to play catch-up, like the authorities are always trying to fix something that has failed, rather than re-evaluating what could be done better. Dhaka has already been termed unliveable, what remains is complete collapse. All this at the expense of people living in the capital city of Bangladesh.
How long must Dhaka dwellers suffer? As we embrace the holy month of Ramadan through all the hardship this city has to offer, let's hope more things do not go wrong.