Dhaka losing its greenery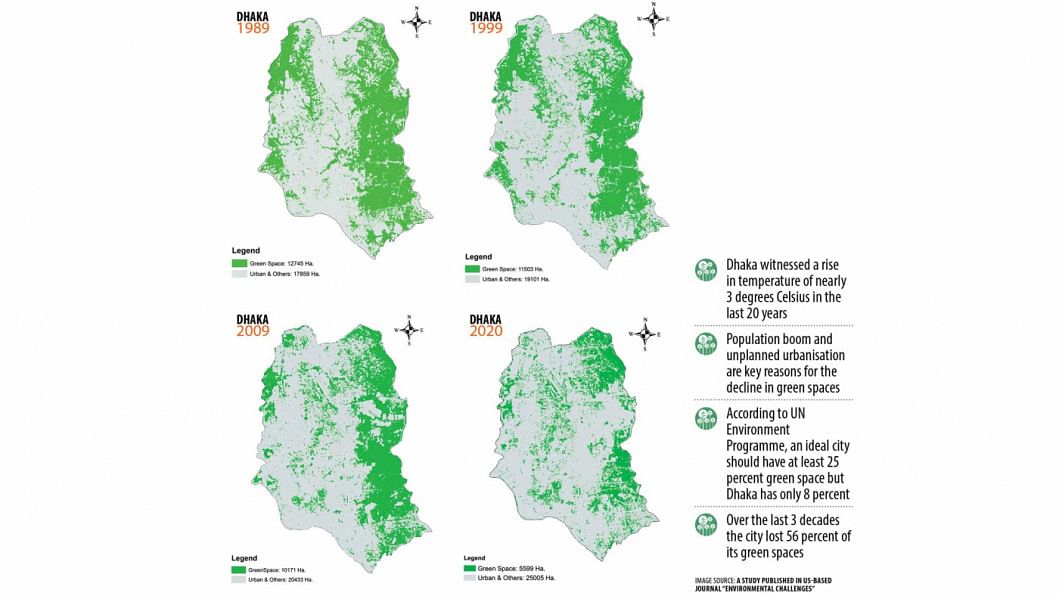 "The way green spaces are declining is alarming. This has an adverse impact on the lives of the city residents." Md Mostafizur Rahman
Dhaka has lost around 56 percent of its green spaces over the last three decades. In 1989, this mega city had 12,745 hectares of vegetation, which came down to just 5,599 hectares in 2020, a new study has found.
The green spaces with dense forest declined from 17 percent to 2 percent while green spaces with moderate forest came down to 16 percent from 24 percent in the capital.
The study titled "Present status and historical changes of urban green space in Dhaka city, Bangladesh: A remote sensing driven approach" was published in the US-based "Environmental Challenges" journal in December last year.
The study covered the entire Dhaka metropolitan area -- nearly 30,640 hectares or 306.4 square-kilometres.
Carried out by four researchers, the study was done using Landsat data from the database of the US Geological Survey. It analysed green spaces of Dhaka city through geospatial analysis by using Geographic Information System (GIS) and Remote Sensing.
"The way green spaces are declining is alarming. This has an adverse impact on the lives of the city residents," Md Mostafizur Rahman, the paper's lead author who teaches environmental sciences at Jahangirnagar University, told The Daily Star recently.
According to the United Nations Environment Programme (UNEP), an ideal city should have at least 25 percent green space. Dhaka has only 8 percent, said the study.
Population boom and unplanned urbanisation are key reasons for the decline in green spaces -- a top contributor to the rising temperature of Dhaka city, multiple studies have shown.
"The reason for green spaces to decrease is the rapid growth of population and urban areas' expansion to accommodate housing, business and other amenities," said the study, adding that depletion of green spaces contributed to temperature rise.
With a population of about two crores, Dhaka has witnessed a rise in temperature of nearly 3 degrees Celsius in the last 20 years, found another study, styled "Surface urban heat island intensity (SUHII) in five major cities of Bangladesh: patterns, drivers and trends."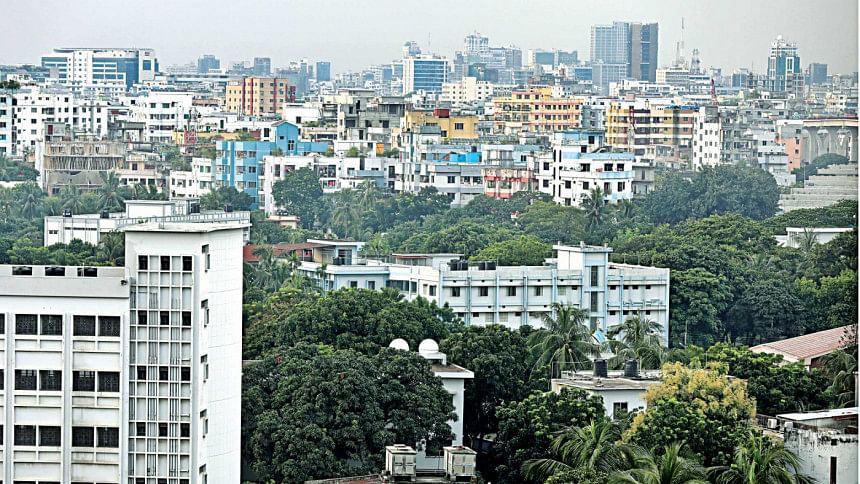 Published last year, this study found that the increase in annual daytime temperature in Dhaka over the last 20 years is 2.74 degrees Celsius.
"Human populations play a major role in shaping cities and influencing the thermal environment of urban areas, so increasing population both expand city size and are accountable for the rapid transformation of natural land cover to impervious surfaces," the report found.
Urban green spaces are parks, open fields, trees, agricultural land, plants on the edge of roads and areas covered in any green infrastructure within the city that are essential components of the environment.
Also, they are essential to improve air quality and to mitigate the heat island effect. Urban heat islands occur when natural land cover is replaced by dense concentrations of pavement, buildings, and other surfaces that absorb and retain heat.
They contribute to higher daytime temperatures, reduced night-time cooling, and higher air-pollution levels, experts said.
Ashraf Dewan, a professor at School of Earth and Planetary Sciences, Curtin University, Australia, yesterday said that continuous encroachment of green spaces in cities of Bangladesh is not only causing local and regional temperatures to rise but also affecting supply and demand of urban ecosystem services.
"Consequently, both societal and human wellbeing are in jeopardy," he said.
WHAT SHOULD BE DONE
Ashraf said to combat climate change, land-oriented mitigation measures such as creation of urban forest and green spaces are the cheapest and sustainable solutions to slow the magnitude of climate warming at regional to local scales.
"Unfortunately, we do the opposite. It is therefore high time to focus on performance-based planning rather than prescribed urban planning systems," he said.
Mostafizur Rahman, also an associate professor of Environmental Sciences at Jahangirnagar University, said it is very difficult to do something in the already developed areas.
"So, we have to do proper planning in the areas under development. If we fail to do this, we have to face dire consequences in the coming days," he said.