A decade-long waterlogging woe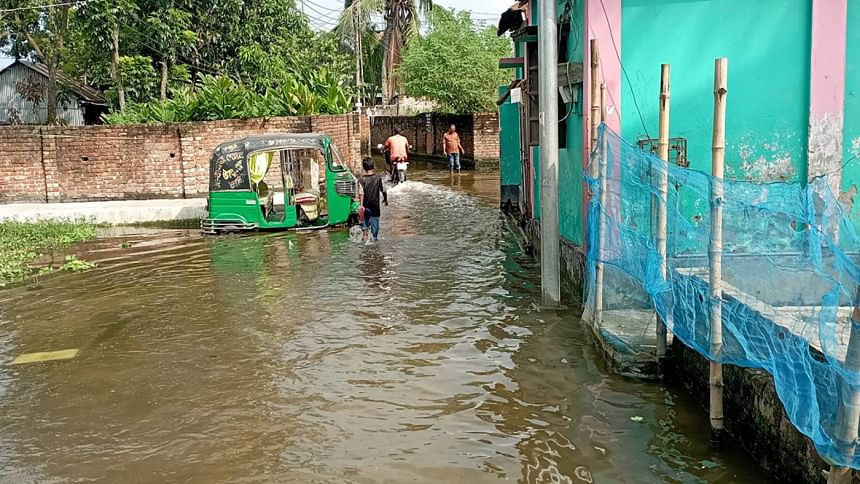 Waterlogging has continued to make life miserable for around 2,000 families living in Mymensingh city's Balashpur Madhyapara for at least a decade.
While the Mymensingh City Corporation authority repeatedly made claims of undertaking construction works of new drains, no visible development has yet to be seen, said locals.
The area stays submerged for five months a year during monsoon, from May till September, reports our local correspondent.
This year, the situation has become unbearable. Even after moderate rains, the area becomes flooded and remains waterlogged for the next 15-20 days, said Farida Parven, a resident.
"We cannot attend classes regularly during monsoon as we are forced to stay indoors," said Fahim Hasan Rafim, a fourth grader.
Farhad Islam Riad, a student at Govt Ananda Mohan College, and Alif, a madrasa student, echoed the same.
"The area stays submerged in knee-deep water for days following rains, with water entering homes," said Kulsum Bewa, who has been living in the area for the last 35 years.
According to locals, the situation became severe following drainage works on Balashpur Madhyapara road in 2013.
Earlier, the water used to recede into a drain that was connected to a drain of Railway Power House Colony in neighbouring Kewatkhali area, from where it flowed into the Brahmaputra.
Furthermore, the area has no trash bins, which lead to clogging the drains, adding to this menace.
Contacted, Md Rafiqul Islam Miah, chief engineer of MCC, said, "Drainage works in the area will begin soon under a Tk 8 crore project. We also look to set up trash bins and start cleaning up operations soon."