An exhausting day on the road
Fuel price hike leads to transport crisis across country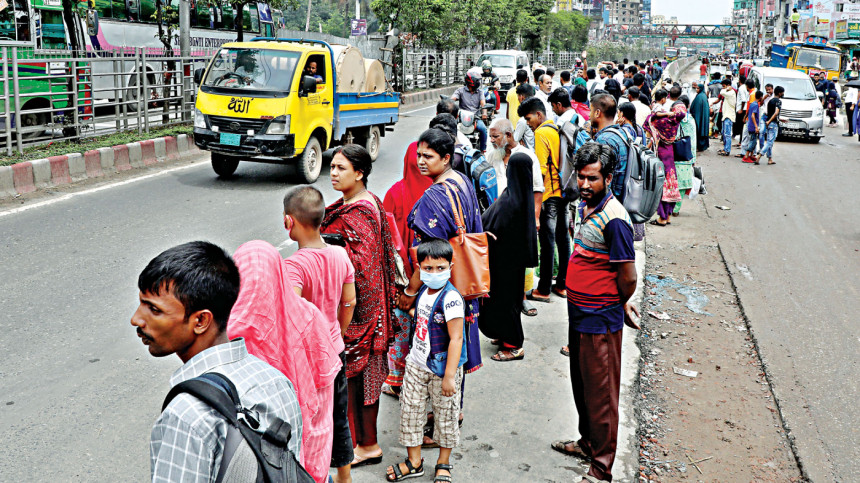 No buses in sight, exorbitant fares, and jam-packed vehicles, yesterday was an exhausting day for commuters of the country's cities and towns, as the fuel price hike led to a public transport crisis.
Buses almost disappeared from the roads, and taking advantage of this, human hauliers and three-wheelers had no problem overcharging passengers.
On Friday night, the government hiked fuel prices by up to 51.7 percent, the highest in the country's history.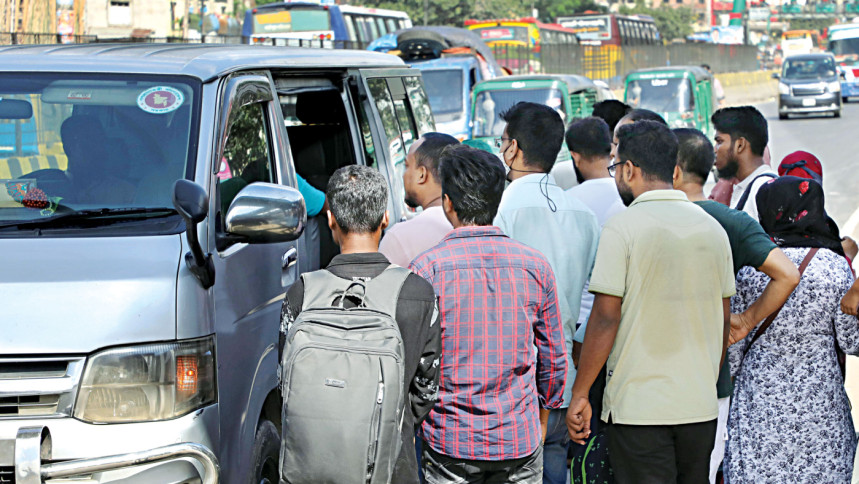 As per the revised rate, the price of a litre of octane has risen to Tk 135 from Tk 89; petrol now costs Tk 130 as opposed to Tk 86, while prices of diesel and kerosene is Tk 114, which was Tk 80.
In Dhaka, public transportation was a rare sight in the morning. The few vehicles that caught eyes were packed with passengers.
Commuters, especially office-goers, had to wait for ages to board a bus. Many were seen hanging on to the bus door, putting themselves in harm's way.
"I finally managed to get on a bus after waiting for about 40 minutes. Other days, I get on within five to 10 minutes, a fraction of today's time," said Abbas, a private job-holder.
Shah Alam, a fabric trader, was seen waiting with a sack full of fabrics at the capital's Shanir Akhra bus-stop around 3:00pm. He was planning to go to New Market.
"I'm waiting here for around half an hour. I don't see as many buses like I do any other day. Even the few buses that are arriving after long intervals are jam-packed with passengers," he told The Daily Star.
Aslam, driver of a Bikolpo Paribahan bus, said, "Many bus owners have decided not to bring out their buses today [Saturday] because of the fuel price hike."
Even though there is no official announcement of a bus fare hike, complaints of buses overcharging passengers were plentiful throughout the day.
Ashiq, a helper of Gabtali Link Paribahan, which plies Gabtoli-Jatrabari route, said, "We have increased bus fare by Tk 5 for all our routes due to the fuel price hike."
Capitalising on the situation, rickshaw pullers and auto-rickshaw drivers started overcharging passengers too.
Ananyo Dey, a resident of the capital's Gandaria area, normally reaches his office at Paltan on a rickshaw and pays around Tk 100. "But today, I had to pay Tk 120," he said.
"I normally travel from Farmgate to Motijheel, spending Tk 250 to 300 for an auto-rickshaw. But today, I had to hire one for Tk 370," said Atiqur Islam, a resident of the capital's Tejturibazar area.
Although the hike has not increased fares of ride-share companies yet, people who were informally hiring motorcycles had to pay more.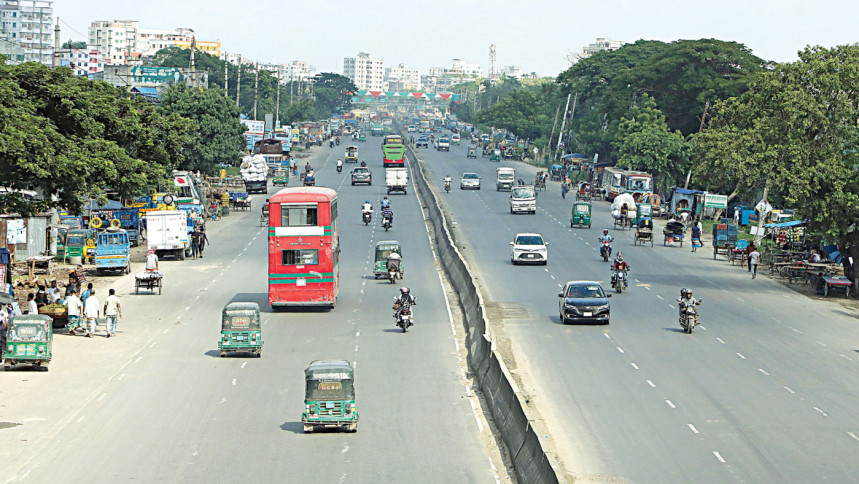 Syed Islam, a motorcyclist standing at Karwan Bazar intersection yesterday afternoon, said "Due to the hike, we had to increase the fare."
In Gazipur, hundreds of commuters were seen waiting for buses at bus stops at Board Bazar, Chandona intersection, Salna, Rajendrapur, Masterbari, Mawna and Joinabazar areas throughout the day.
Failing to board buses, many tried to cram into human hauliers that were already jam-packed.
Rafiqul Islam, a resident of Tongi area, works in a garment factory at Bagherbazar area.
"Normally, I get a bus within five to 10 minutes. But today [yesterday], I couldn't do so even after waiting for over an hour. Then, I along with a few other passengers rented a microbus and went to our workplaces," he said.
Sultan Uddin, a transport leader in Gazipur, said many bus owners did not operate their buses due to the fuel price hike.
In Pabna, bus operators have increased fare for most of the routes without any official announcement.
"I used to travel from Kushtia's Bheramara upazila to Pabna town spending Tk 70. But the bus operator took Tk 100 from me today [Saturday]," said Muslima Khatun, a schoolteacher.
In Manikganj, low presence of buses prevailed on Dhaka-Aricha and Dhaka-Paturia highways as well as on different short routes. Bus operators were seen overcharging passengers.
In Narsingdi, most of the transport owners kept bus operation suspended due to the hike, causing untold sufferings to passengers.
[Our correspondents from Gazipur, Pabna, Manikganj and a correspondent from Narsingdi contributed to the report.]