Dainik Dinkal stops publication
Press Council rejects its appeal against declaration cancellation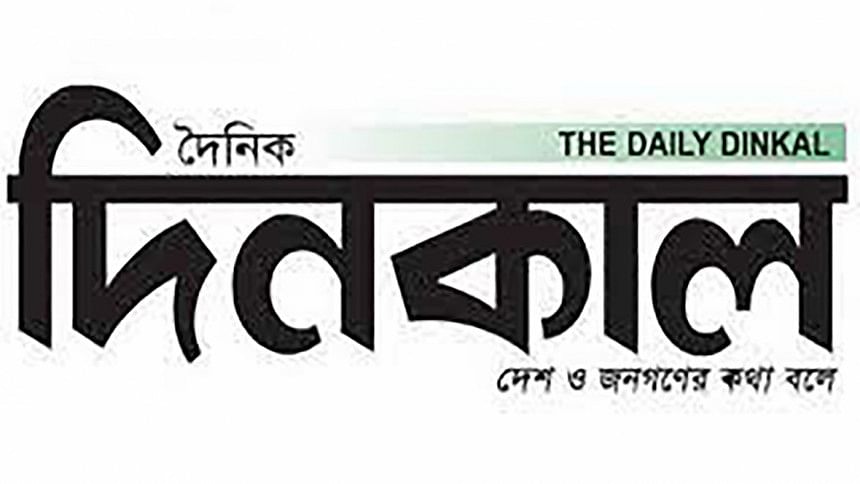 The Dainik Dinkal, a broadsheet Bangla daily, halted its publication yesterday, a day after Bangladesh Press Council rejected an appeal against the cancellation of the declaration of the pro-BNP newspaper by the Dhaka district administration.
"We have not published the daily today [yesterday] as the press council upheld the order of the district administration," Dinkal Managing Editor Shamsur Rahman Shimul Biswas told The Daily Star last night.
Terming Dinkal the mouthpiece of the BNP, party Secretary General Mirza Fakhrul Islam Alamgir protested and condemned the cancellation of the declaration.
"The district administration cancelled the declaration out of political vengeance and Bangladesh Press Council also rejected the appeal of the paper. This is a huge blow to the freedom of expression," said Fakhrul in a statement issued on Sunday night.
He claimed that the Dhaka DC office, following the directives of the government, cancelled the declaration of the daily on December 26 last year, but the paper resumed operation on December 29 after filing an appeal to the press council, seeking a stay on the cancellation order.
The BNP secretary general demanded immediate withdrawal of the cancellation order.
According to a report of the AFP that obtained the press council's order, the printing permit of the newspaper was cancelled after the newspaper violated the country's printing and publication laws.
The council said the paper's publisher, Tarique Rahman, the acting chief of the BNP, was a convicted criminal and was living abroad without handing over his job to another person, said the AFP report.
The report quoted Shimul Biswas as saying that Tarique submitted his resignation and appointed a new publisher, but the authorities did not accept the changes.
Speaking to The Daily Star last night, Shimul Biswas said they would take measures to resume publication of the newspaper that started its journey in 1991.
Meanwhile, factions of two journalist unions -- Dhaka Union of Journalists and Bangladesh Federal Union of Journalists -- staged demonstration in front of the Jatiya Press Club yesterday, condemning the cancellation of the declaration for Dinkal.
They demanded that the paper be allowed to resume publication. The two unions will hold demonstrations across the country on February 25, according to a press release.