Cutting CO2 Emission by a Fifth: Bangladesh needs $176b by 2030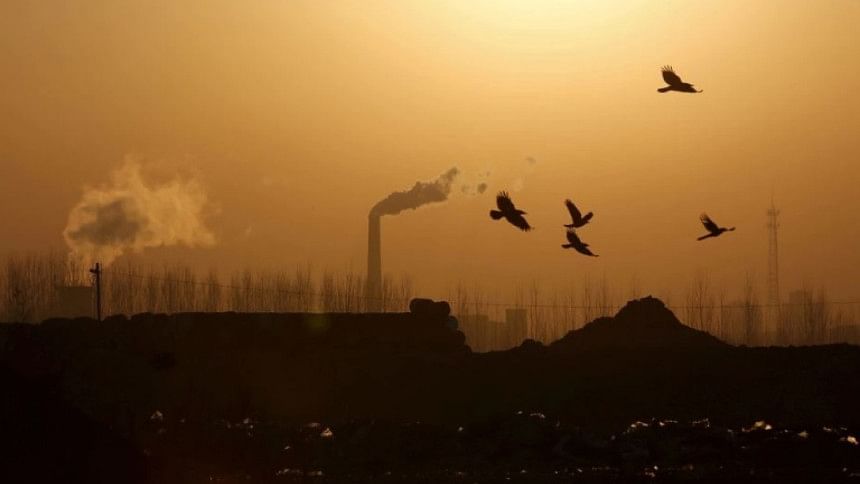 Bangladesh can reduce greenhouse gas emissions by as much as 21.85 percent by 2030 if provided with $175.9 billion as the country joins in the efforts to keep alive a target of capping global warming at 1.5C above pre-industrial levels and avert a climate disaster.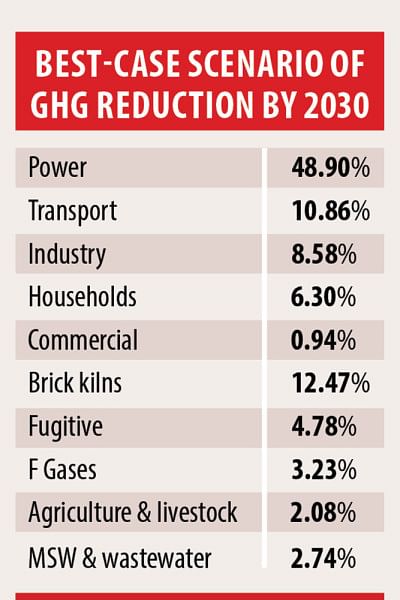 If things go on as usual, Bangladesh will emit about 409.4 million tonnes (MtCO2e) in 2030. But it can be brought down to 319.94 million tonnes with internal imitative measures and external help, it said in its updated Nationally Determined Contributions (NDC).
The NDC will be submitted to the United Nations Framework Convention on Climate Change ahead of COP26, where about 200 countries will highlight their plans to slash emissions by 2030 as agreed in the Paris Agreement in 2015 as part of the efforts to keep global warming well below 2C above pre-industrial levels.
In the NDCs, Bangladesh details two types of plans for mitigation: unconditional and conditional.
In the unconditional part of NDC, only those mitigation measures were considered that would be implemented based on current local-level capacity and financed through internal resources.
The conditional emission reduction will be implemented based on international funding and technological support.   
In the unconditional scenario, GHG emissions would be brought down by 27.56 Mt CO2e (6.73 percent) below business-as-usual (BAU) in 2030 in the respective sectors.
For that, the country will have to fork out $32.25 billion over ten years.
In the conditional scenario, GHG emissions would be reduced by 61.9 Mt CO2e (15.12 percent) below BAU in 2030 in the respective sectors and for that Bangladesh needs an additional $143.67 billion.
To bring down emissions in Bangladesh by 21.85 percent, the highest amount of investment is required in the energy and transport sectors: $168.27 billion.
With the financing, the country will implement renewable energy projects of 4,114.3 megawatts, use improved technology for power generation from coal (as 12,147 MW), install a new combined cycle gas-based power plant (5,613 MW), improve the efficiency of existing gas turbine power plant (570 MW) and install prepaid meters and bring down total transmission and distribution losses to a single digit by 2030.
Electric buses would be rolled out in major cities, and a charging station network would be established.
Besides, the money will be sent on the improvement of road traffic congestion (15 percent improvement in fuel efficiency), widening of roads (two- to four-lane) and improving the road quality, construction of non-motorised transport and bicycle lanes, introducing electronic road pricing or congestion charging, reducing private cars and encouraging electric and hybrid vehicle use.
The industry subsector's target would be to achieve 20 percent energy efficiency through measures according to the Energy Efficiency and Conservation Master Plan (EECMP). It will also promote green industry and carbon financing.
The agriculture and forestry sectors need a total of $3.27 billion from both sources.
The money in the agriculture sector will be needed for the reduction of methane emission reduction from rice fields with Upscaling Alternate Wetting and Drying in dry season rice fields in 100,000 hectares of croplands and rice varietal improvement for 2,129,000 hectares of croplands.
The funds will also be spent on 627,000 hectares of cropland management (leaf colour chart, soil test based fertiliser application, less tillage barn management etc.), improvement of fertiliser management (deep placement of urea in rice field, training, awareness) in 150,000 hectares, bringing more area under pulse cultivation among others.
In the forestry sector, the fund will be used to reduce deforestation, introduce reforestation/afforestation initiatives, measures for forest restoration and maintain forest and tree cover
The waste sector needs about $4.3 billion for improving municipal solid waste management, ensuring the 3R (Reduce-Reuse-Recycle) principle for waste management and improvement of sewerage treatment.
"The initiatives in the NDC are positive," Khondaker Golam Moazzem, research director at the Centre for Policy Dialogue, told The Daily Star.
But the government is not solely responsible for implementing those, he said, adding that participation from the private sector is needed as well.
"Globally, the private sector showed interest in mitigation measures."
The commitment from the developed countries and global companies that they will invest in some bankable projects such as electric bus and car manufacturing is also important, he added.
The developed countries, especially the G-20 countries, must take an active lead in all global initiatives to tackle climate change, said Md. Shahab Uddin, minister for environment, forest and climate change ministry, which prepared the NDCs.
The world leaders need to work on a long-term plan to reduce greenhouse gas emissions, he said, while calling on the Green Climate Fund and Global Environment Facility to address the existing problems so that the developing countries can receive $100 billion a year in aid under the Paris Climate Agreement.