Rice marketed as miniket: Cut, polished and sold to deceive
People pay extra but get less nutrients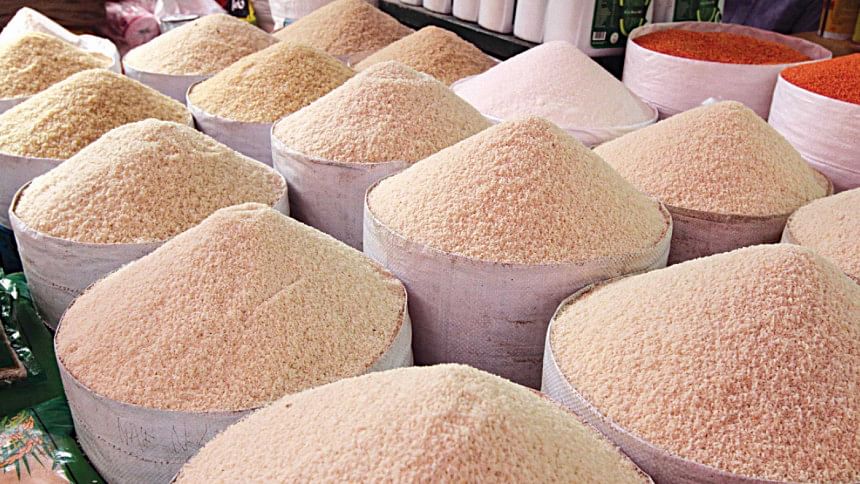 "Actually, there is no rice called miniket. Over the last 10 to 12 years, millers have been marketing miniket because of the public demand."
Pay more to get less is what the miniket rice is all about.
For decades, the rice grain, modified from coarse to fine by machine, lived up to its billing as the brand for upper-middle-class families. Extra money is for extra thin, extra white rice!
But little do they know that they're losing both ways. The modification process of miniket gets the rice less nutritious.
Using modern rice husking machine, millers cut and polish hybrid coarse variety into fine rice before whitening it with chemicals.
"Most of the micro-nutrients get lost while whitening and polishing the rice. Only carbohydrate remains," said Dr Nahidul Islam, assistant professor of the agro-processing department, Sher-e-Bangla Agricultural University.
Different micronutrients are preserved in different layers of rice. As the millers polish the grain with chemicals, the process eventually takes out the bran and geranium, said Nahidul, who has done extensive research on the nutritional value of rice while studying in Odense, Denmark.
Sadly, the whole investment for the miniket gimmick is designed for greed. Millers make up to Tk 300 extra profit per sack in case of modifying the BR 28 variety of rice, according to a food ministry report, released last month.
The report reaffirms that the rice loses its nutritional value in the process of becoming miniket. The automatic husking machine leaves only carbohydrate in rice, removing fibre, vitamins and minerals like zinc, iron, etc.
Rice fibre helps reduce cholesterol and constipation. Rice without fibre or minerals becomes the cause of health hazards, mentions the report.
WHAT IS MINIKET ANYWAY?
According to the food ministry report, the West Bengal government in 1985 distributed kits of Shatabdi paddy seeds and fertilisers to flood-affected farmers of the state. With the word "kit" in mind, farmers started calling the rice minikit or miniket.
From 1985 to 1990, this rice came from India to Jashore and later spread to nearby districts.
It is common knowledge among traders that Abdur Rashid, a businessman of Kushtia district bordering India, commercially launched the so-called miniket rice in Dhaka market, it added.
According to the ministry, Bangladesh produces around 3.84 crore tonnes of rice annually; nearly half of it is sold in the market as miniket.
Talking to about 50 millers, huskers, rice traders and farmers, it was found that millers are making miniket rice from paddy varieties including BRRI-28, BRRI 29, BRRI 33, BRRI 43, BRRI 48, BRRI 50, BRRI 51 and BRRI 98.
Besides, the millers also process Katari, Shampa Katari, Bina-7, Swarna-5, Guti Swarna, BRRI 49, Jirashail, Jira, Subol Lota, Paizam, Hira, Mamun Guti, Ranjit and Suman Swarna to brand them as "super miniket".
"We sell at least 40 varieties of miniket rice with the prices ranging from Tk 55 to Tk 75 per kg. Half the rice verities we sell are called miniket," Mamunur Rashid of Lamia Rice Agency from Mohammadpur Krishi Market said last week when non-miniket rice price was between Tk 48 and Tk 72.
KM Layek Ali, general secretary of Bangladesh Auto Major and Husking Mill Owners' Association, however, said, "Actually, there is no rice called miniket. Over the last 10 to 12 years, millers have been marketing miniket because of the public demand."
Every year, the Department of Agricultural Extension offices across the country prepare a database of different varieties of rice being produced in their respective districts, for sending a list to the ministry. They have a name called miniket on their record.
But Bangladesh Agricultural Development Corporation (BADC), which supplies some 34 varieties of rice seeds across the country, has no seed named miniket in its long list.
"It is clear that millers are processing hybrid rice and naming it miniket," the ministry report states, citing Dr Mahmudul Islam Nazrul, chief scientific officer of Bangladesh Agricultural Research Council.
The Food Planning and Monitoring Unit (FPMU), an agency under the food ministry, conducted a survey in 2020, which found the total rice stock of 10  traders from different wholesale markets in Dhaka was 213 tonnes, which included 92 tonnes of miniket.
In Sylhet, some 10 rice wholesalers had a total of 2,110 tonnes of rice -- 716 tonnes of it miniket.
Our reporters visiting different wholesale and retail rice markets in Dhaka, Rajshahi, Dinajpur, Bogura and Pabna found shops filled with the so-called miniket rice.
Traders also estimated that "miniket rice accounts for over 40 to 50 percent of their total sale".
Recently, the Directorate of National Consumers Right Protection (DNCRP) has decided to launch a drive to stop sales of miniket rice in the market as per the request of the food ministry, said AHM Shafiquzzaman, director general of the DNCRP.
Dr Mosammat Nazmanara Khanum, former secretary of the food ministry, who led a ten-member probe committee on miniket last year, said traders sell more than 50 percent of rice in the market as miniket.
"In some parts of the country, farmers grow an Indian variety of paddy, which is locally known to them as miniket. But it would not be more than 0.5 percent of total rice production," she said.
"So, we recommended preparing a guideline for millers and also wrote to Bangladesh Rice Research Institute to take measures about it," added Dr  Nazmanara, who went on leave preparatory to retirement last month.
She insisted the traders should sell any rice variety calling it by its original name.