Crushed by rising inflation
Low- and middle-income people struggle to cope as commodity prices soar; recent fuel price hike partly to blame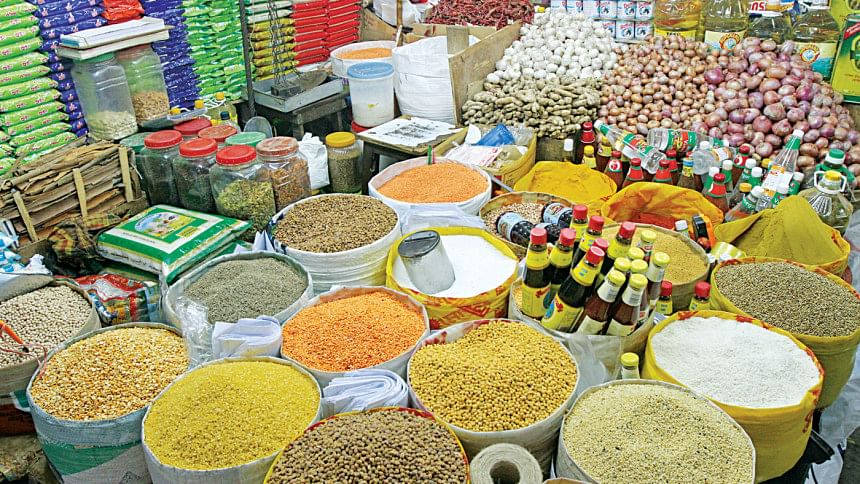 "The government's decision to increase fuel price has made a chain reaction of price hike in the market. Prices of all types of food and non-food commodities have increased…This is completely arbitrary."
"I simply cannot describe what I'm going through," Tashdiq Hasan says, summing up his current financial pressure.
The junior executive at a private bank in Dhaka has been struggling to keep his family above water amid the coronavirus pandemic and rising living costs.
He has a fixed monthly income of Tk 36,000. Nearly half -- Tk 16,000 -- goes to house rent and utility bills. With the rest, he meets all the expenses for his family of five, including baby food and other essentials for his newborn daughter and medical bills for his ailing mother.
Prices of daily essentials were already high for Hasan, and his hardship intensified after another spell of price hikes of almost every essential amid the pandemic. The pandemic has also meant additional expenses of buying face masks and hand sanitisers to keep the family safe.
The recent fuel price hike and its cascading effects have compounded the situation further, upsetting his family budget and making daily life more expensive. Due to the increase in bus fare, Tashdiq will need an additional TK 1,000 a month to travel to and from work. For people like Tashdiq, the amount could buy at least two weeks' baby food.
"It's another dent in my wallet. I don't know how to strike a balance between spending and saving," he said of the fuel price hike.
Even a few months ago, he could buy enough food for a week for Tk 1,000 for his entire family. Now though, the same amount of money cannot even buy enough vegetables and soybean oil. The food cost alone has almost doubled compared to a year ago, although his income remains the same.
Like Tashdiq, people of low- and middle-income brackets are struggling to keep their noses above water at a time of slow economic growth and rising inflation, both of which are hurting them badly. The fuel price hike -- with its direct and many indirect consequences -- dealt them a crushing blow as it drove commodity prices up further.
According to the Economic Census 2013 by Bangladesh Bureau of Statistics, 25 percent of the country's population falls in the middle-income bracket, with their monthly earning standing between Tk 40,000 and Tk 80,000. Although income has risen by different margins in the last eight years, so has the inflation rate.
Late last year, the inflation rate was 5.56 percent, which rose to 5.7 percent in October this year, BBS data shows.
Talking to The Daily Star, people of different income groups including mid-level private service holders, small traders and daily wage earners shared their stories of hardship and desperation.
For them, a rise in inflation means cuts in consumption, delaying medical treatment and borrowing from different sources to cope with the situation.
Broadcast journalist Anupom (real name withheld) is not sure about his next move. As the revenue of his private TV channel plummeted amid the pandemic, his salary has become irregular. For the last two years, he has not received any festival bonus either.
"Sometimes we get our salary after two months. If you get your salary after two months in this time of inflation, you can understand how difficult your life can be," he said.
His wife, also a journalist at a newspaper, is trying hard to bear family expenses with her income, especially with two school-going children.
"For the last two years, we could not save much. Instead, we had to spend all our savings for my parents' treatment as they had to be hospitalised with Covid-19," said Anupom.
Those living on daily income are in utter desperation, so much so that many resorted to consumption rationing.
"Even a couple of years ago, I could afford eggs and vegetables with rice. Now, I eat only mashed potatoes and, sometimes, plain khichuri. I cannot afford fish and meat," said rickshaw-puller Rahim Sheikh, 45.
Once a solvent farmer in Gaibandha, Rahim came to Dhaka after his farm was completely damaged by a prolonged flood in 2017. At the moment, he plies his rickshaw from morning till midnight in Mohammadpur and Dhanmondi areas and makes about Tk 600 to Tk 700 a day. Of the sum, he pays Tk 150 to the rickshaw owner as rent.
Because of the hard labour involved, he cannot hit the road every day. This affects his monthly income, forcing him to cut consumption and withhold medical treatments.
"If essential prices increase like this, people like me will have to starve along with their wives and children," said Rahim.
Centre for Policy Dialogue Executive Director Dr Fahmida Khatun has blamed the government's decision to increase the fuel price for the chain reaction in the commodity market.
"Prices of all types of food and non-food commodities that need to be transported to and from different parts of the country have increased due to this increase, and this price hike has been completely arbitrary," she said.
According to her, the situation will influence market operators to increase the price of products and services that are not directly affected by the fuel price hike such as house rent and tuition fees in educational institutions.
"Such an uncontrolled price inflation will be catastrophic for the middle-income families," the noted economist said.
The pandemic has also deprived many of income. Restaurant worker Shujon Mia is one of them. He is still employed at the restaurant in Savar, but his pay has become irregular. And the recent hike in prices of daily essentials has hit him and his restaurant owner hard.
"Vegetables that could be bought at Tk 50 just months ago now cost Tk 80-100. Oil prices have already doubled and continue to rise. One cylinder of gas costs around Tk 1,700, including the carrying cost. How will we survive?" he asked, explaining how drop in sales in the restaurant affects the low-paid workers like him.
A large number of the customers there are transport workers. Following the hike in commodity prices, the restaurant revised the price list and many have stopped coming there.
"We have now been told that we would get three meals a day and a place to sleep in the restaurant. The owner stopped giving our daily allowance of Tk 200. Some of our old colleagues left the job. But I have no place to go," Shujon said.
Restaurant owner Abul Hashem admitted this, saying, "I had no other alternative. Most of my young workers are homeless. So, they are happy to get food and shelter here."