Crisis in the planet of the apes
Gibbon population drops by 90pc in two decades; deforestation behind the decline, finds study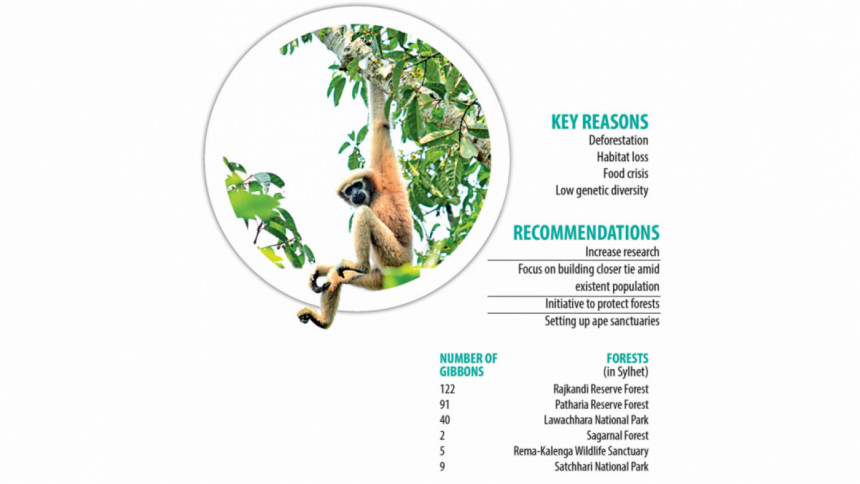 Gibbons are endangered worldwide, and it just so happens that Bangladesh is no exception to the norm.
According to Wildlife Management and Nature Conservation Division in Sylhet, gibbon habitats are present in different regions of Sylhet and Chattogram.
However, the number of gibbons, classified as small apes, has decreased by almost 90 percent just within the last two decades. Although Lawachhara National Park has been considered a safe haven for gibbons, presently, 40 gibbons are struggling for survival there.
This information came up in a study led by Habibun Nahar, associate professor of zoology at Jagannath University.
It's difficult to get an exact estimate of gibbons. Nahar mentioned that according to a 1970 study, there were 3,000 gibbons in the country. However, current estimates say there are about 468 gibbons in 135 groups across Bangladesh, and of them, 268 are in Sylhet.
According to an International Union for Conservation of Nature survey from 2018, gibbons are about 60 to 90 centimetres in length, and weigh six to nine kilos. Although male and female gibbons are almost identical in size, there are significant differences in their skin texture and colour. The average lifespan of gibbons is 25 years.
Researchers have found that at present, the highest number of gibbon habitats are in Sylhet, and in the region, Rajkandi Reserve Forest of Moulvibazar hosts the highest number of the species.
The data came up in a study conducted by a team of wildlife researchers, Hasan Al Razi Choyan, Tanvir Ahmed and Sabit Hasan from Bangladesh and Ariz Zaradat from United Arab Emirates University (UAEU), who were led by Habibun Nahar, and Sabir bin Muzaffar of UAEU.
The study, conducted with the support of the forest department and funded by US Fish and Wildlife Service, was published in the Journal of Diversity. It was conducted in 22 forests in Sylhet and Chattogram from March 2019 to February 2020.
Sabit Hasan, one of the team members, said, "Deforestation is the main reason behind the decline in gibbon habitats. This issue leads to their food crisis and makes them vulnerable to poaching."
Hassan al-Razi, the project's manager and researcher, said, "Although the number of gibbons in some forests may seem relatively good, it's not all good news. All forests where gibbons are found are fragmented islands, isolated from one another."
Because of this, gibbons of one forest lose contact with the others, leading to genetic distancing. This is threatening their kind, since low genetic diversity can lead to the animals' extinction during adversities like outbreak of a disease or climate change, he said. 
Team member Tanvir Ahmed said it's crucial to take firm initiatives to protect Patharia and Rajkandi forests by declaring them gibbon sanctuaries.
Recently, five artificial canopy bridges were constructed to offer safe passage for primates and arboreal mammals at Lawachhara.
About the alarming decline of the gibbon population, Rezaul Karim Chowdhury, divisional forest officer in Sylhet, said, "We will continue our efforts in this regard and discuss the issue with higher authorities."