Extent of graft remains the same
In South Asia, only Afghanistan worse than Bangladesh in TI corruption perception index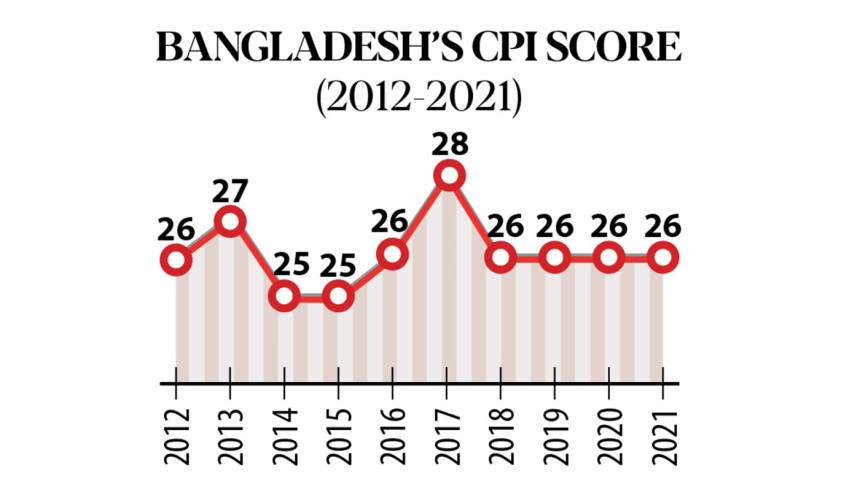 Bangladesh scored 26 out of 100 in the latest edition of the Transparency International's Corruption Perception Index, which is more or less the same as in the past decade -- a development that raises questions about the 12-year-old government's actions in snuffing out the social ill.
"Bangladesh's score of 26 is much below the average level of corruption," said Iftekharuzzaman, executive director of the local chapter of TI, while unveiling the flagship report, which is universally believed to be the most well-known indicator of how much corruption exists.
The results are given on a scale of 0 (highly corrupt) to 100 (very clean); the average score is 43.
TI prepares the CPI based on the perception of corruption, mainly in the public sector, particularly bribery, the use of public office for private gain, diversion of public funds, nepotism in public sector appointments, red tape, state capture by narrow vested interest groups, mechanisms available for control of corruption.
It also considers legal, institutional and policy capacity and practice to control corruption, the integrity of institutions, effective prosecution of corruption cases, laws on financial disclosure and conflict of interest of public officials, access to information, legal protection for whistle-blowers.
Among the eight South Asian countries, Bangladesh remains the second-lowest both in score and rank, topping only Afghanistan, which has scored 16 and ranked 174th from the top.
In terms of ranking, Bangladesh stood 147th among 180 countries, a notch lower than in the previous edition of the Berlin-based global corruption watchdog's annual study.
"In terms of development, we have done better than all other countries in South Asia, but our score in terms of corruption is very frustrating and embarrassing," Iftekharuzzaman said at the virtual press conference yesterday.
In South Asia, Bhutan continues to score the highest: 68. It was followed by India and Maldives (40), Sri Lanka (37), Nepal (33) and Pakistan (28).
In 2001 when the TI included Bangladesh in the annual CPI, Bangladesh was ranked the lowest with a 0.4 score. With incremental improvement, Bangladesh scored 2.7 in 2011. Since 2012, the score ranged between 25 to 28.
"Corruption has become part of our life. As a result, the benefits of development are not reaching to the disadvantaged people."
About 2-3 percent of the country's GDP is lost due to corruption, Iftekharuzzaman said.
At least 89 percent of those who are forced to bribe for public services say they have no access to public service without bribes.
Bangladesh has good laws and political commitment but a section of those responsible for combatting corruption are involved in corruption, Iftekharuzzaman said.
"Thus, the country's institutions have been weakened. There is a need for a paradigm shift in the political culture, one that is free from treating political and public positions as the licence to personal gains. We need to move towards putting the public interest first in government policies and practices."
He also suggested legal provisions to manage conflict of interest transparently, depoliticising institutions of accountability and establishing professional integrity and impartiality of the Anti-Corruption Commission, public service, administration and law-enforcement agencies.
TI has identified "corruption, human rights and democracy" as the theme of CPI last year. It observed that corruption contributes to an unsafe climate for human rights and defenders of human rights.
It also says restricting freedom of expression, association and assembly is a popular tactic to protect and promote corruption and weaken the scope of societal checks on corruption.
"Given the state of violation of human rights in Bangladesh, the deficits of rule of law in general and the abuse of the Digital Security Act in particular, whether or not we are in the same trajectory is anyone's guess. We have seen that a section of people has used their political and administrative power for corruption," he added.
In 2021, Sudan got the lowest score of 11. The worst performers in CPI include Syria, Somalia, Venezuela, Yemen, North Korea, Afghanistan, Libya, Equatorial Guinea, Turkmenistan, DR Congo and Burundi, all of which got scores ranging from 13 to 19.
The highest scorers (88-76) are Denmark, Finland, New Zealand, Norway, Singapore, Sweden, Switzerland, Netherlands, Luxembourg, Germany, UK and Hong Kong. No country has scored 100.