Meth trade controlled from Dubai: Law enforcers say after arresting 4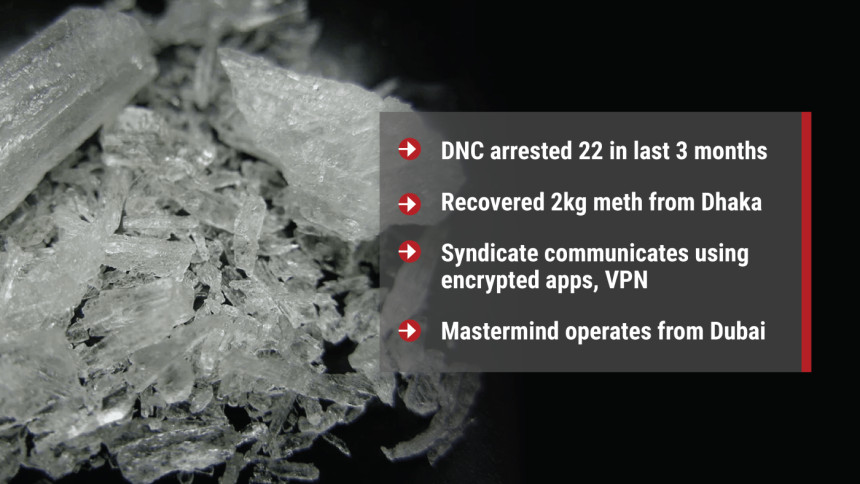 A transnational syndicate from Dubai is controlling the smuggling and supply of the synthetic drug crystal meth, known as "ice", from Myanmar to Dhaka, according to law enforcers.
The syndicate is maintained through three layers.
The first layer is tasked with receiving the consignment at Teknaf and sending it to Dhaka. The second layer sorts and disburses the consignment, while the last layer deals with customers.
As a ploy to escape law enforcers, the syndicate wrapped the drug with plastic tape and put them in their rectum to carry the drug.
The Department of Narcotics Control (DNC) disclosed the information after arresting four narcotic traders -- Taj Uddin (43), Mizanur Rahman (53), Liton Mahmud (32), and Mamun Hossain (35) -- from different areas of the capital on Friday.
Investigators said the syndicates sold a gramme of ice for Tk 10,000-15,000, but if any user promised to be a retailer then they could buy for Tk 8,000-10,000.
Mehedi Hasan, assistant director (north) of DNC, told The Daily Star that they first arrested Mamun from Kuril with 600 pieces of yaba and Taj from Khilkhet area with five grammes of ice.
Later, the DNC team arrested Mizan from Banani with 10 grammes of ice and Liton from Khilgaon with 100 grammes of the synthetic drug, said the AD.
"After primary interrogation of the arrestees, we have come to know that a Bangladeshi expatriate using encrypted applications are controlling the syndicate," said Mehedi.
Sources said the mastermind left Bangladesh just three month back and now resides in Dubai with his family.
The suspect controls the syndicate with help from some his friends.
The Daily Star managed to find some audio clips of the suspects where the mastermind was found instructing syndicate members to never use any direct call on WhatsApp or other app without activating VPN. 
The suspect also encouraged users to buy more of the drug and became a retailer, promising cheaper prices, said DNC officials.
Mehedi Hasan said they have arrested around 22 people and recovered some 2kg of ice from Dhaka in the last three months.
All of these consignments are coming from Myanmar along with yaba consignments, he said.