Cold Wave: Dense fog disrupts transport operations
People of the north hit hard by chilly winds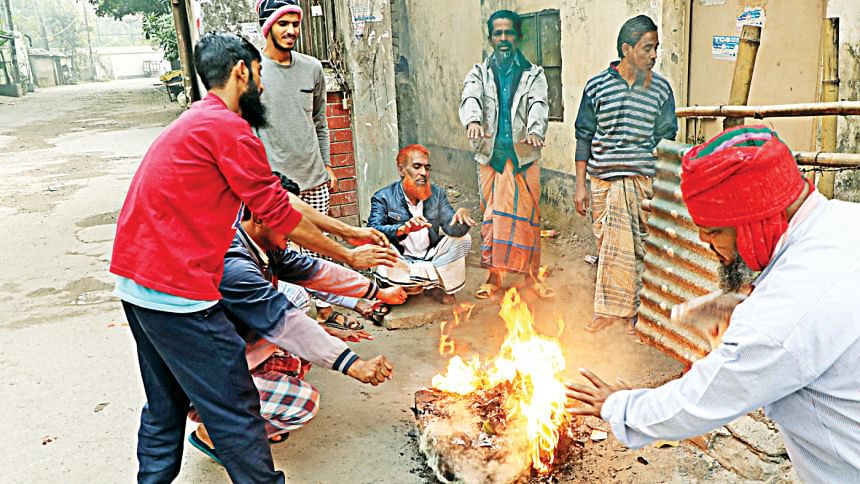 Heavy fog has disrupted flight operations at the Dhaka airport over the past several days, causing passengers to suffer.
Meanwhile, the Met has said moderate to severe cold conditions are likely to continue in the north, north-western and central parts of the country.
Apart from air communication, the cold weather has also disrupted road and water transport movements.
At least one international flight was diverted while seven others were delayed at the Hazrat Shahjalal International Airport (HSIA) yesterday, Group Captain Kamrul Islam, executive director of the airport, told The Daily Star.
A Saudia flight from Riyadh was diverted to Hyderabad International Airport due to poor visibility, he said.
The seven delayed flights were of Jazeera Airlines, US-Bangla Airlines, Air Arabia, Fly Dubai, Qatar Airways, Oman Air, and IndiGo.
Besides, flights from Dhaka airport to different domestic destinations were also delayed for several hours, said sources at the airport.
All fights scheduled to depart from HSIA yesterday were delayed up to four hours, causing hundreds of passengers to suffer, airport sources said.
Kamrul said they have no control over the fog, but the airport authorities have taken necessary measures, including increasing manpower so that immigration and other work can be done quickly as many flights may land at the same time after the fog clears.
Meanwhile, ferry services yesterday on the Paturia-Daulatdia route remained suspended for six hours and on the Aricha-Kazirhat waterway for seven hours due to poor visibility.
On Paturia-Daulatdia route, ferry services were suspended from 3:00am onwards, and on the Aricha-Kazirhat, operations were suspended from 2:15am onwards, said Shah Md Khaled Newaz, deputy general manager of BIWTC's Aricha regional office.
Ferry operations on the Paturia-Daulatdia and Aricha-Kazirhat routes resumed around 9:20am and 9:30am, after the fog began to clear, he added.
Almost all coaches travelling at night took several hours longer than usual to reach their destinations due to heavy fog.
Most launches on long routes like Dhaka-Barisal, Dhaka-Patuakhali, and Dhaka-Barguna were stranded mid river for two to three hours.
Meanwhile, bone-chilling cold and thick fog hit the people hard, especially in the north.
In Chuadanga, Kurigram, Nilphamari, Lalmonirhat, Thakurgaon, and Dinajpur there were fog along with strong cold winds.
In most of those districts, the sun was not visible during the day and there was fog from early evening. Most locals opted to remain indoors.
The cold wave sweeping over different parts of the country has been harder on the poor and elderly.
The Dhaka Met office in a bulletin yesterday said moderate to severe cold conditions are likely to continue over north, north-western and central parts of the country.
Night and day temperatures may remain nearly unchanged, it said, adding, "Due to lower difference between day and night temperature, moderate to severe cold conditions are likely to continue…."
Moderate to thick fog may occur over the country during midnight till morning, and may continue till noon at places, according to the weather forecast for the next 24 hours from 9:00am yesterday.
The country's highest temperature yesterday was recorded at 28.6 degrees Celsius in Teknaf and the lowest temperature was recorded at 9.0 degrees Celsius in Sreemangal.