Cold wave to continue few more days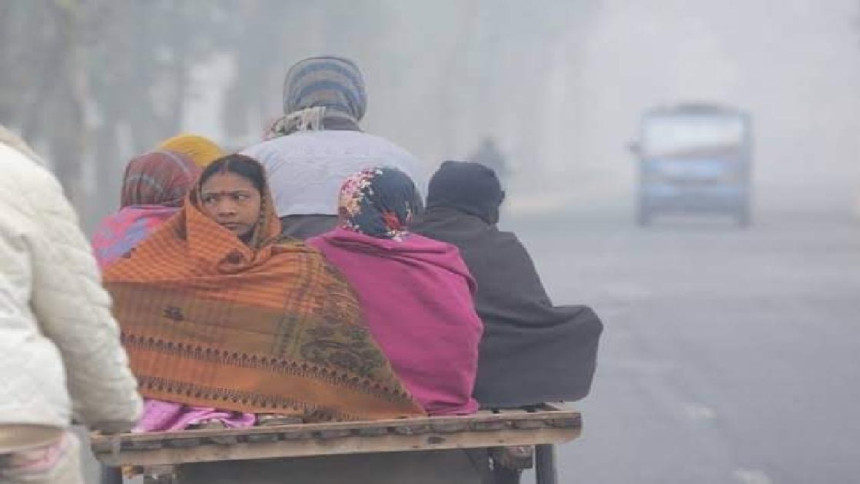 Many parts of the country have been experiencing a mild to moderate cold wave since Thursday night which may continue for the next few days.
A bone-chilling cold is affecting the daily life in the country's northern part and several other districts.
According to a report of Bangladesh Meteorological Department, a mild to moderate cold wave is sweeping over Rangpur and Rajshahi divisions and Gopalganj, Tangail, Mymensingh, Moulvibazar, Jashore and Kushtia districts and it may continue and spread.
Children and elder people in these areas are being affected by various cold-related diseases.
The temperature dropped by three to five degrees Celsius  in several parts of the country yesterday. It may further go down by one to two degrees Celsius today,  said meteorologist Bazlur Rashid.
He said the temperature would start to increase after two to three days and another cold wave may hit the country later.
Lowest temperature in the country was recorded at 6.1 degrees Celsius in Kurigram yesterday, which has been the lowest temperature this season. The lowest temperature  in Dhaka was recorded at 13 degrees Celsius yesterday.
A chilling cold wave has been blowing over the capital since early yesterday, affecting the poor, especially those who sleep under open sky.
Ashivering cold paralised everyday life in Dinajpur and other districts in the northern part as the mercury dropped in a big notch yesterday.
The temperature went down by seven degrees Celsius in a day in Kurigram, said the Met office.
Tofazzal Hossain, in-charge of Dinajpur Meteorological Department, said the adverse weather was to continue for a couple of days in the region.
Around 200 people, mostly children, have been hospitalised in Dinajpur with cold-related diseases. Of them, 100 children were being treated at Arabindu Shishu Hospital in Dinajpur town, said Dilip Saha, its executive member.