Cold taking a toll on children
Pabna, Barishal hospitals struggling to cope with patients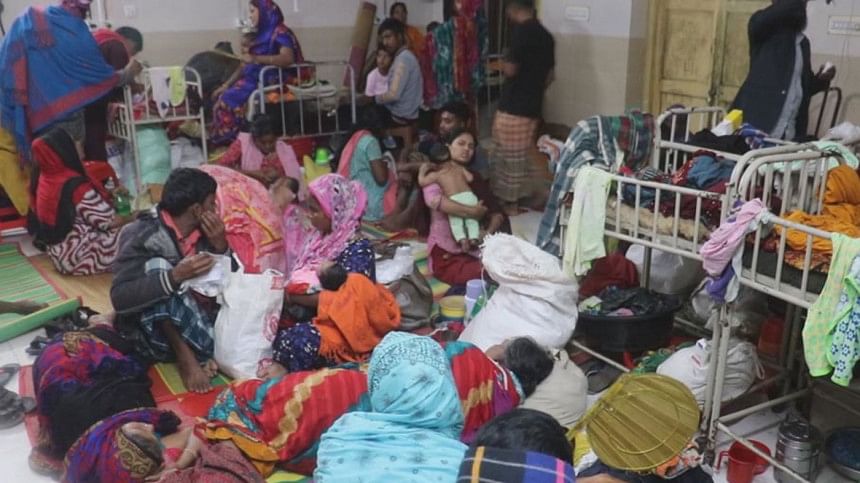 Childhood pneumonia cases and deaths have increased around the country amidst the ongoing cold wave.  Pabna and Barishal are no exceptions.
In Pabna General Hospital, 143 children are currently admitted to the 34-bed beds pediatric ward. Besides, over 30 children are currently admitted to the 16-beds diarrhoea unit of the facility, said Md Sohel Hossain, a statistic officer of the hospital.
Many of these children are forced to seek treatments lying on the floor due to a shortage of beds, making them vulnerable to further cold-related infections. Over 30 children are currently admitted at the 16-beds diarrhoea unit of the facility.
At least six children have died in the hospital last week, added Sohel.
"The number of child patients is alarmingly high this winter," he observed.
In a recent visit to the hospital, this correspondent found patients on the floors of the different wards, corridors and balconies. A single bed was shared by three-four patients to deal with the influx, but even that was not enough.
"My child has been suffering from pneumonia for the last few days. Due to a lack of bed, we are forced to keep him on the floor despite his severe situation," a father told this correspondent.
Dr Nitish Kumar, assistant professor (pediatric) of Pabna Medical College, said, "As winter peaks, children are mostly affected with diarrhoea, pneumonia and various viral infections. We struggle to keep up with the number of patients in our children's ward every winter."
Meanwhile, the children of Barishal are also facing the same ordeal.
Although there are only 36-beds at the children ward of Sher-e-Bangla Medical College, over 100  children are being admitted daily at the facility on an average.
Seven children have died in the hospital last week from cold-related diseases, said the hospital's Director Dr Saiful Islam.
To deal with the rise in number patients, 71-new beds were dedicated for children yesterday.
"But there are only five child specialists and 15 nurses at the pediatric unit of the hospital currently. The number is not enough. Hopefully, this situation will improve soon," said Dr Saiful.
In a recent visit, this newspaper saw hundreds of patients taking treatment at the outdoor facilities, and on the floors of different wards. The beds were shared by more than one patient.
Dr Humayun Shaeen Khan, health officer for Barishal division, said, "Besides, Sher-e-Bangla Medical College, around 3,321 children have been admitted at different Barishal hospitals since November."
Pneumonia is still the main cause of death of children aged under five in Bangladesh.
According to the icddr,b, around 12,000 children under five die of pneumonia every year. But if intervened timely, many lives can be saved easily, according to the experts.
To avoid death, physicians urge parents to take extra caution if any child shows symptoms including cough, cold or high fever, and breathing problems.