Coastal men break traditional gender roles
They are sharing burden of women's unpaid care work in 5 upazilas of Khulna, Satkhira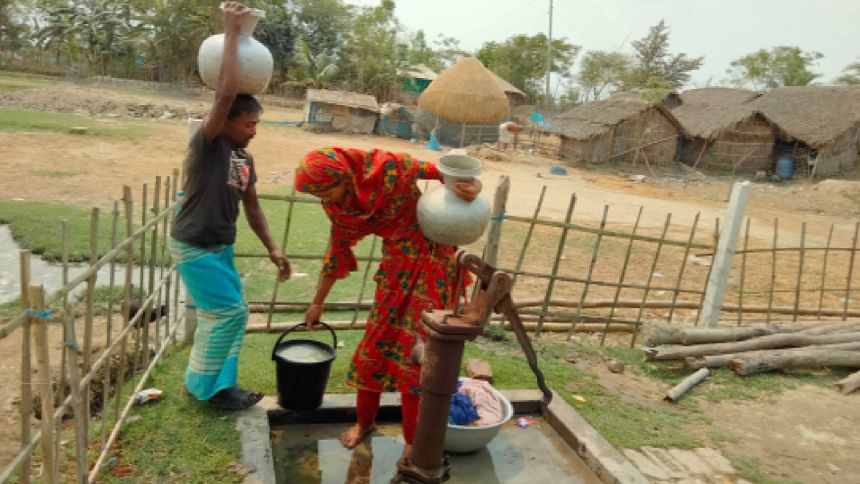 While many urban millennial men continue to view unpaid domestic work as something women do, a lot of men in the coastal areas of Khulna and Satkhira are taking up the job and sharing responsibilities with their wives. This small but significant change is having a positive impact on society, as it challenges traditional gender roles and promotes equality within households.
Take the case of Mokbul Hossain, a 50-year-old fisherman from Gabura union in Satkhira's Shyamnagar upazila. The biggest problem in his village Dumuria is water scarcity, which requires them to fetch water from far away for drinking and cooking.
"My wife used to take care of the task of fetching water, which caused her pain and discomfort all over her body," said Mokbul.
"Currently, I collect water for most of our household needs. However, UNDP provided us with a 2,000-litre water tank under a project this year to harvest rainwater for drinking purposes."
Mokbul also takes care of the goats and hens, cleans the house, cuts fish and vegetables, bathes the children, washes clothes, and much more.
His wife, Asiya Khatun, 45, is delighted with her husband's sense of responsibility towards the family, as he willingly shares the household chores and takes her opinion into account when making any decisions related to the family.
"If all male members of the family support women in their work, then the women in the family can get rest and participate in development activities," she said.
In the beginning, Mokbul faced mockery and ridicule from others in his village as they would call him "hen-pecked" for sharing the burden of unpaid care work with his wife.
Fortunately, the Gender Responsive Coastal Adaptation (GCA) project has been a powerful force for bringing such transformation in the attitude of men in the five upazilas of Khulna and Satkhira districts, where it is being implemented with the joint funding of the Green Climate Fund (GCF) and the government, with technical support of the United Nations Development Programme (UNDP).
An important part of the GCA project is to ease the workload of females of the coastal belt by shifting the responsibility of fetching water.
Every year on International Women's Day, a field facilitator visits houses, learns about current practices, and obtains promises of cooperation from men. The promises are then checked the following year to ensure they had been kept.
Now, the attitudes of those who had previously ridiculed Mokbul started to shift and a good number of men in the five coastal upazilas started sharing household responsibilities.
"I believe that if there is a division of labour between husband and wife, the family can easily prosper," Mokbul said.
Rahim Sana, a day labourer of Khulna's Dacope upazila, also set a similar example in his village, despite working outside most of the time. Rahim still finds time to fetch water from the tube well, gives food to the ducks and chickens, collects firewood for cooking and helps his wife Chhobi with other household chores.
Mohammad Iftekhar Hossain, project coordination specialist at GCA, said to achieve SDG-5, men need to participate more in household work and create a cooperative atmosphere between genders.
"Initially, we have been trying to bring about a change in mindset and attitude among the families and people of the areas, so that anyone in the family can fetch water, regardless of gender," he said.
"We have been facing many challenges in breaking social stigmas, but we are working with religious leaders, local administrators, teachers and community members to bring about sustainable change in sharing unpaid care work," he said.
"But we still have a long way to go, and a cooperative effort is necessary to bring about this change," he added.