City dwellers swelter amid power cuts
Nasrul Hamid says plants closing is the reason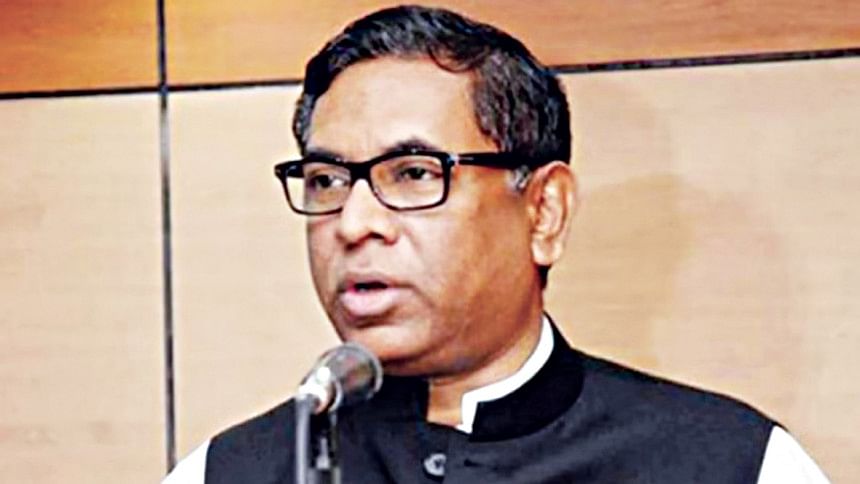 As the current heatwave gets worse, the country's power shortage shows no signs of improvement.
Due to frequent outages, residents are suffering as the mercury rose to 37 degrees Celsius yesterday in Dhaka. Industries all over the country are facing production losses.
Power cuts have increased alarmingly due to the shutdown of several power plants, said Nasrul Hamid, state minister for power, energy and mineral resources. 
"The Payra power plant is going to shut down completely after June 5 due to the coal crisis. One of its units is already out of operation. We are struggling to import fuel for the power plants. We are also having to channel gas from the power sector into the industries," he said, speaking at a programme in Savar.
Talking to The Daily Star, a resident of Mogbazar said people in his area faced outages at least seven times for over five hours on Thursday.
The picture is more or less the same in Dhaka city and its adjacent areas. The rural areas have been facing more cuts for several days now.
The country experienced around 2,247 MW of power shortage against the demand for 14,000 MW early afternoon yesterday, according to data from Power Grid Company of Bangladesh.
The distributing companies said last week that they are shedding load mainly in the daytime. But outages are occurring at night as well.
From midnight to dawn on Saturday (12.00am to 6:00am), the situation was almost the same—load of 2,000 MW to 2,400 MW was shed.
Rubel Mia, a resident of Khilgaon, told The Daily Star yesterday that his family faced cuts twice at night. "The first outage occurred at midnight and the next one at 5:00am. We couldn't sleep the whole night. My baby has skin rashes due to the cuts," he said.
Taffannum, a resident of Shonir Akhra, said there were at least three cuts in her area, and that every time the cuts lasted over an hour.
"My younger brother's second-year examination is going on. But with the cuts are hampering his preparation."
"We had a foreign order for two thousand jerseys, which were supposed to be delivered by today. But we are only halfway through due to frequent power cuts," said Fahim Sajjad, a small garment factory owner in Savar's Fulbaria.
Md Hasibur Rahman, Civil Surgeon of Nilphamari, told The Daily Star that hospitals in the district are getting more patients suffering from diarrhoea. Besides, patients with asthma are facing problems with nebulising.
A private clinic owner of Rangpur said that electricity was available for only eight to nine hours in the last 24 hours.
"In the rural areas, people are getting electricity only for five to six hours a day," he added.
The country's power generation capacity is 23,370 MW. The production was 11,753 MW by day during peak hours yesterday.