Bangladeshi photojournalist chronicles Ukrainians in flight
Upon his arrival in the small town of Chop, located in western Ukraine, Ismail Ferdous witnessed first-hand the devastating consequences of war.
A Bangladeshi photojournalist, he had covered migration crises in many regions and has seen hundreds of thousands of people resigning themselves to their fate -- they have no home and are now refugees.
Talking to The Daily Star over the phone on Wednesday, he said, "I am sitting in a railway station right now. There are so many people waiting for a train to take them to another country. They are citizens right now. Tomorrow, they will all be refugees.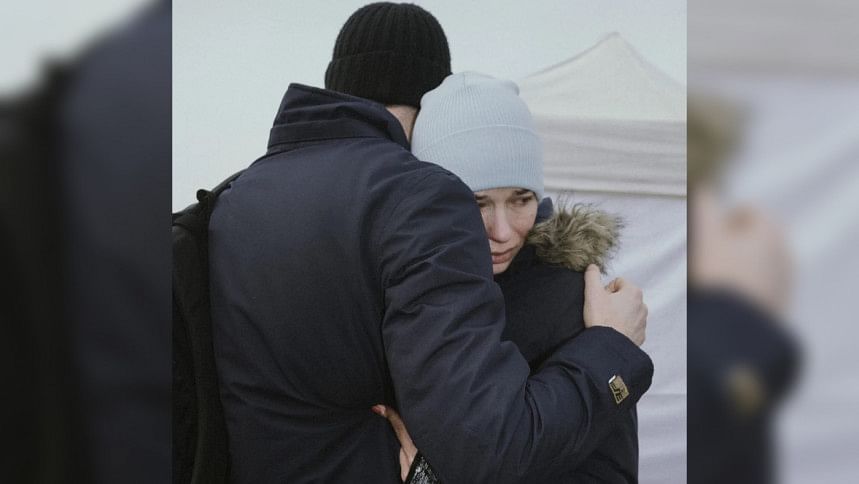 "People are hugging their loved ones boarding the train for another country. Their cries of separation and an unknown future is really painful to watch. Never have I felt this emotional while covering conflicts over the last few years."
Ismail, who flew from New York to Warsaw on March 1, was assigned by French Magazine "Blind" to document the humanitarian crisis caused by the Russia-Ukraine war.
"My editor sent a letter to the Ukraine authorities for a defence press accreditation… I got my visa from Ukraine's consular office in Lublin in Poland."
From Lublin, he hired a cab to Przemy47?l in South-eastern Poland and took seven hours to reach.
Once there, his fixer, who herself fled the war from Ukraine's Kyiv, took him to a temporary home in a mountain town.
After working for around a week in Przemy47?l, he reached Chop, a town right across Hungary, hosting over 5,000 internally displaced Ukrainians.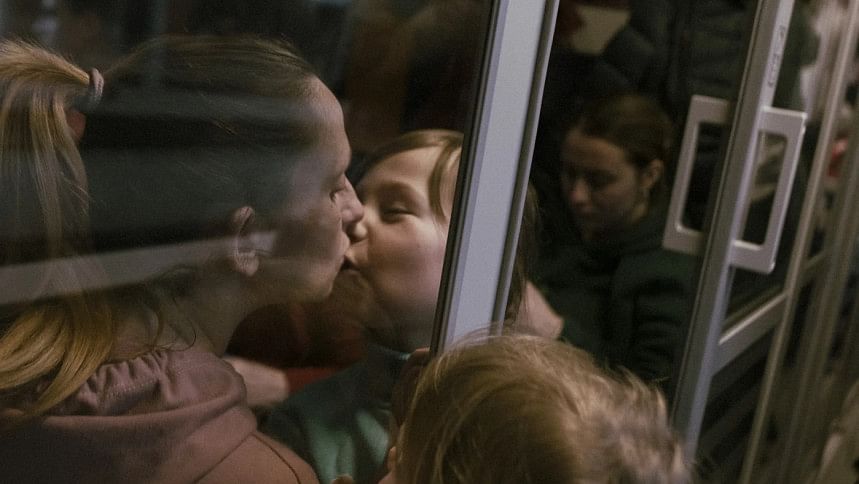 There, he is living with 10 people in a 15 by 18 square metre room.
Apart from families fleeing, Ismail got the chance to see the military facilities there. While there were huge numbers of Ukranian troops on the roads, general people were also seen roaming with heavy guns.
"The people, crammed in the city, are in a state of fear and distrust and scared of Russian spies. The special permission that I got gives me the advantage to take photographs even during curfew."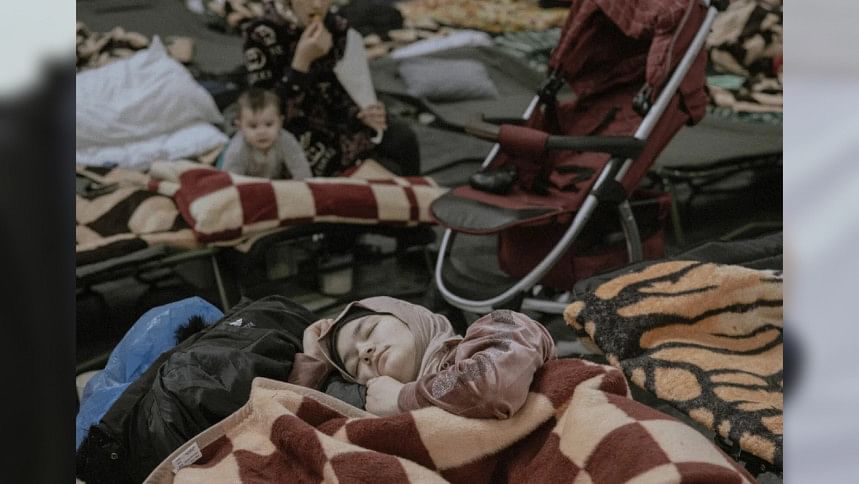 Ismail then also witnessed a heart-warming side of the war.
"The way people are helping one another was a sight to behold. I haven't seen so much compassion when covering other conflicts.
"I went to a school where [displaced] people stay overnight. Every morning, elderly people, especially the retired professional, come to the school to help clean up. They wash the bedsheets and other things and bring them back the next day for those staying there."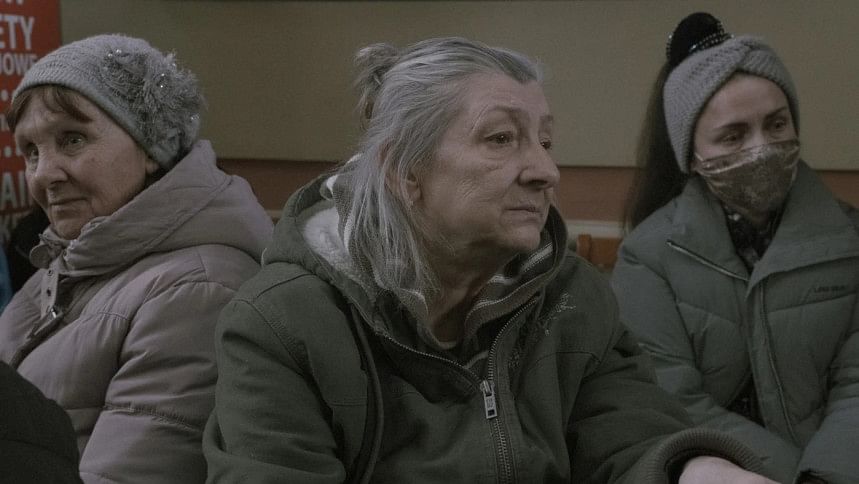 While interviewing a family who moved to Chop from another city, he came across a teenager.
"The girl, around 14, came to me herself. She said she wants to become a journalist in the future. She said she earlier wanted to be an economist and travel the world, but witnessing the role of journalists in the war has inspired her to become one herself."
Ismail has covered the refugee crisis at the Syria-Turkey border, in Calais on the France-England border, Mediterranean Sea crisis near the Libyan coast border to Sicily, the Central American crisis on Mexico-US border, and the Rohingya refugee crisis on Bangladesh-Myanmar border.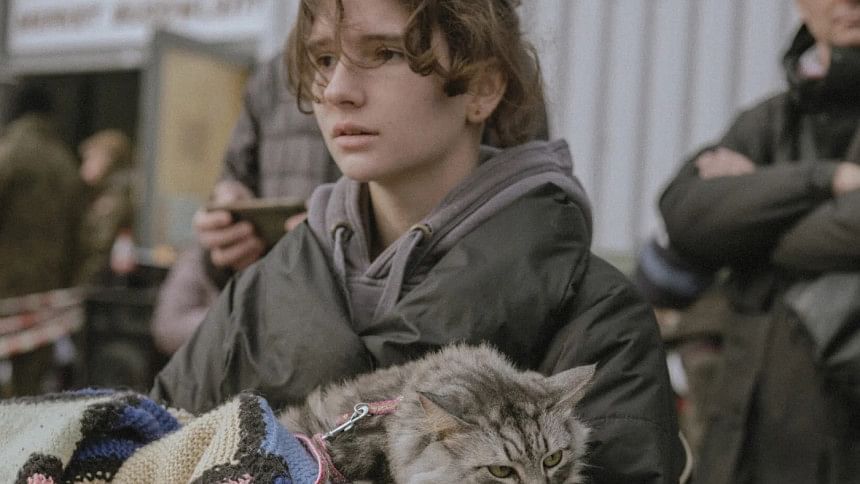 "The region has been in conflicts since the second world war. My takeaway from this war is the general public suffers the most and they are mostly women and children. We are seeing history repeat itself."
What really struck him about the Russia-Ukraine war is that it's not very different from Bangladesh's fight for liberation in 1971 as Ukraine has been fighting to save its culture and language from Russian aggression.
"When I first visited Kyiv in 2019, young locals had told me they were going through their own decades-long renaissance period to reintroduce the glory of their culture, including music and literature, and re-establish their own cultural identity, especially since 2014.
"This war is their 'Liberation War'. They want to get rid of the ghost of the USSR, haunting them for over 30 years."
Ismail, who says he is a self-taught photographer, received international recognition for his photographs on the Sundarbans in 2011 and then his long-term coverage of the Rana Plaza tragedy.
He has since been working for big international media, including National Geographic Magazine, The New York Times, The Guardian, The Economist, Bloomberg, and The Washington Post.