Children robbed off a playground for 16 years
Even a year after renovation, Golapbagh field still not opened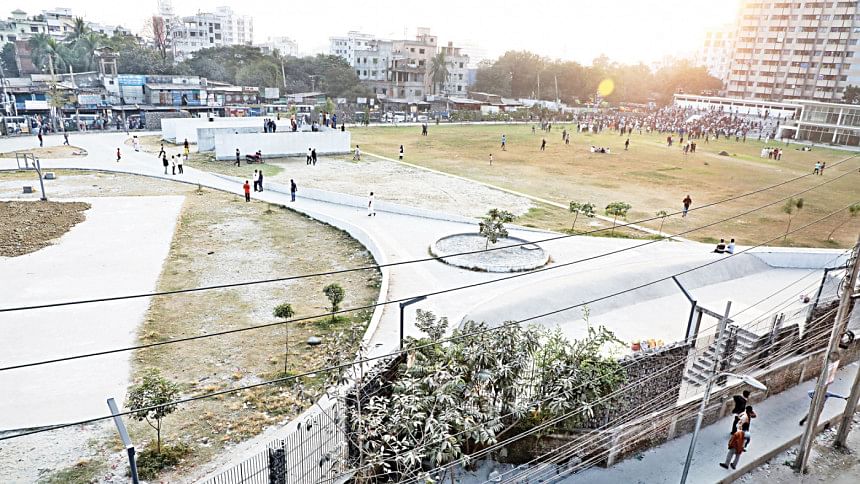 According to the Dhaka South City Corporation (DSCC) website, Golapbagh field is the single biggest playground in south Dhaka. This ground was closed for 10 years from 2006 as construction materials of the Mayor Mohammad Hanif Flyover were kept on the ground.
In 2017, the authorities started renovating the field, which ended in 2021. But even after one year, the ground has not been opened to locals. Youths of the area are robbed of a playground and an open space for 16 long years.
The authorities said locals will be able to use the ground once a management committee is formed.
DSCC sources said a boundary wall and fencing, a gymnasium, basketball court, pavilions, dressing rooms, waiting rooms, walkways, a library and market buildings were set up at the playground for Tk 16 crore. It was done under a project, titled "Different Infrastructure Development of Dhaka South City Corporation".
The contractor of the playground's renovation work, UDC Construction, completed the project by the end of 2021 after extending the deadline a couple of times.
A lottery for allotment of 43 shops in the market building was also held on April 12 last year.
However, the authorities have not yet handed over the shops to the lottery winners. The city corporation authorities said the shops will be handed over once the ground is opened to locals.
However, several cricket matches of the Mayor's Cup were held on this ground last year. The authorities said some cricket matches for the next Mayor's Cup will also be held on this field, although locals are yet to set foot on their home turf.
Md Manik, a local resident, said, "We were happy when we heard the renovation works of the field were completed. But the happiness turned into frustration as we are still not allowed to use the field."
Sixth grader Sirajul Islam said there is no other playground in Golapbagh area.
"We are eagerly waiting to play on this playground," he added.
Contacted, DSCC executive engineer (region-5) Saiful Islam Joy said, "A management body will be formed to manage the ground, which will include local councillors and residents. We are trying to form a policy for the use of the ground. After that, we will open this field for the people."