Attack on Bernicat's Convoy
Charges pressed against BCL leader, 8 others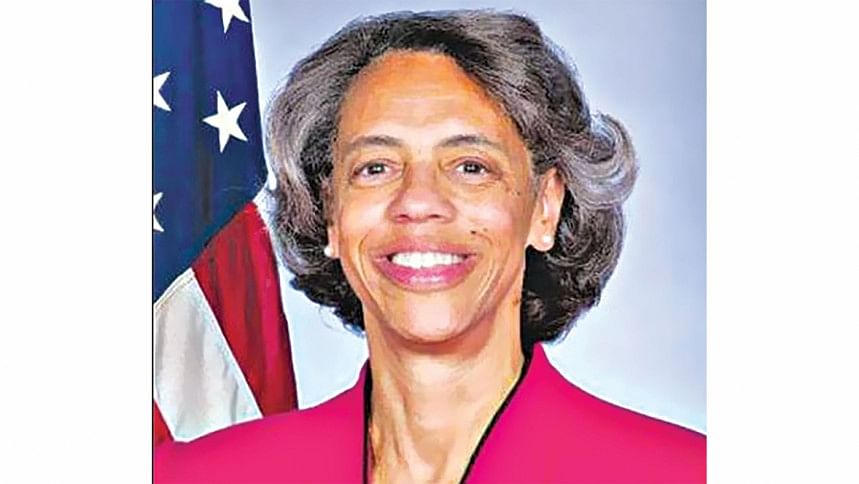 Police have finally charged nine persons in a case filed over the attack on former US ambassador to Bangladesh Marcia Bernicat's convoy.
The nine included prime accused Ishtiaque Mahmud, a relative of the complainant Badiul Alam Majumder, secretary of Shusashoner Jonno Nagorik (Shujan); and Naimul Hasan Rasel, president of Mohammadpur Chhatra League unit.
Following re-investigation, Investigation Officer Rajon Kumar Saha, an assistant commissioner of Detective Branch of DMP, pressed charges on September 19, a police official told The Daily Star, preferring anonymity.
The eight accused -- Firoz Mahmud, Naimul Hasan Rasel, Mir Amzad Hossain Akash, Sazu Islam, Razibul Islam Razu, Shahidul Alam Khan Kajol, Siam and Oli Ahmed Jony -- are now on bail.
In the supplementary charge sheet, only Ishtiaque was shown as a fugitive accused.
On August 4, 2018, some 30 unidentified miscreants attacked the car of Bernicat, who was about to leave the residence of Badiul Alam around 11:00pm after attending a courtesy dinner in her honour.
Six days later, Badiul Alam filed the case with Mohammadpur Police Station on August 10, 2018.
Subsequently, the IO in the probe report said, ten accused, along with some 15 to 20 unidentified people on August 4, 2018, gathered near the Iqbal Road residence of the Shujan secretary around 11:00pm and chased the car of Bernicat.
The accused then threw brick chips at her car, it said.
Later, the accused vandalised the house of the complainant and made death threats to his wife and son, it added.
On December 28 last year, a Dhaka court ordered further investigation into the case, following a prosecution application.
In the application, the prosecutor said three prosecution witnesses gave their depositions before the court, mentioning the name of Ishtiaque, brother-in-law of Badiul Alam, as the culprit.
The IO, however, did not include Ishtiaque's name in the charge sheet,  so, further investigation was needed to identify the real culprits behind the attack, he said.
On January 20, 2021, IO Md Abdur Rouf, a DB inspector, submitted the charge sheet to the Chief Metropolitan Magistrate's Court of Dhaka against nine accused, excluding Ishtiaque.
Mozahid Azmi Tanna was named in the first charge sheet.
But, in the supplementary charge sheet, the investigator appealed to the court to relieve Mozahid Azmi Tanna from the charges as he died on October 5, 2021.
Contacted yesterday, Badiul Alam said, "I think the real perpetrators have been identified through a proper investigation. It will help establish justice."