Cattle markets near Rohingya camps buzzing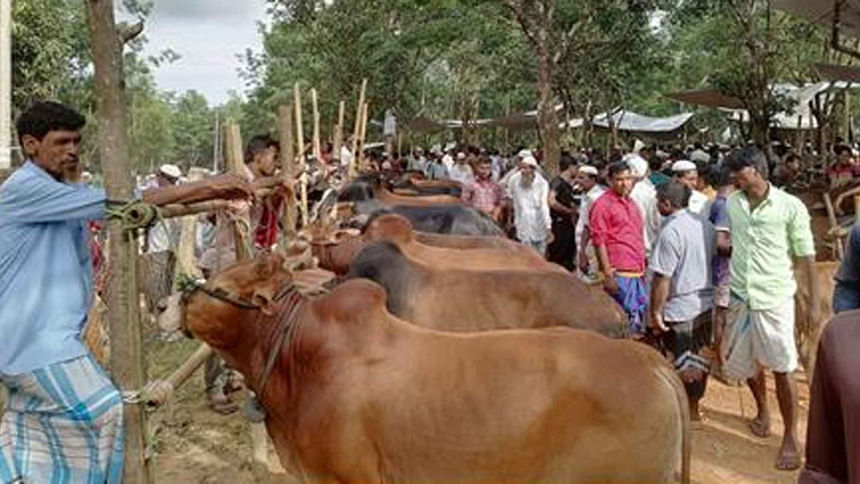 With Eid getting ever closer, Rohingya camps have been in a festive mood lately, as many were seen buying animals for sacrifice in nearby cattle markets -- due to a rise in their income.
At least ten 10 cattle markets -- including those in Kutupalong, Ukhiya, Morichya, Palongkhali, Thengkhali, Balukhali, and Teknaf's Hnila, Huyaikkong and Leda -- have been growing larger as each year passes by.
This correspondent visited Kutupalong and Ukhiya's TV Tower cattle markets and talked with a few customers.
Hossen Mia, a resident of Kutupalong Camp- 02, went to Kutupalong Bazar to look for a medium-sized buffalo or bull for Eid.
"My elder brother lives in Malaysia. He sent us some money for Eid with his savings. I managed to save from own my income as well, and we decided to offer sacrifice," he said.
Shahidur Rahman (45), a local cattle trader from Lambaghona of Holdiyapalong union, bought 26 buffaloes from TV Tower cattle market to sell it off to Rohingya people.
"I've been coming here since the Rohingya influx took place to sell cattle. Since Tuesday, I sold off 10 buffaloes. Most Rohingyas who bought buffaloes said they had an expat relative abroad," he said.
Shahid informed most Rohingyas chose small- to medium-sized cattle for sacrifice.
Helal Uddin, Rajapalong union parishad member -- which hosts four camps -- said Rohingyas along with the Bangalee community are buying cattle for Eid.
Some save their income, some receive money from their relatives abroad, while others have businesses inside camps that enable them to buy sacrificial animals, he said.
But Imrul Kayes Chowdhury, chairperson of Haldiyapalong Union Parishad, had a different opinion regarding their purchasing power.
"Livestock office says, the demand for sacrificial animals in Ukhiya upazila is 9,000, whereas we have only 8,000 available. Sometimes, this affects locals' ability to buy cattle," he said.
He claimed many Rohingyas are involved with the yaba trade, which may have increased their purchasing capacity.
Visiting the TV Tower cattle market on Wednesday, this correspondent saw a few Rohingyas buying an oxen worth Tk 1,20,000. When this correspondent approached him to ask his name, he declined to provide his details.
Insiders in the camps said a section of the Rohingya community has a steady income through their expatriate family members. Besides, thousands of them have engaged themselves in various work or businesses inside camps, and hundreds allegedly make money out of drug businesses.
Dr Asim Sen, livestock officer of Ukhiya, said they have 23,000 animals in stock, which is enough for locals.
Shamsud Douza Nayan, additional commissioner of Refugee Relief and Repatriation Commissioner Office, said they have a designated place for sacrificing at Rohingya camps.
"Last year, 3,000 animals were sacrificed. This time, it could be close to that figure or a bit lower," he said, adding that the exact figure can be known on the day of Eid-ul-Azha.