'Can't find a single bus'
Ctg commuters left stranded amid dearth of public transport due to fuel price hike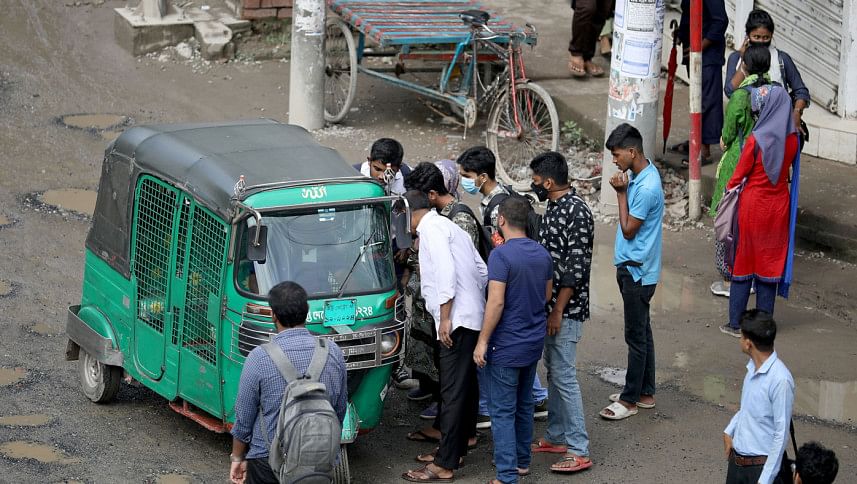 Mun Tanji was waiting for a human haulier at the port city's Chawkbazar intersection yesterday morning. Whenever one arrived after every 10 minutes, the college student rushed to board it, but to no avail amid the huge crowd.
Like her, around a hundred people were also waiting for public transport at the area.
Some five male passengers got on a vehicle, could not find any seat and started their journey by hanging on to the vehicle.
Meanwhile, Tanji was waiting for over an hour to go to Boropool area.
She said, "Usually a good number of human hauliers are parked here. I'm getting tired of waiting..."
This had been the scenario in most of the busy areas of the port city -- including Sholoshahar Gate-2, Muradpur, Bahaddarhat, Lalkhan Bazar, Tiger Pass, Wasa, Dewanhat, Agrabad and GEC intersections -- yesterday.
In many areas, commuters were seen waiting for vehicles for a long time.
SM Asad, a private-job holder, told The Daily Star, "Failing to find any transport, I started walking from Muradpur. I have to go to CEPZ area. I waited for 30 minutes but couldn't find any vehicle. The rickshaw-pullers demanded three times the usual fare."
Buses remained off the roads in Chattogram city yesterday, following a sudden strike by transport owners to protest the fuel price hike. During the strike, the transport workers were obstructing movement of buses at various places.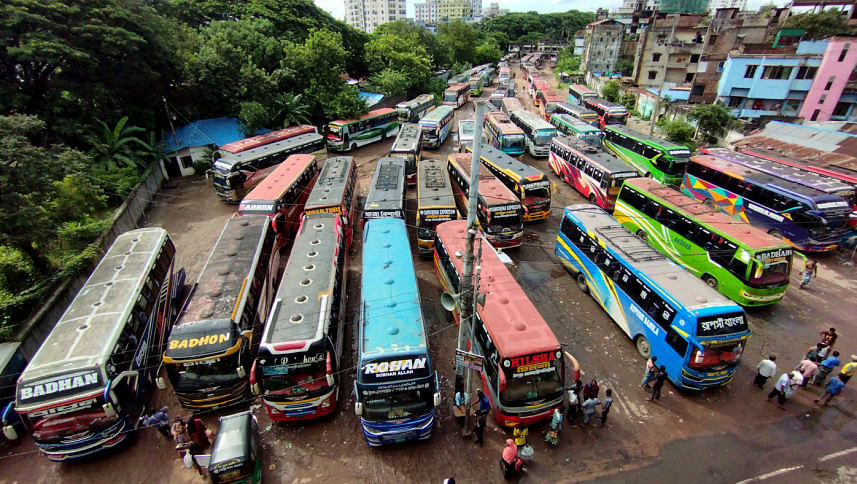 Tarun Dasgupta, president of City Bus Owners Association, said few vehicles plied in the morning, but the bus service  stopped since late afternoon. The drivers did not want to drive buses due to the high cost.
A few CNG-run public transport vehicles were seen plying, however, passengers have accused the drivers of overcharging.
Jamil Hossain, a garment worker who was waiting for a bus to go to EPZ from Dewanhat, said, "Bus services are suspended, but work is open. We have to go to office by any means. But I can't find any bus."
"I went to Ispahani intersection from the city's Gate-2 area, as I had an urgent task there. It took me Tk 90 to go there by a rickshaw whereas it normally takes Tk 40 to 50," said Mohammad Ibrahim, a resident of the area.
The decision to start the strike was taken on Friday night, said Belayet Hossain, president of Chattogram Metropolitan Transport Owners Group. However, the association withdrew its decision to stop public transport in Chattogram. Around 2:30pm yesterday, they informed about the decision.
Belayet told The Daily Star, "Dhaka Road Transport Owners Association will hold a meeting with Bangladesh Road Transport Authority. In view of this, we have withdrawn the decision to stop public transport."
 The government last night raised prices of diesel and kerosene to Tk 114 per litre and that of petrol to Tk 135, which is nearly 52 percent higher than the previous rate.
As the fuel prices shot up, owners of a number of petrol pumps also refrained from selling fuel, said Belayet.
Ramjan Ali, a driver who plies New Market-Fatehabad route, said many bus owners have decided not to bring out vehicles because of the price hike.
Usually, around 1,200 buses and 600 human hauliers ply 17 routes in the port city.