National Tea Day: 'Can't even get a good night's sleep'
Tea workers in Mominchhara continue to suffer for authorities' inaction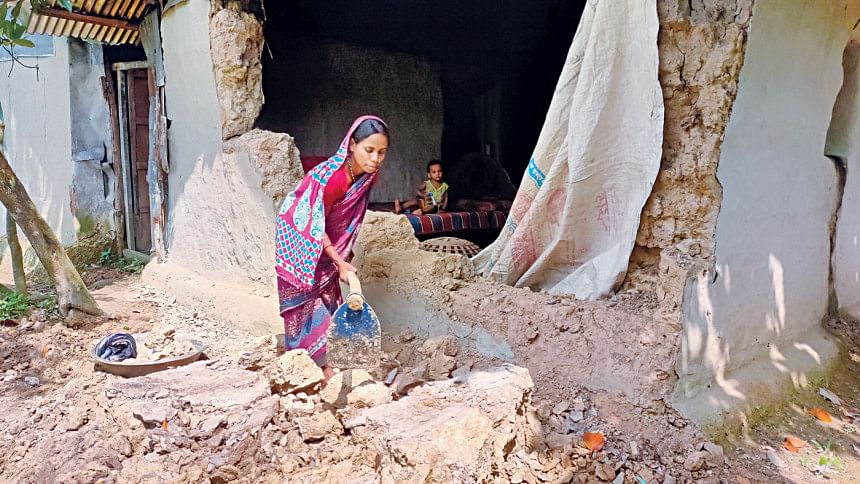 Monaf Mia, a 65-year-old tea worker in Mominchhara tea garden of Sylhet's Fenchuganj, works in the gardens all day, only to come back home at night to get soaked in rainwater, due to the dilapidated condition of the roof over his head.
"The roof tins have multiple holes. I can't even get a good night's sleep after a long hard day at work."
It's not just him. Almost all the workers in that vicinity, afflicted with poverty, are going through similar difficulties.
"On rainy nights, we have to sleep under the bed. I've asked the authorities to fix our roof multiple times but to no avail," said tea worker Sreemoti Mridha and her husband Montu Mridha.
Another worker, Diboshmoni Mridha, said they have to stay alert all night, as their house is at risk of collapsing anytime.
Then there is the issue of sanitation. Most houses where the tea workers live lack suitable sanitation system.
"We don't have a toilet in our house. We have to go all the way to the garden toilet," said Diboshmoni.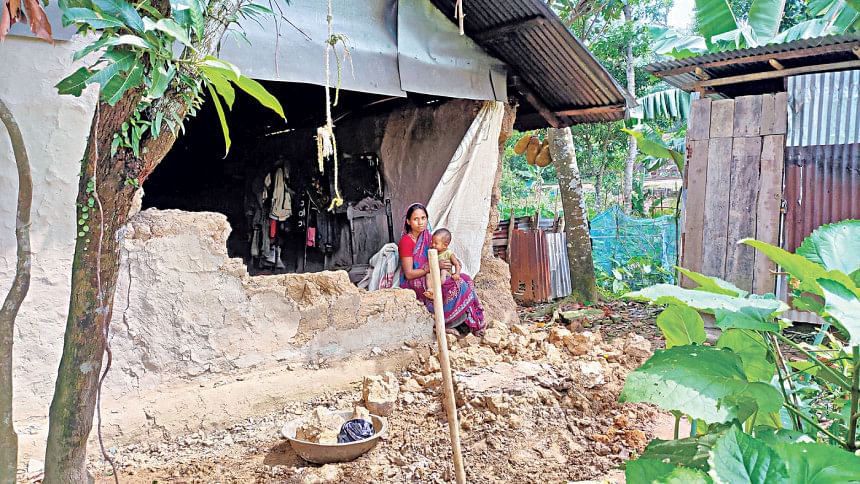 This correspondent also talked to tea worker Sita Mridha, a mud wall of whose house collapsed on a rainy night a few days ago.  "I've been using my sharee to cover that front of the tiny house. After waiting for a few days -- when I gave up the hope of getting any assistance from the authorities -- I started fixing it on my own," said Sita.
Meanwhile, tea workers of the vicinity have been making various demands to the authorities for some time, only to have their voices ignored.
According to Liton Mridha, president of Mominchhara Tea Garden Panchayat Committee of Bangladesh Tea Workers Union, they made 13 demands to the tea garden authorities.
"Of them, we focused more on the main three, including limiting the daily collection of tea leaves to 20 kg, hiring drivers from the tea workers community and employing the workers' children who have educational qualifications."
"None of the demands have been considered by the authorities. Female tea workers of the garden have reduced their working hours by half to protest the negligence," said Liton.
Liton mentioned that the current owner set the daily limit of plucking at 25 kg for a year before promotion. However, the limit has not been reduced since then.
The situation took an even worse turn when the garden authorities, without any prior notice, closed the garden on the evening of May 25, pushing around 800 workers and their families into uncertainty.
When asked, Sylhet Deputy Director of Regional Labour Department Khorshed Alam said tea workers did not make the demands in a formal way, and their strike did not follow the policies at place.
However, Liton mentioned that after reopening the garden last Thursday, the authorities promised to negotiate with the workers regarding their demands.
"We are left panicking whenever it rains, fearing that our houses might collapse, owing to their dilapidated conditions," said Liton.
Contacted, Mominchhara Tea Garden Manager Rezwan Alam told this correspondent, "We have opened the tea garden on Thursday with everyone's support. Every effort will be made to meet all demands made by workers in phases."