Unexplored waterfall found in Moulvibazar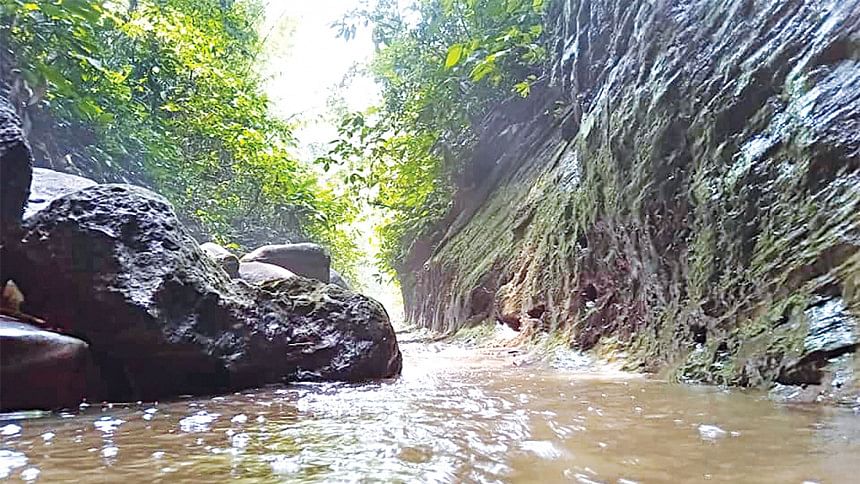 Right beside the famous Humhum waterfall in Moulvibazar's Kamalganj stands another unexplored waterfall. Locally called "Fikol Jhorna", the fall is surrounded by a few hills. It stands a hundred feet above a hilltop.
Journalist Sajidur Rahman Saju discovered the fall in the border area of ​​Kamalganj a month ago.
"It's not only a miracle but also a beautiful place. The fall is also home to various unknown wildflowers and fruits," he said.
"The fall is gorgeous in itself and is also accompanied by wild trees on both sides of the road," said Ripon Dey, an environmental activist.
"It's a treat for those who love trekking. The rugged slopes, thick forest and mysterious stones, the water from the peak, all add to its magical beauty, thrill and excitement."
Kamalganj UNO Ashekul Haque said Kamalganj is already a prosperous upazila in Moulvibazar, with Lawachhara National Park, Rajkandi Reserve Forest, Humhum waterfalls, Madhabpur Lake and Dhalai border, the memorial monument of Birshreshtha Sepoy Hamidur Rahman residing in it.
Rezaul Karim Chowdhury, Sylhet divisional forest officer of Wildlife Management and Nature Conservation Division, said the fall has outstanding scenes to offer.
Monir Mia, an auto-rickshaw driver in Kamalganj, said the fall is yet to get huge tourist attention and is still quite unexplored.