Buzzword: freedom of speech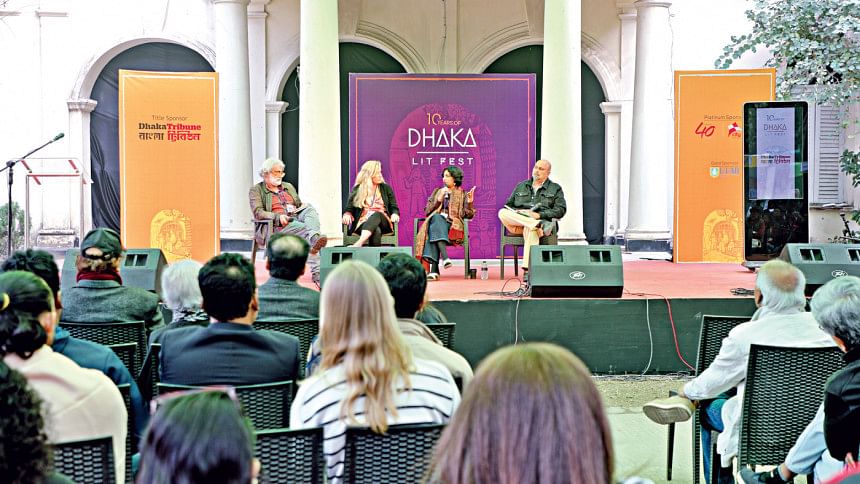 "The public place for diverse opinion about certain topics is going down,"Vivek Menezes, writer, photographer and literary festival curator, said yesterday at a session titled "Culture Wars" on day two of the 10th Dhaka Lit Fest.
The session discussed cancel culture, and the social, legal and political implications of practicing free speech in the US and South Asia. Moderated by Indian author Ranbir Sidhu, Culture Wars saw in conversation Menezes, Indian author and literary editor Nilanjana S Roy, and American journalist and professor Sarah Churchwell.
After a three-year hiatus, Dhaka Lit Fest returned this year for its 10th edition, with Nobel laureate Abdulrazak Gurnah, 2022 Booker Prize winner Shehan Karunatilaka, 2022 International Booker Prize winner Geetanjali Shree, award winning author Amitav Ghosh, and other prolific authors, publishers, editors and artists among its speakers.
The first day of the festival on January 5 offered a variety of topics on discussion, from print culture to South Asian and world history, women's rights, Bangla literature and poetry, the legacy of Sir Fazle Hasan Abed, and musical performances by Meghdol and Hawa band.
The Daily Star's SHOUT and Daily Star Books showcased their 5th Slam Poetry Nights session to a packed audience on the Nazrul Mancha.
Day two of Lit Fest yesterday saw a stronger focus on freedom of speech. In addition to Culture Wars, PEN Bangladesh's session on free speech in the written word touched upon the limitations placed on journalists by corporate houses and the spread of misinformation by social media.
Speakers included Prof Syed Manzoorul Islam, author and South Asia specialist Sudeep Chakravarti, journalist Udisa Islam and poet, critic and writer Sumon Rahman, with writer and editor Mohammad Moheuddin as moderator. In Goddesses of Bengal, Professor Kaiser Haq and Asian and Middle Eastern Cultures Professor Rachel McDermott discussed syncretism in the religious and indigenous cultural practices in the region.
Sessions on literature, children's literature, climate change, technology, and content creation, also saw a focus in yesterday's events. The evening saw musical performances by Armeen Musa, and later by Pantho and Friends featuring Animesh Roy and Warda Ashraf.
Dhaka Lit Fest will continue in the Bangla Academy premises till January 8.
Daily Star Books editor Sarah Anjum Bari will moderate a session on "Is A Book Worth Reading? Who Decides?" at 1:45pm on Sunday.