Brunei keen on migrants, Bangladesh want oil
Sultan Bolkiah arrives Oct 13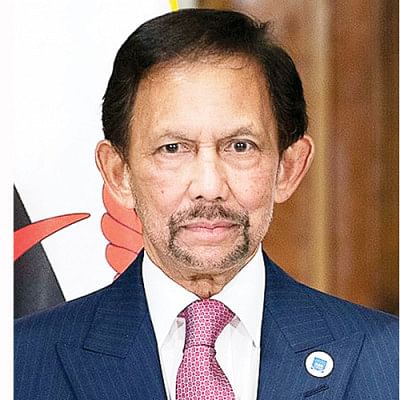 Brunei wants to hire Bangladeshi workers only under a government-to-government arrangement to streamline the recruitment process, which has been plagued with irregularities for years.
According to sources in the Bangladesh mission in Bandar Seri Begawan, the two countries are eager to introduce direct flights between them to reduce the cost of labour migration and facilitate trade.
Brunei, a gas and oil-rich nation, may also ink an MoU on import of fuel oil by Bangladesh during the first ever state visit to the country by the former's Sultan Haji Hassanal Bolkiah on October 13-15.
This would be the Sultan's reciprocal visit after Prime Minister Sheikh Hasina's first state tour of the Southeast Asian country in April 2019.
Diplomatic sources said the visit is important given the global and regional challenges in the aftermath of Russia's invasion of Ukraine, which caused disruptions in the global supply chain, especially of energy, food, and fertiliser.
Brunei, a founding member of the Association of Southeast Asian Nations (Asean), can also play an important role in resolving the Rohingya crisis, the sources added.
During the Sultan's visit, the two countries may sign five memorandums of understanding in the areas of labour cooperation, energy, direct air service, cooperation on sailors and culture, officials said.
"We are in the process of finalising the deals. We are hopeful about completing the process soon," a foreign ministry official told The Daily Star.
According to the Bureau of Manpower Employment and Training (BMET), Brunei hired 75,435 Bangladeshi workers from 1992 to August this year. However, between January 2020 and August 2022, only 950 were recruited.
An estimated 20,000 Bangladeshi workers are currently employed in Brunei, said an official at the Bangladesh mission in Bandar Seri Begawan.
"Brunei is expanding its economy in the areas of petroleum, food, and agriculture. There are good opportunities both for investment and labour recruitment," said an official of the expatriates' welfare ministry.
Irregularities in recruitment of Bangladeshi labours were reported over the years. Among those include additional expenses incurred by job seekers and recruitment of higher number of workers than required.
Both the countries are disturbed by the irregularities. Brunei has suggested that a government agency manage the recruitment process in Bangladesh, the official said.
"We also agreed on this point. If we can ensure discipline in labour recruitment, we can also be able to ensure their welfare."
Bangladesh wants the Brunei authorities to ensure minimum wage, regular salary and insurance coverage for the migrants.
The foreign ministry official said as energy prices went up following the start of the Russian-Ukraine war in February, Bangladesh started looking for alternative sources, including Russia, Brunei, and India, apart from traditional ones in the Middle East.
"As Brunei is a net exporter of energy and not far away from Bangladesh, we are eager to buy fuel from there. The transport cost would also be less," the official said, adding that there might be a breakthrough in this regard if Brunei agreed.
During the Bangladesh PM's visit to Brunei in 2019, the two countries signed nine MoUs on agriculture, fisheries, and livestock, among other areas.
Brunei wants technological support in agriculture from Bangladesh, who has demonstrated a remarkable success in this regard.
"Bangladeshi companies can even take lease of land in Brunei and produce crops, fish and livestock," the foreign ministry official said.
Asean is very important in terms of global geopolitics. Brunei can play an important role in making Bangladesh's bid to become Asean's sectoral partner a success, officials said.